Last week, Japanese Prime Minister Abe endured a painfully awkward 19-second-long handshake with Donald Trump, while meeting the new US President for the first time.
Man, his face when Trump finally let go.
Yesterday, it was the turn of Canadian Prime Minister Justin Trudeau to meet with Trump.
Trudeau disagrees with Trump on a wide variety of issues, including immigration and climate change. Also, he's kind of a dreamboat and the internet is in love with him.
He's basically the complete opposite of Trump.
Here he is doing yoga in the office.
So the world's eyes were on how Trump and Trudeau would react to each other, and in particular their first handshake.
Trudeau's face summed it up: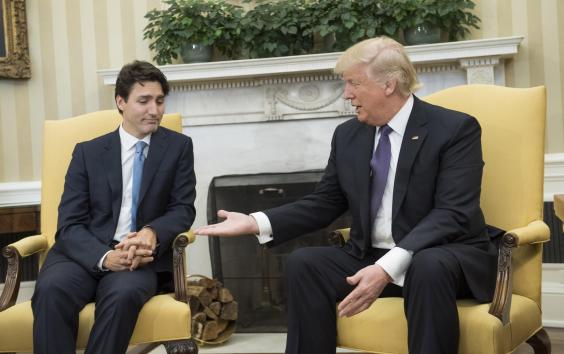 It instantly became a meme.
We feel you, Justin.
Here's the handshake in full.
---
More:  This Valentine's day, get yourself a partner that looks at you the same way Ivanka looks at Justin Trudeau
More:  Donald Trump and Justin Trudeau were asked the same question - their answers said it all