The last three weeks has seen Donald Trump attempt to push through a number of executive orders, prompting a surge of protests all over the world.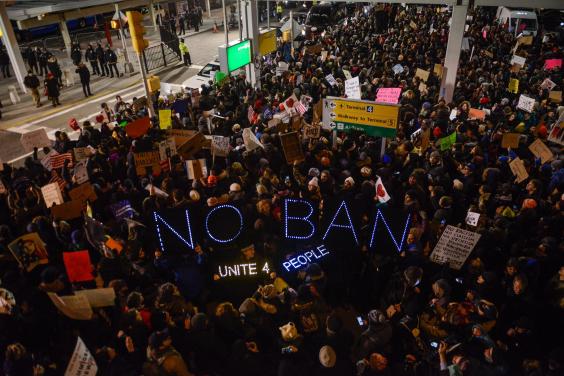 The president tried to follow through on a number of campaign promises – the first of which was to maker America 'safe' from foreign terrorism.
The president's 'travel ban' executive order, banned citizens from seven Muslim-majority countries from entering the US for 90 days, prevented all refugees from entering the US for 120 days, and banned Syrian refugees indefinitely.
His decision caused mass confusion, and green-card holders were left stranded at airports as staff tried to interpret how the ban was to be implemented.
Demonstrations occurred in a number of US airports, and opposition received legal force when a federal judge blocked the ban.
The White House appealed the decision, but it held.
Judge James Robart's enactment of his job, was treated as an act of rebellion by the administration.
It wasn't the only time Trump and his administration have been forced to backtrack on their actions.
Resistance is not futile.
That's the message people have been relaying online.
Here are some protests that have paid off:
In January, Republican Representative Jason Chaffetz attempted push through HR 621, a bill that would sell off 3.3 million acres of federally owned land.
After mass protests, Chaffetz took to Instagram to announce his withdrawal of the bill.
Elsewhere, a planned trip to Milwaukee was reportedly cancelled due to civil unrest, including a trip to Harley Davidson's headquarters, owing to the company's unwillingness to deal with protesters.
The motorcycle manufacturers were forced to cancel meetings with the new president and his administration.
Disney CEO Bob Iger also cancelled a trip to the White House, and Uber's chief executive officer Travis Kalanick quit Donald Trump's business advisory group.
Kalanick also pledged to create a $3 million legal defence fund to "help drivers who are trying to get back into the country" as well as offer legal support.
The message is clear: protesting can bring about policy change. And people are rallying. 
---
More: Donald Trump has done 50 'crazy and/or impeachable' things already
More: 228 terror attacks that really didn't get adequate attention from Donald Trump