Julian Assange appears to have started a new Twitter account, describing himself as a 'refugee' in his latest bio.
The founder of WikiLeaks tweeted on Tuesday afternoon...
... Which was retweeted by the WikiLeaks Twitter account, appearing to verify the identity of the account.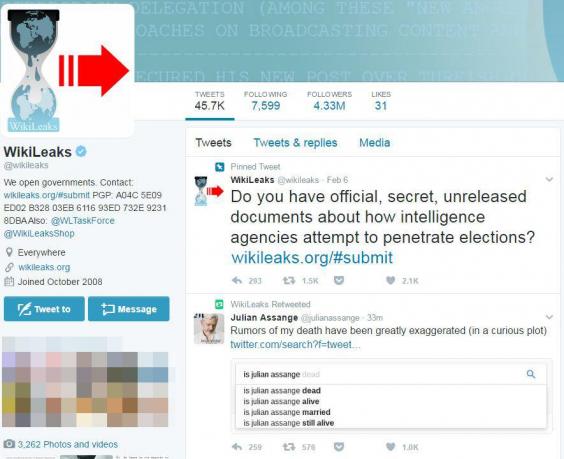 Before a tweet confirmed as much.
However, most intriguing is Assange's biography, which read that he described himself as a 'refugee'.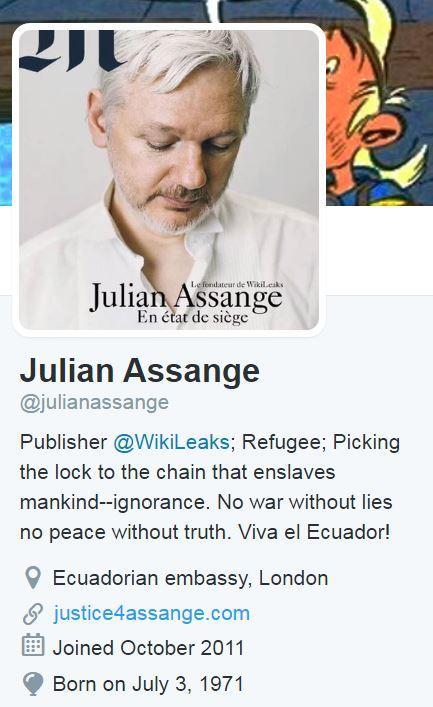 In August 2010, two women from Sweden filed complaints of rape and molestation against Assange.
Assange initially denied the charges, answered questions and left the country.
Interpol issued a red notice for Mr Assange on 20 November 2010 for his arrest.
He appeared before a judge in Westminster a week after the Interpol red notice and his supporters paid bail of £240,000.
In June 2012, Swedish prosecutors called for his extradition, in response to which Assange's lawyers argued he would then be at risk of extradition to the US.
He fled bail and applied for asylum in Ecuador, but police surrounded the embassy and refused to allow him to leave. The UK says its courts have ruled he must be sent to Sweden.
Ecuador granted him asylum in August 2012, but he will be deported as soon as he sets foot outside the embassy. He has remained there since.
A refugee is commonly defined as someone who has been forced to leave their country in order to escape war, persecution or natural disaster.
UNHCR, the UN refugee agency, says of refugees on their website:
They are defined and protected in international law, and must not be expelled or returned to situations where their life and freedom are at risk.
---
More: WikiLeaks tried to make David Bowie's death all about Julian Assange and people are angry