As a straight-A student, world-renowned education activist and the youngest ever Nobel Prize laureate, most would agree that Malala Yousafzai makes a formidable UCAS applicant. 
So it came as no surprise when on Saturday, the 19-year-old announced at a conference in Birmingham she was holding an offer to study PPE at a top UK university. 
While Malala did not disclose the institution, it is known she has applied to Lady Margaret Hall, Oxford, where Pakistan's first female prime minister, Benazir Bhutto, also studied. 
However, Malala's extraordinary achievement has provoked the ire of some Daily Mail readers, who reacted to the news with inexplicable fury in the comment section.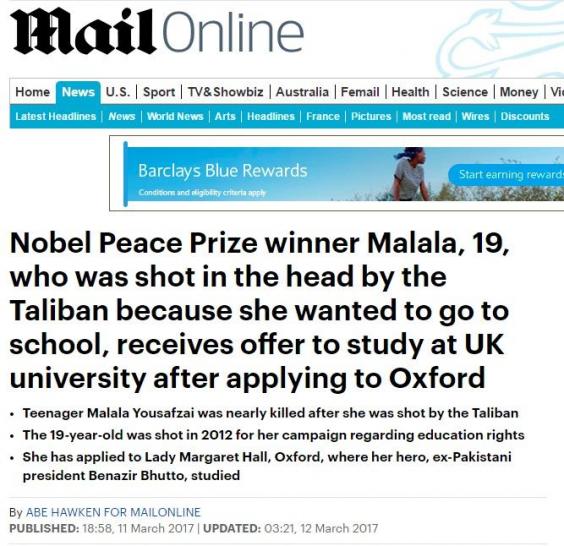 There were some who doubted the campaigner's credentials, despite her string of A and A* results, and thought her offer must be the result of tokenism: 

Others took issue with Malala's dress and appearance. 

Many commenters were outraged at the thought that the British taxpayer might have to pay for Malala's education. 



Some readers couldn't see why she couldn't just return to Pakistan to study (despite her personal safety being a risk). 

Fortunately, there were also a few who warmly congratulated Malala on her offer and wished her the best with her studies.  

Giving the final speech at the Association of School and College Leaders (ASCL) conference at the weekend, Malala said: 
"I have my A-Level exams coming and I have received a conditional offer which is three As…

"I'm really thankful to you all for you support for encouraging me for my mission. That's what makes me and keeps me so strong so thank you so much for that, and thank you for giving me the opportunity to speak."
---
More: Malala totally aced her GCSEs
More: Why Malala Yousafzai might have to turn down a place at Oxford University