If you've spent any time on Twitter over the past couple of months the chances are you've come across this dog.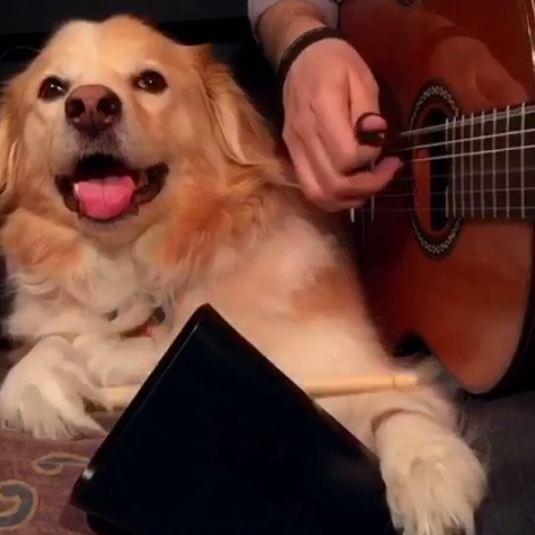 Maple, a border collie/golden retriever/Sheltie cross has become one of the most-loved Vine stars for the way her owner involves her in his acoustic guitar sessions.
Sometimes Maple is chill.
But it's when she gets directly involved that the magic really happens.
Seriously, just look at how great Maple is.
Sometimes it's almost too much to take.
As a percussionist, she's peerless.
And as an occasional singer, she's matchless.
Often, she's not directly involved in the music, but still gets her point across.
Maple, you are perhaps the world's most talented dog.
---
i100.co.uk spoke to Maple's human, a multi-instrumentalist from New England who goes by the name of Trench.
He said he adopted Maple as a puppy from a rescue shelter, and they "bonded immediately and have been inseparable best friends ever since".
She enjoys climbing into my lap while I play the guitar and usually falls asleep, the music seems to soothe her.
Trench said Maple is "very intelligent and picks up on things quickly".
"I worked with her for about an hour the night before filming the Vine where she holds my hand with her paw, teaching her how to do it at the right time," he said.
"When we filmed the video the next day we got the shot on the first take. The majority of Vines with her are done without any guidance though, and I'll just record for a while until getting a shot that matches the feel of the song. She's asleep in my lap in a lot of my vines as well, and you can sometimes hear her little snores if you listen close."
We've been having a lot of fun recently with Maple joining in playing instruments alongside me, and although she does a lot of it on her own she sometimes gets a little help.
Trench said it had been "pretty surreal" to see his videos go viral, but that he's just happy people enjoy them.
He told us he couldn't pick a favourite Vine, but that this one was the most fun to film.
"I kept laughing while trying to film the Vine because of the silliness of it all and Maple was so excited hitting that cowbell," he said. Finally, on anyone wanting to play acoustic guitar as well as Trench (or Maple), he said: "I'm self-taught and primarily learned by teaching myself to read music and then I spent hours a day sight reading all the sheet music I could find. "My advice for anyone wanting to learn the guitar is to be patient, and to make sure that you're having fun." Did you get that, the most important thing is to have fun...
---
Check Trench out on Vine, or on Instagram or YouTube.
---
More: [Introducing the world's best goat (and we do not say that lightly)]4