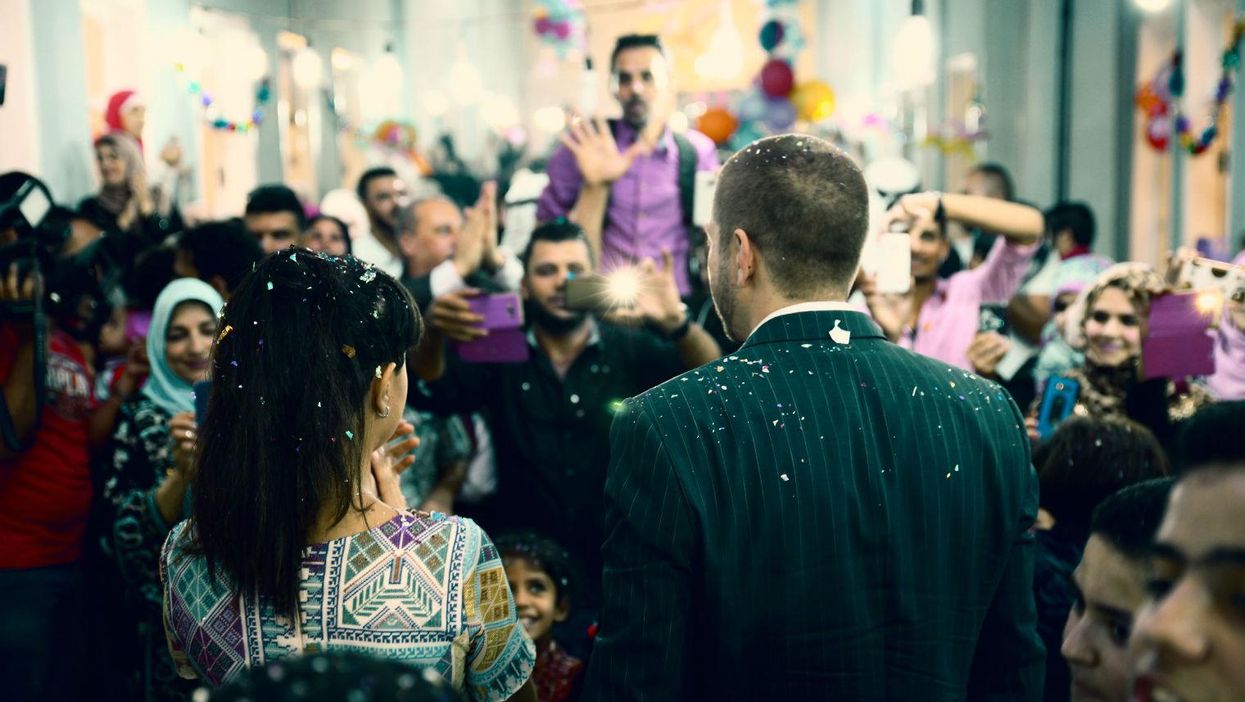 A Jordanian couple who got married earlier this month invited hundreds of refugees in the local community to celebrate with them.
Basma Omar and Mutaz Mango tied the knot in Amman, which is currently home to hundreds of thousands of Syrian refugees.
Mutaz, who runs a local yoga studio, was already volunteering with the Collateral Repair Project, a charity which works with mostly Syrian and Iraqi nationals who have fled their homes.
He and his fiancee decided that they would like to mark their special day in a way that would make a difference.
There are some 600,000 registered Syrian refugees in Jordan, mostly living in urban areas. Four in five live in towns and cities rather than refugee camps, but they receive little international attention in comparison to places like Zaatari.
The situation for everyone, though, is increasingly dire. Refugees are not allowed to work, and many have exhausted their life savings after just a few months and are forced to turn to begging, stealing and prostitution just to get by.
Photo: Yousef Kawar
Elena Habersky, spokesperson for CRP, told i100.co.uk the couple were inspired to help because they realised how lucky they were to live a life of stability when Jordan's neighbouring countries have descended into chaos.
CRP connected the couple with some of the most vulnerable people in their care, and Basma and Mutaz happily extended an invitation to their special day.
Photo: Yousef Kawar
Around 250 guests of many different nationalities attended the couple's wedding in East Amman, including people from Syria, Iraq, Palestine, Sudan, Somalia and Yemen, as well as the couple's friends and family.
The wedding guests enjoyed traditional Jordanian food like mansaf, a lamb dish, and were entertained by Dabke dancers and musicians. According to Habersky, everyone joined in the singing and dancing.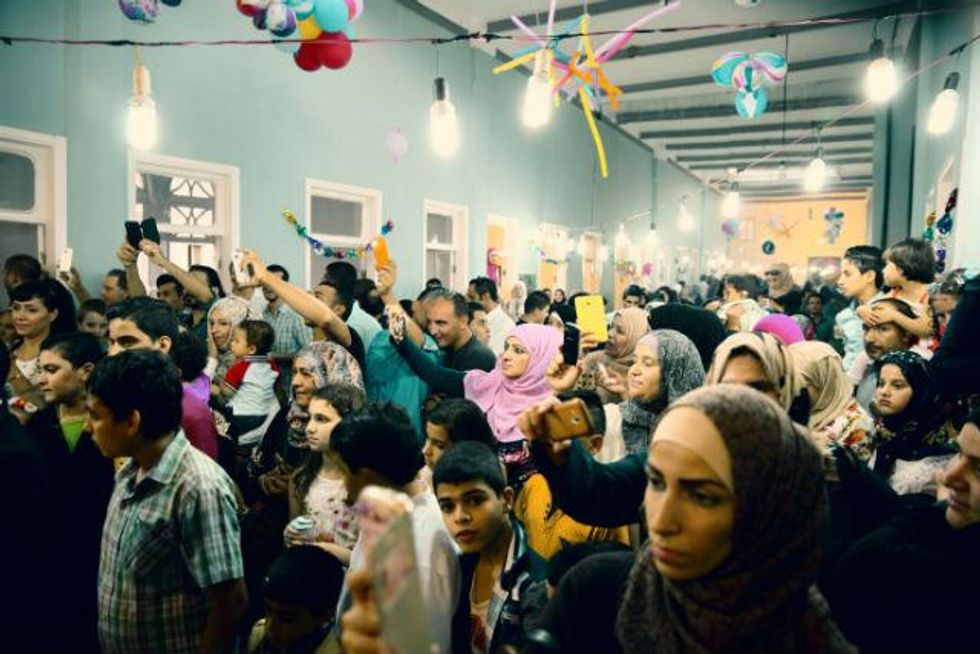 Photo: Yousef Kawar
One guest from Iraq told i100.co.uk:
It was a bold move and it was a beautiful and creative idea. I wish this idea would spread to other people. Instead of spending money on a fancy hotel wedding, Mutaz and Basma gave something unforgettable to others. I bless them and their marriage.
Another Syrian attendee said:
The food was absolutely delicious and the atmosphere of music and traditional Middle Eastern dance brought everyone together, regardless of nationality.

It didn't matter if we were refugees or from different countries, we were all able to forget about our worries and join in the beautiful celebration. The people, especially the children, were very happy.
The newlyweds said that they also wanted to help by funding food vouchers for local refugees, which allow beneficiaries the dignity and autonomy of shopping for themselves.
Their gift is even more crucial since last month 230,000 refugees in Jordan had their food aid from the World Food Programme completely cut due to a lack of donations.
More than 80 per cent of Syrians in Jordan live below the poverty line, the UN says, and conditions are so bad that more than 100 people a day are now actually leaving the country to return to their war-zone homes.
If you'd like to learn more about CRP's work or donate, click here.