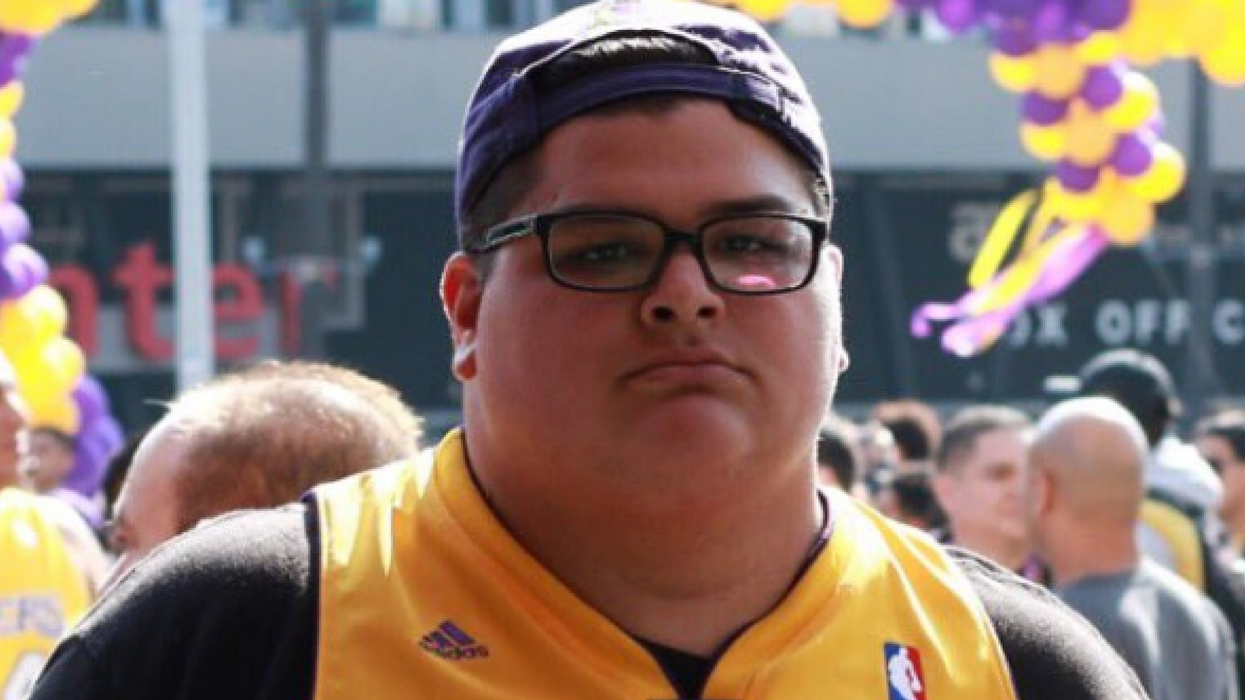 Chris Huerta/Twitter
A Lakers superfan said he lost more 170 pounds in an astonishing transformation in the space of 80 weeks.
Chris Huerta said he stopped exercising and felt really down until his idol, retired basketball player Kobe Bryant, inspired him to do something about it.
It was when Bryant - who is nicknamed 'The Black Mamba' - scored 60 points in a his final career game against the Utah Jazz that Huerta made the decision to change his diet.
The Californian said on Twitter that he:
Took it one day at time with that #MambaMentality
He added that he cut out diary, sugar and most carbohydrates and started exercising slowly. He said that, most importantly, "you just have to believe you can do it and just be patient."
Starting at 380 pounds in April 2016, Heurta now weighs around 210 pounds.
I've never been committed to anything. I always quit because I always told myself "I can't do this." So,here we a… https://t.co/b6Csoo3yys

— Pow Chrisol🤘🏽🏀🤘🏽 (@Pow Chrisol🤘🏽🏀🤘🏽) 1513022999
Fans of Basketball hero Bryant, whose sporting career spans 21 years, have been sharing tributes as the former Los Angeles Lakers player prepares for his retirement ceremony.
Huerta received an overwhelming response to his tribute in a tweet that already has nearly 35,000 likes:
Down 170 lbs since @kobebryant 's last game. Took it one day at time with that #MambaMentality. Happy #Ko8be24 !!… https://t.co/HICzcUxAm9

— Pow Chrisol🤘🏽🏀🤘🏽 (@Pow Chrisol🤘🏽🏀🤘🏽) 1513627729
The superfan's success even got a response from Lakers boss Jeanie Buss who posted on Twitter:
Chris! You are an inspiration just as Kobe was an inspiration to you. You gave me chills! Thanks for sharing your j… https://t.co/lGBDEJ0yj5

— Jeanie Buss (@Jeanie Buss) 1513634614
Weight loss
Consistency is the key approach when it comes to losing weight, says the Obesity Society.
The organisations recent study suggested that gradually shedding off a few pounds each week rather than 'crash dieting' can be more beneficial for long-term weight loss.
Emily Feig, a postdoctoral fellow at Massachusetts General Hospital - who led the study - said healthy eating and exercise can help keep weight loss consistent. She said:
My best recommendation for patients, based on this research, is to try to keep their eating pretty similar day to day.
Feig added that planning ahead and preparing food for the week on Sundays and also cutting down takeaways and eating in restaurants can help - since they "reduce the chance of making impulsive decisions about what to eat."
The study involved tracking 183 overweight or obese adults for one year while they participated in a weight-loss programme.
Dr. Zhaoping Li, director at the University of California, Los Angeles' Center for Human Nutrition, who was not involved in the new study, told
CNN
that the results of the study were consistent with other scientific research.