Bethany Colburn/Colburn Creative
Alyssa Kamm's wedding plans were thrown off course when her father Karl was diagnosed with cancer.
The wedding wasn't supposed to take place for another two years, but with a disease like cancer, the future was suddenly very uncertain for the entire family.
Thankfully though, in an amazing show of community spirit, strangers and businesses across Rochester, New York, donated a venue, photographer, music, flowers and more so that the Karl could attend the wedding while he was still healthy enough to enjoy it.
Kamm told Today:
I'm very much a daddy's girl. I always have been. To think the one person I look up to as my hero may not be able to walk down the aisle was devastating.
The groom, Mike, also had some very generous sisters, who encouraged the couple to get married as soon as possible, and offered to pay for the wedding, according to Today.
Kamm said:
Mike's sisters wanted to do whatever they could to avoid having a backyard wedding, but something nice enough that we could enjoy and that my family would be able to attend, too.
Jones had had two rounds of chemotherapy by the time the big day came around – only three days after his diagnosis. He told Today:
All the vendors — we call them our fairy god dream team. They didn't know us, and they just started offering their services and the ball kept on rolling. It shocked me.
Here's Kamm with her father:
Picture: Bethany Colburn / Colburn Creative 
Picture: Bethany Colburn / Colburn Creative 
He managed to walk Kamm down the aisle!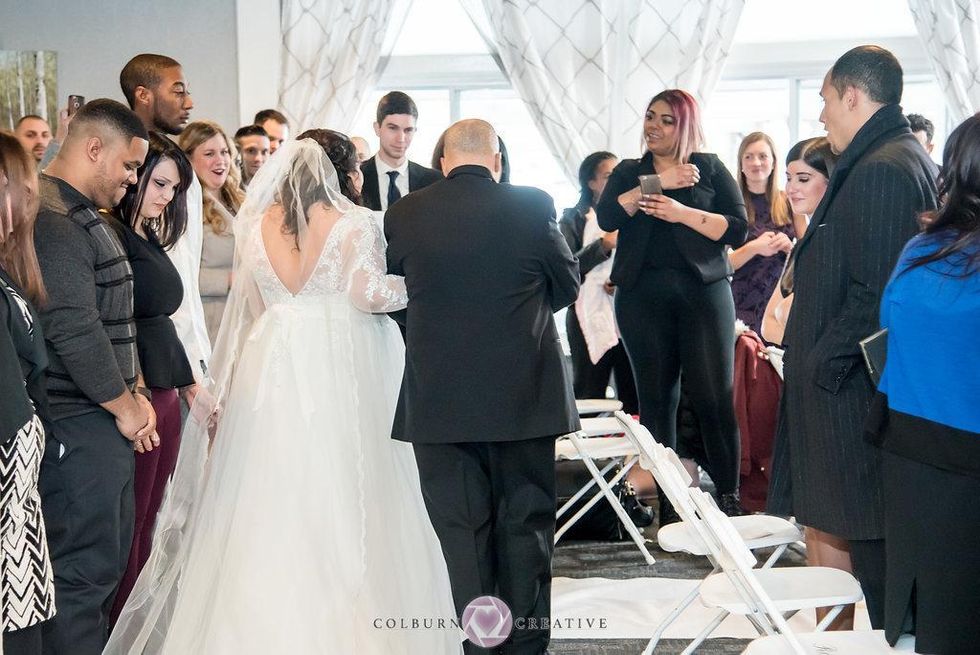 Picture: Bethany Colburn / Colburn Creative 
He said:
Luckily, I had enough strength to make it all the way down. And that made her day, too.
Kamm said it made her dad really happy:
This is something that makes him happy, to let people know that there are good people in the world we live in. This story, even though it's rooted in something that's really sad, and it stings for us, it has such a happy ending, and that gives him something to live for.
Picture: Bethany Colburn / Colburn Creative