Fox News appears to have admitted that its veteran news presenter Bill O'Reilly embellished an anecdote from his time as a junior reporter.
O'Reilly recently went on the attack after being accused of fabricating a story about his time covering the Falklands War for CBS News; saying he would go at the New York Times "with everything I have" if its coverage was unfair.
However, it is about his time covering the Troubles in Northern Ireland that has been the centre of the latest accusations.
In his 2013 book Keep it Pithy: Useful Observations in a Tough World, O'Reilly claims: "I've seen... Irish terrorists kill and maim their fellow citizens in Belfast with bombs."
The Washington Post reports that when it approached Fox News for a statement on this, a spokesperson responded:
O'Reilly was not an eyewitness to any bombings or injuries in Northern Ireland. Instead, he was shown photos of bombings by Protestant police officers.
The Post also points out that this case is similar to a story O'Reilly told about witnessing nuns being "shot in the back of the head" in El Salvador despite only arriving in the country months after the incident took place. He backtracked on that statement last week by saying again that he had merely been shown photographs of the incident.
As one commenter on Gawker notes: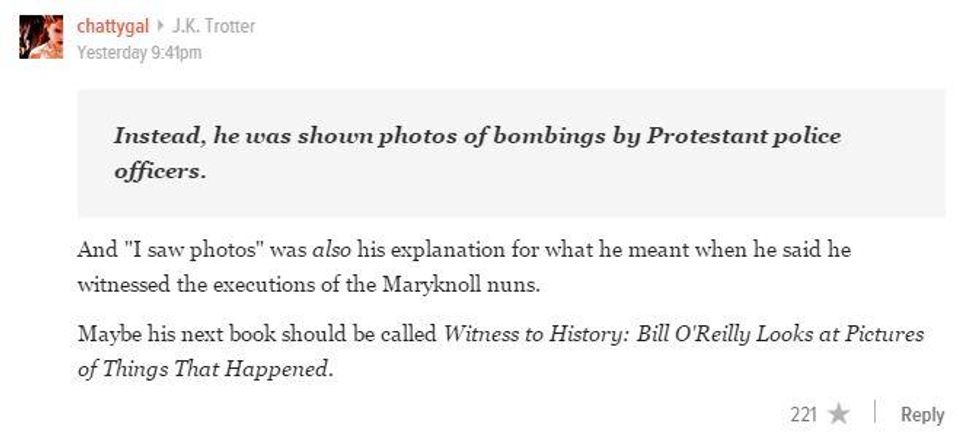 The controversy around O'Reilly comes after NBC suspended anchor Brian Williams for six months without pay after some of his stories about the Iraq War also turned out to be embellished.