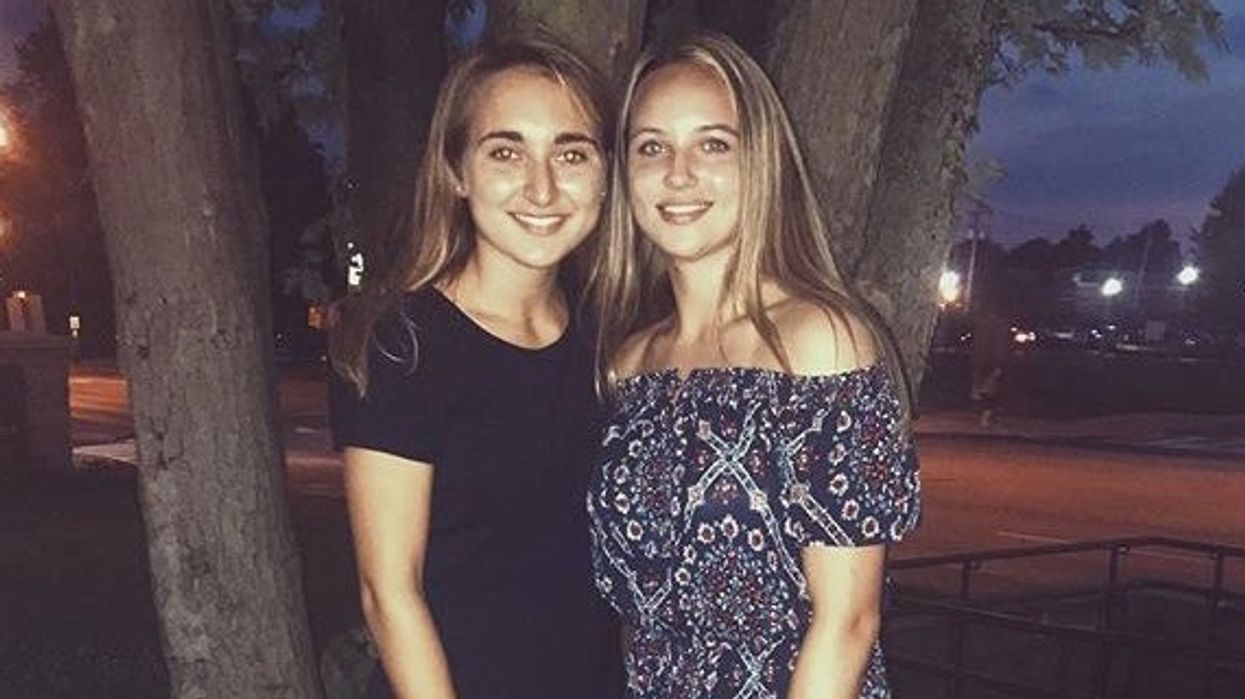 GoFundMe
A student has found herself disowned by her parents after they discovered a picture of her with a girl that she was in a relationship with.
Her mother found the image and told Emily Scheck that she thought it was 'disgusting' and gave her daughter an ultimatum.
She could either come home and undergo conversion therapy to deal with her sexuality or they would erase her from their lives forever.
Scheck, who is an athlete at Canisius College in Buffalo, New York, decided that she couldn't possibly go through with therapy but when she returned home she found that all of her childhood belongings had been thrown out and the licence plates on her car had been removed, as they were paying for her insurance.
On top of this, she was left without any financial support and had only $20 to her name, as her two jobs only paid employees every two weeks.
Speaking to LGBT sports website, Outsports, Scheck described how hard her parent's decision was to deal with and the precarious situation it left her in.
I really didn't know how someone should respond to that [her parent's ultimatum]. At the start, it was definitely tough.

I was lucky to be in preseason the first couple of weeks because coach could get us meals in the dining hall.
Seeking help to make her situation a little more manageable, a GoFundMe campaign was set up for the 19-year-old in the hope of raising the $5000 that she would need to purchase food, cover her insurance and finish school.
A statement on the page reads as:
In August of this year, our friend Emily was kicked out of her home.

Her parents found out that she has a girlfriend through her social media, and they gave her the choice; come home and go to therapy or stay at school and be completely cut off.

She chose the latter and has been doing her best to stay afloat in college without the financial support of her parents. 

Emily has no home and has no family supporting her.

In 2019, she will no longer be on her parent's health care plan and will have a whole new set of expenses to be covered.

She was kicked out of her home for being herself.

No one deserves to have their home and siblings taken away from them for being their true selves.

Though she has made a new home in Buffalo through her teammates and her girlfriend, Justyna, we can no longer stand by and do nothing.
Amazingly the campaign which was only set up 14 days ago has already surpassed it's target and has received $100,515 in donations at the time of writing.
However, there was an uncertainty around the donations, as the National Collegiate Athletic Association (NCAA) initially hesitated about letting her accept the money.
The NCAA told her that she could return all the money or accept but lose her place on the cross country running team. This was because it defied NCAA legislation.
A statement from college spokesperson Matt Reitnour given to Outsports confirmed this:
After a review by the College's compliance staff, and following consultation with the NCAA, it was determined that the online crowdfunding webpage was organised and promoted in a manner not permitted under NCAA legislation.

Canisius informed the student-athletes that it would be necessary to end the online fundraising effort and work with the website host to return the donations received in order to preserve the student-athlete's eligibility.
With a public relations disaster on the horizon, senses prevailed and the decision was eventually overturned, with Canisus college releasing a statement on the matter.
Canisius College received clarification from the NCAA that Emily Scheck can retain her eligibility and continue to receive GoFundMe donations that assist her with living and educational expenses.

The NCAA staff worked cooperatively with Canisius College to provide guidance that the fundraiser can continue, with school monitoring.

NCAA rules allow a school to assist a student-athlete with a fundraiser after a significant life event occurs.

Canisius and the NCAA will continue to work together in support of Emily.

She is a member of the Canisius family and we will to do whatever we can to assist her.
HT Unilad