World's best brother?
Hunter Gandee is certainly a strong candidate for the title. The American teenager has completed a 40-mile walk with his brother Braden strapped to his back.
Seven-year-old Braden – who has cerebral palsy – typically uses a walker, brace or crutch to get around, but at the weekend he has to rely solely on his brother to get him from A to B.
He ain't heavy…
Well, he's not exactly featherlight. Hunter, 14, carried his sibling, who weighs 22kg, on the two-day trek through Michigan to raise awareness of cerebral palsy.
Hunter has said he hopes the walk, dubbed "The Cerebral Palsy Swagger", will highlight the condition and inspire new ideas for mobility aids and medical procedures.
(Picture: AP)
Presumably this was a fundraiser too?
Hunter told ABC News his goal was strictly to raise awareness. Those who have asked to donate have been directed to the University of Michigan's Cerebral Palsy Research Consortium.
How did he prepare for the challenge?
The teenager, who enjoys wrestling, said he trained for the trek for months by lifting weights. However, he couldn't predict the weather: he withstood heat, rain, fatigue and pain to complete his mission on Sunday.
"Braden's legs – the chafing was getting pretty bad," Hunter said. "We did have to consider stopping. It was at about the 30-mile point."
However, their spirits were buoyed by their parents and two other siblings who accompanied them and cheered them on.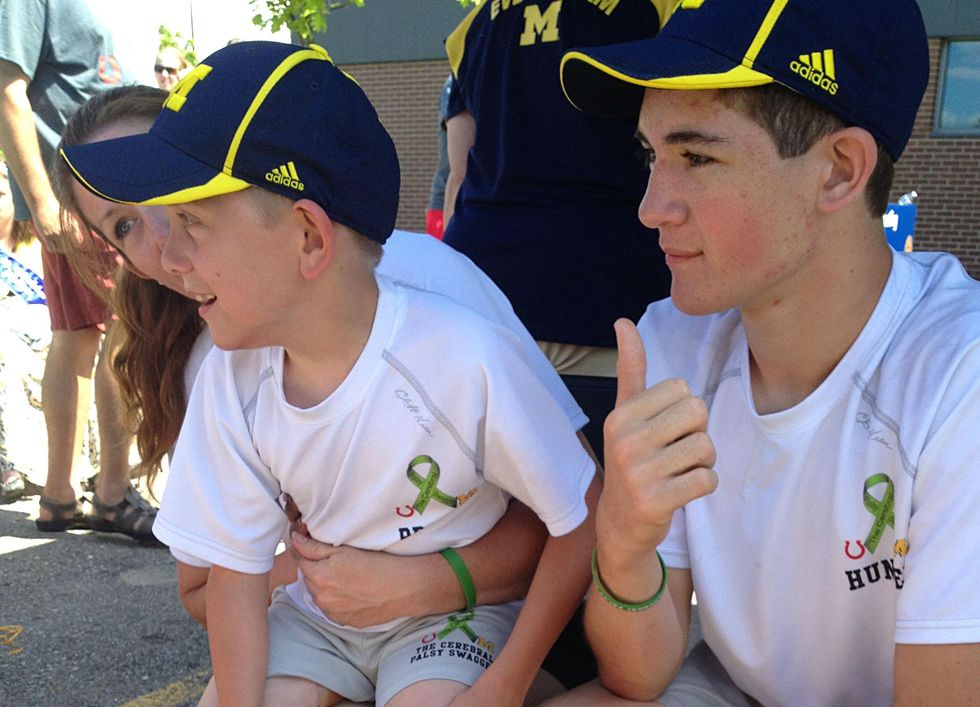 (Picture: AP)
He must have been relieved when it was all over…
Hunter said that he was "more tired than I think I've ever been. My legs are pretty sore. But we pushed through it. And we're here".
Speaking about his brother, he added: "I can't even describe to you how special [Braden] is to me. I can't put it into words… He's awesome.
"He's always there for me. I really just wanted to give back to him in some way." Asked how he felt, Braden replied: "Tired."