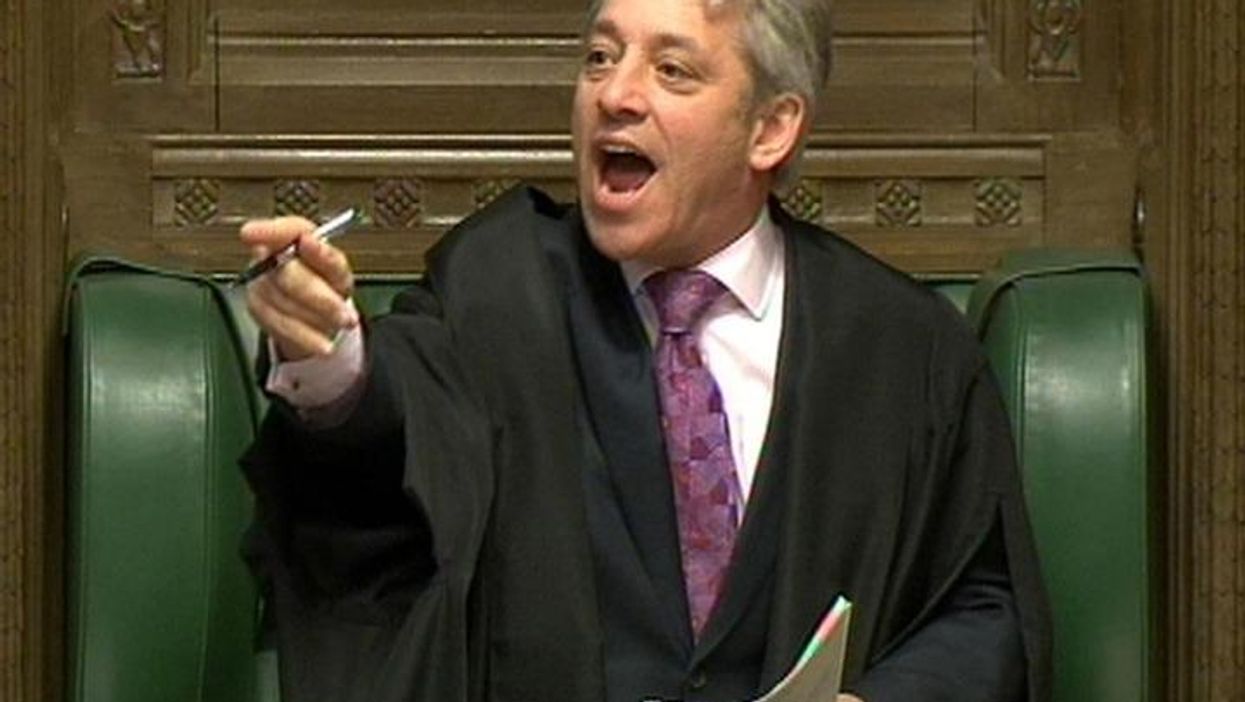 John Bercow has been back in the news recently for his savage takedown of Health Secretary Jeremy Hunt for playing with his phone and not paying attention in parliament.
It's the latest in a long list of verbal assaults on MPs to restore order, which have earned the speaker a place in the PMQs-watching public's heart, since he started the role in 2009.
Here's a selection of his best rants from the chair:
1. When Jeremy Hunt fiddled on his phone.
The latest entry in Bercow's greatest hits album:
When the Health Secretary needs reminding that he should pay attention to the opposition's questioning of his extremely unpopular policies, who you gonna call?
I do very gently say that to sit on the bench... fiddling ostentatiously with an electronic device defies the established convention of the house that such devices should be used without impairing parliamentary decorum. They are impairing parliamentary decorum.

It's a point so blindingly obvious that only an extraordinarily clever and sophisticated person could fail to grasp it.
2. When he kicked Dennis Skinner out for calling the prime minister 'Dodgy Dave'
He invited the MP to withdraw his adjective "beginning with a 'd' and ending with a 'y'", but Skinner refused to do so.
At which point Bercow removed him from the house for the day's sitting.
3. When he singled out a front bencher for an exceptional rant
Anna Soubry was providing a "running commentary" in disgruntled remarks during one session, as Bercow put it, and he delivered an exceptional rant to quiet her.
Order - let me say once and for all to the Honourable Lady, who has been conducting a running commentary since she sat on that bench at the start of this debate, stop it.

I don't wish to hear it, neither does the House. The Right Honourable Gentleman the secretary of state will respond in due course.

I don't want to hear the sedentary chuntering and the finger-wagging and all the rest of it. The Honourable Lady, she can say 'pooh' if she wants, the Hon Lady will accept the ruling of the Chair and either behave or get out of the chamber, I don't mind which it is.
4. When an immigration row got too loud
When an immigration row between David Cameron and Ed Miliband led to uproar from the back benches, and Bercow politely reminded them they are representatives.
Can I just ask the house ot have some regard for the views of the public about our behaviour, given that we'll be seeking their support in the weeks ahead.

It's really quite straightforward.
5. When David Cameron was told he was taking too long
One of David Cameron's favourite pastimes at the dispatch box is to provide only a brief , tenuous answer to a question, before using the majority of his allocated time of reply to opportunistically snipe at the opposition.
During one such event, when he was laboriously dragging Ed Miliband over the hot coals about the economy, Bercow had enough.
Order!
Cameron pleaded:
But, I haven't finished!
Bercow replied:
In response to that question, the prime minister has finished and he can take it from me that he's finished.
6. When Sajid Javid was told he was taking too long
The business secretary issued a lengthy response to an urgent question, exceeding his allotted time by nearly double.
After which, Bercow laid down the law:
It is a considerable discourtesy, or incompetent, or both for a secretary of state to take twice the length of time that is allocated for answering an urgent question.
7. When he berated Michael Gove like a naughty schoolboy
Then Conservative chief whip Michael Gove was being a bit loud at a 2014 prime minister's questions.
He was swiftly put in his place.
Mr Gove! You really are a rather over-excited individual! You need to write out 1,000 times 'I will behave myself at Prime Minister's Questions'.
8. When he singled out two exceptionally loud MPs
Can I say to Mr Robertson - you do have something of a lion's roar and it rather lets you down, because I can hear very clearly it's you.

And as for you Mr Lucas, I've told you you need to go on some sort of therapeutic training course if you're to attain the level of statesmanship to which you aspire.