Last night during the Brit Awards, Katy Perry's performance took aim at the UK Prime Minister and the President of the United of States.
Skeleton puppets dressed to resemble the clothes worn during the meeting of the two leaders danced on stage to Perry's new single 'Chained to the Rhythm'.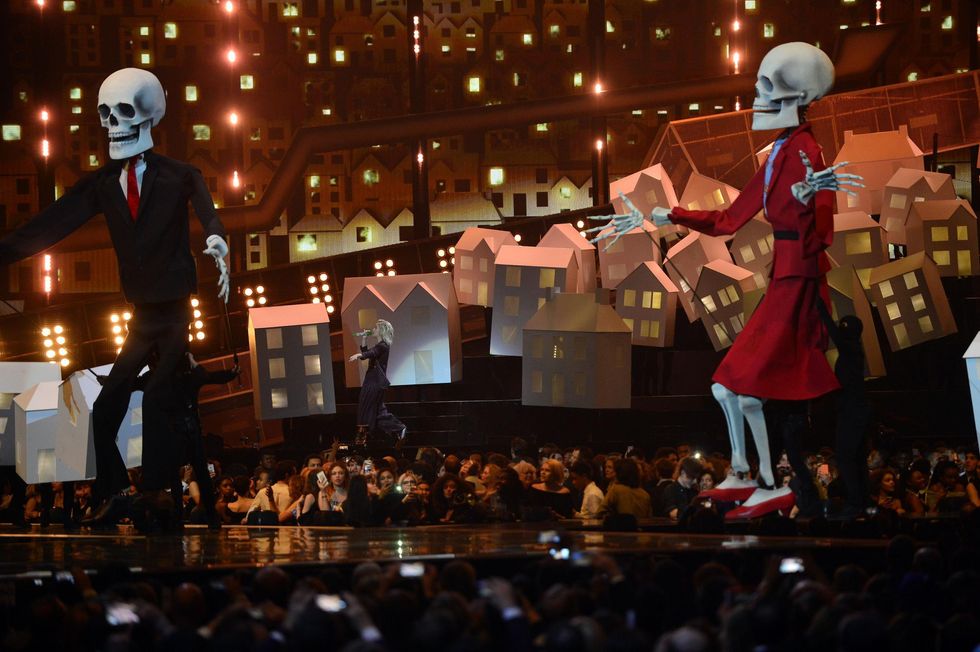 Katy Perry performs with Skip Marley at the Brit Awards, O2 Arena 22 Feb 2017
Donald Trump and Theresa May in the colonnade of the White House 27 January 2017. (Picture: Christopher Furlong/Getty Images)
The politically charged performance provoked strong reaction online.
Should've given the Trump skeleton tiny hands, though. #BRITs #KatyPerry https://t.co/MUcX6oZvw0

— Catrin Newman (@Catrin Newman) 1487797881
What are those?! 😱💀 Loving those big skeleton things @katyperry haha #BRITs2017 #brits https://t.co/6OSDkaLbyZ

— Jasdeep Bhabra (@Jasdeep Bhabra) 1487797182
Get you Katy Perry... #brits https://t.co/yA8XTnfpz0

— Ben Kelly (@Ben Kelly) 1487797378
Most amusing was the moment when one of the little houses decked it.
The topping white coloured home was also ripe for interpretation.
Where do you see the White House in 4 years time? Me: https://t.co/sCb5jm0WAA

— James Delamare (@James Delamare) 1487800284