Today makes 50 years since Martin Luther King was shot on a motel balcony in Memphis on April 4, 1968.
Those King inspired have been reflecting on the man and his legacy.
Early in 1961, 24-year-old college student Bob Singleton marched with Martin Luther King in front of Woolworths', protesting its racially segregated southern lunch counters.
He may have only met King once, but that meeting changed him. Singleton, now aged 81, said in an interview with Reuters:
That really made me, from that point on, an organiser.
Soon after, that summer, Singleton led a racially mixed group of 11 University of California students - among them his wife, Helen, now 85 - to a train terminal in Jackson, Mississippi. Helen told Reuters:
I saw a 'whites only' sign up above a door and I knew that's where I'm going. 
They were known as the Freedom Riders and were fighting to enforce the federal laws that ruled segregated public buses unconstitutional.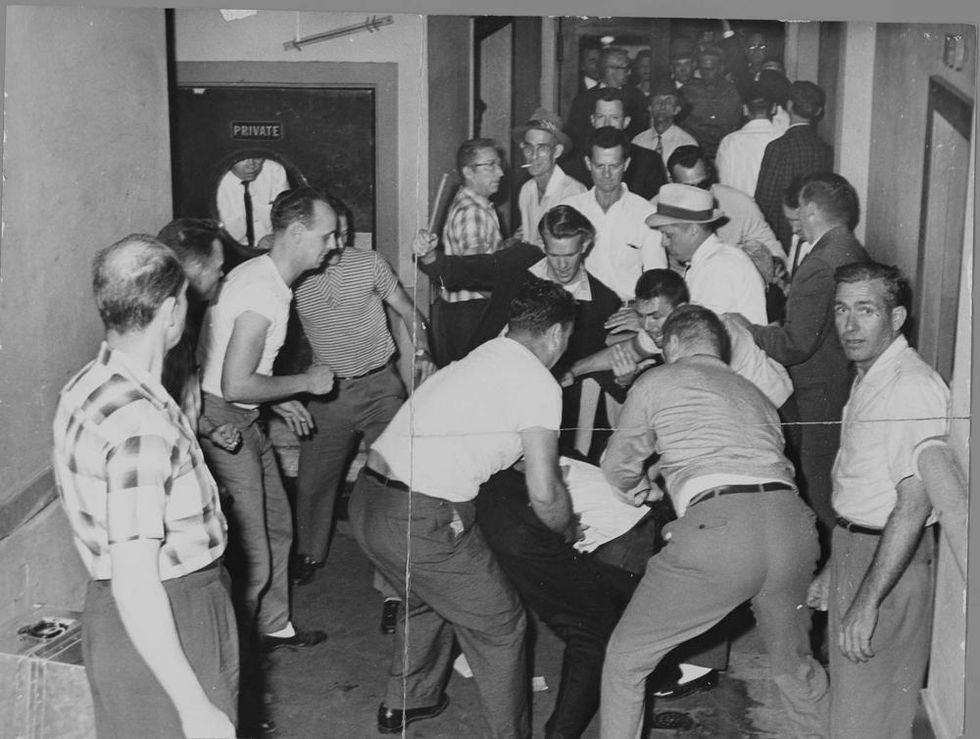 Picture: A mob beats Freedom Riders in Birmingham, Alabama
Hundreds of Freedom Riders were arrested and some confronted with horrific violence from white protestors for simply travelling on buses and trains in the American South.
But their efforts, which risked their lives, also drew international attention to their cause. Bob Farrell, aged 81, who was arrested in Houston, Texas in August 1961 said:
The amazing thing is that we won that battle. Inside of one year, we contributed to changing public policy that had been there since the beginning of the twentieth century.
He remembers attending King's funeral in Atlanta years later.
I can remember what it was like finally getting over to Ebenezer Baptist Church and preparing for the great march to Morehouse College where Dr. King was going to be temporarily buried.

The silence, the silence once the body came out of the church, the silence on that long march and then the memorial celebration at Morehouse College with the speakers. It was just something

I've never experienced before or since
Half a century on, there is still work to be done, and racism and white supremacy still devastate US society. Farrell said:
The fact that 50 years later, there's so much still to be done just demonstrates to me and to others, how deep - how very, very deep - white supremacy, its premises and the dynamic that still propels our nation, is still there.