Getty Images / ALEXANDER JOE / Staff
You may think you know the most important, most inspirational parts of the life of Nelson Mandela.
The man served 27 years in prison, helped bring in the end of Apartheid in South Africa, and became his nation's first black president after his election in 1994.
Spurred on by anniversary of his birth, we've looked into the patchwork of Mandela's life - the forgotten bits that made him who he is, that make the totality of why people are celebrating his life 100 years on from his birth.
1. Mandela grew up in a tiny village and was the first in his family to attend school.
After his father died when he was aged nine, he was adopted by the Thembu regent, chief Jongintaba Dalinyebo.
2. He was given the name 'Nelson' in school.
His real name was Rolihlahla - which means 'pulling the branch of a tree' or 'troublemaker' - but it was common for children to be given English names.
3. He was a master of disguise.
He was dubbed the Black Pimpernel - a reference to Emma Orczy's 1905 novel 'The Scarlet Pimpernel' - for his tendency to disguise himself to escape being arrested for political activity.
For example, he dressed up as a fieldworker and a chef.
4. He was dressed a chauffeur when he was finally arrested in 1962.
He was driving fellow activist Cecil Williams when he was arrested and later sentenced to prison.
In his biography, he wrote:
I knew in that instant that my life on the run was over with other ANC leaders of sabotage.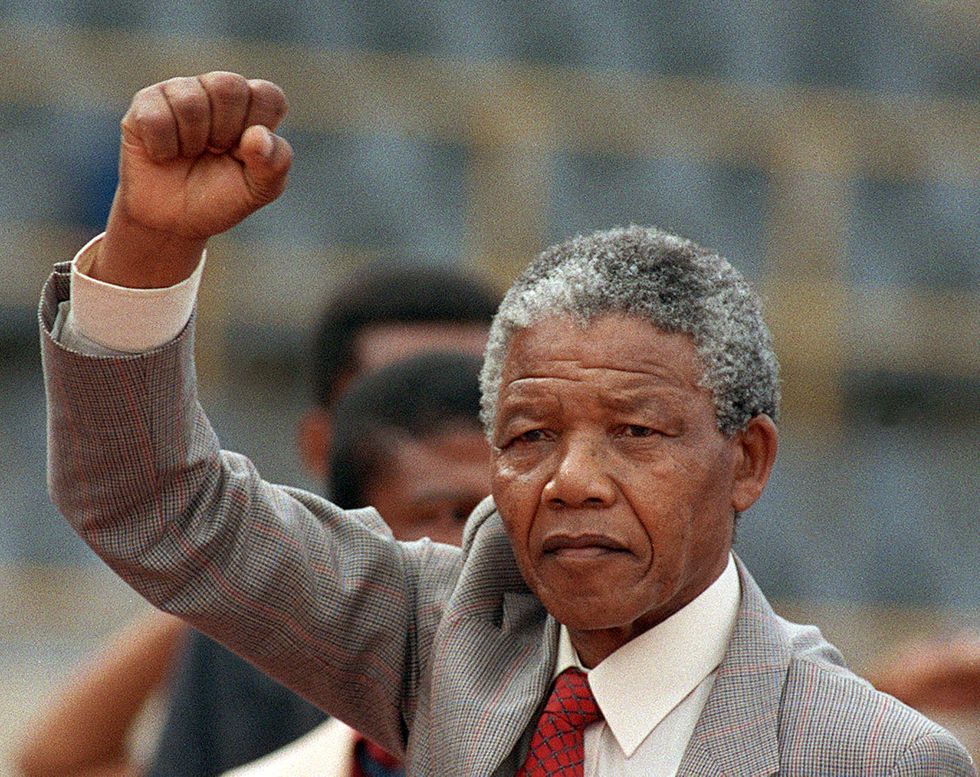 Picture: Getty Images / TREVOR SAMSON / Staff
5. He read 'Invictus', a poem by William Ernest Henley, to inspire fellow prisoners.
The poem is about not giving up. You can read it here.
6. In prison, he was brilliant at underhand communication.
By hiding notes in discarded matchboxes, under piles of dirty dishes and taped in toilet tanks, he developed a system to send secret messages, enabling him to a hunger strike.
7. He started out a pacifist.
In 1961, he persuaded the African National Congress (ANC) that violence was necessary to gain freedom and equal rights for South Africa's black majority.
He also co-founded and became the first leader of Umkhonto we Sizwe ("Spear of the Nation"), a new armed wing of the ANC.
However, he was initially committed to non-violent protest.
Picture: Getty Images / Peter Dunne / Stringer
8. He overcame many personal tragedies
His marriage to Evelyn Mase in 1944 was soon marred by tragedy.
One of their children, Makazie, died at just nine months old.
Madiba Thembekile and Makgatho Lewanika, their other two children, died in a car crash in 1969 and of AIDS in 2005, respectively.
Mandela had two other children with his second wife, Winnie.
9. He declined offers to get out of prison six times.
The sixth time he was offered a get-out from prison was in 1985, when South African president P.W. Botha offered freedom in exchange for him renouncing violence.
Mandela refused, insisting he would only lay down arms when the country's white government did the same.
10. He used sport to unite the country and redefine the image.
Watching fellow political prisoners from the ANC play football, he saw the power of football to patch over divides and inspire people.
For example, he encouraged the South African cricket authorities to introduce mixed-race teams and black South Africans to support the national rugby team.
11. He is open about his mistakes.
He admitted the damage he had done by overlooking the HIV/AIDS crisis, with his ability to realise his failures one of the most important parts of his legacy.
Throughout his five-year tenure, he and his party didn't act quickly enough to stop the rate of HIV infection among adults in South Africa soaring.
12. There is a global holiday in his honour.
Nelson Mandela International Day is celebrated every year on his birthday, 18 July.
He also probably won more awards than anyone in history - the 1993 Nobel Peace Prize, the Lenin Peace Prize and honorary degrees from more than 50 universities worldwide.
13. He appeared in a Spike Lee film.
His brief cameo saw him appear as a school teacher in the 1992 Spike Lee biopic Malcolm X, underlining the link between the American Civil Rights struggle and dismantling apartheid in South Africa.