Nicki Minaj broke the YouTube record for the most views in 24 hours with her video for Anaconda - yet it was snubbed when it came to nominations for the biggest prize at the MTV Video Music Awards.
Instead Ed Sheeran's Thinking Out Loud, Taylor Swift's Bad Blood, Beyoncé's 7/11, Kendrick Lamar's Alright and Mark Ronson's Uptown Funk were all nominated for video for the year, while Anaconda was only nominated for best female video and best hip hop video. The video for Feeling Myself featuring Beyoncé received no nominations.
Baffled, the pop star sent out a series of tweets on the matter.
Enter Taylor Swift, who percieved the tweets as a reaction to Bad Blood being nominated:
Nicki Minaj had pretty much the same reaction to her interjection as us:
Minaj's tweets were measured and calm, as was her reaction to Taylor Swift. Not that you would know that from the coverage:
If you can't see an issue here, check out how Janet Mock put it when tweeting Entertainment Weekly.
They certainly did:
And it's not like there aren't any photos of a smiling Minaj to choose from:
Or an angry Taylor Swift:
For those not sure exactly what is happening for, let Ncki Minaj explain for you: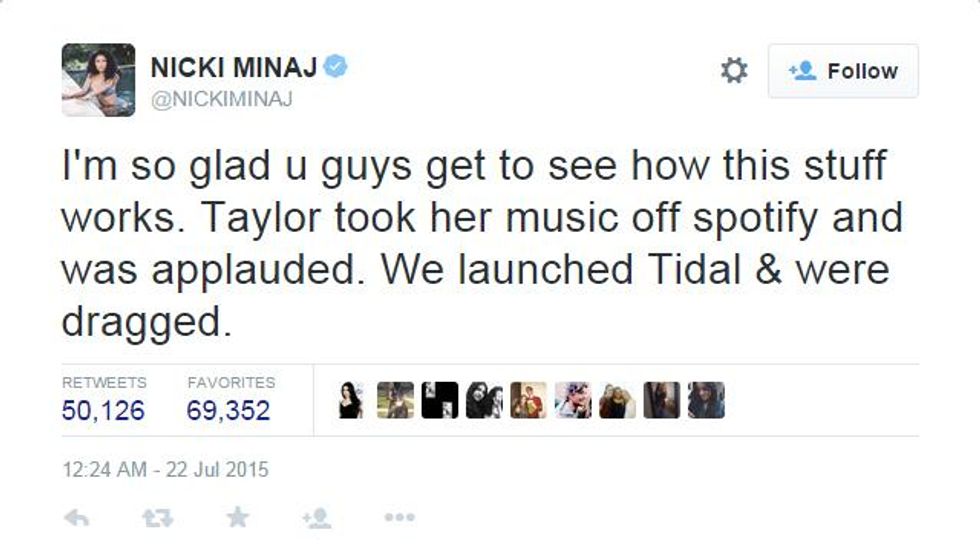 More: Nicki Minaj's new video is getting attention for all the wrong reasons