Getty Images / Neilson Barnard / Staff
Patrisse Cullors was just a teenager when she watched police handcuff and haul her mentally ill older brother, Monte, to prison.
But it was much later that she learnt how they kept water from him and tied him up, drugging him until he was incapacitated, beating and choking him until he passed out.
Yet it is black activists who are the ones who are called terrorists. In fact, Patrisse Cullors told indy100:
It was predictable. Black activists throughout time have been called terrorists, even though we're fighting for America's democracy.
First by Bill O'Reilly, who likened Black Lives Matter to the Ku Klux Klan, and then from the lips of the FBI, who cracked down on dangerous 'black identity extremists', right-wing pundits and those in positions of power have felt free to malign the black rights movement by calling it terrorism.
Patrisse uses her new memoir, When They Call You A Terrorist: A Black Lives Matter Memoir, to reclaim the discussion. She told indy100:
It was important to question: What is terror? Who is committing terrorism? Is it really black activists or is it really the police who have plagued our communities for decades?
Less shockingly, but just as damaging, are the quietly sewn seeds of doubt over the legitimacy of Black Lives Matter. This is often done by belittling the phrase as self-evident and therefore unnecessary, as well as exclusionary to other races.
To this, Patrisse lays down the statistics: in 2016, hate crimes in the US rose 6 percent in 25 of the largest cities, and black people were the most common target; in the state of California, a human being is killed by a police officer roughly every 72 hours, and 63 per cent of these people are black or Latino; black people, 6 percent of the Californian population, are targeted and killed at five times the rate of whites.
The stats go on.
For most though, Black Lives Matter – now an immovable part of the visual landscape of US politics, from t-shirts to Twitter, headlines to hashtags – is often dismissed as just a social media trend.
Patrisse wants to set the record straight on the "mixed messages" around Black Lives Matter – and clear up the story of how it begun.
Getty Images / Scott Olson / Staff
It took one comment on social media for the fury that had been bubbling under the surface in black communities to explode into Black Lives Matter.
A jury had just acquitted George Zimmerman in the shooting of Trevor Martyn in 2013 when Alicia Garza, another co-founder of Black Lives Matter, wrote this fated Facebook post:
I continue to be surprised at how little black lives matter.

Black people, I will NEVER give up on us. NEVER.
Underneath, Cullors replied to the post: "#BlackLivesMatter". A year later, those three words took a life of their own after the shooting of Michael Brown in Ferguson, Missouri, and – joining with Garza and fellow community organiser Opal Tometi – a modern civil rights movement was born.
If anyone raises an eyebrow at such a powerful movement being led by three women, Cullors – who also identifies as queer – has this to say:
Historically, women have always been at the centre of the civil rights movement. They may not have been the most visible, but they've been at the centre of that. They've been architects, strategists, practitioners. They have been able to recreate and develop and implement a campaign, an execution, and I think Black Lives Matter gave a voice to that forgotten history.
She added:
Queer black people are working to get the larger black movement closer to an ideology that is intersectional. And I think that as a black queer woman who was raised poor, I can bring an intersectional blend that doesn't often happen. It didn't happen historically and it happens way more now.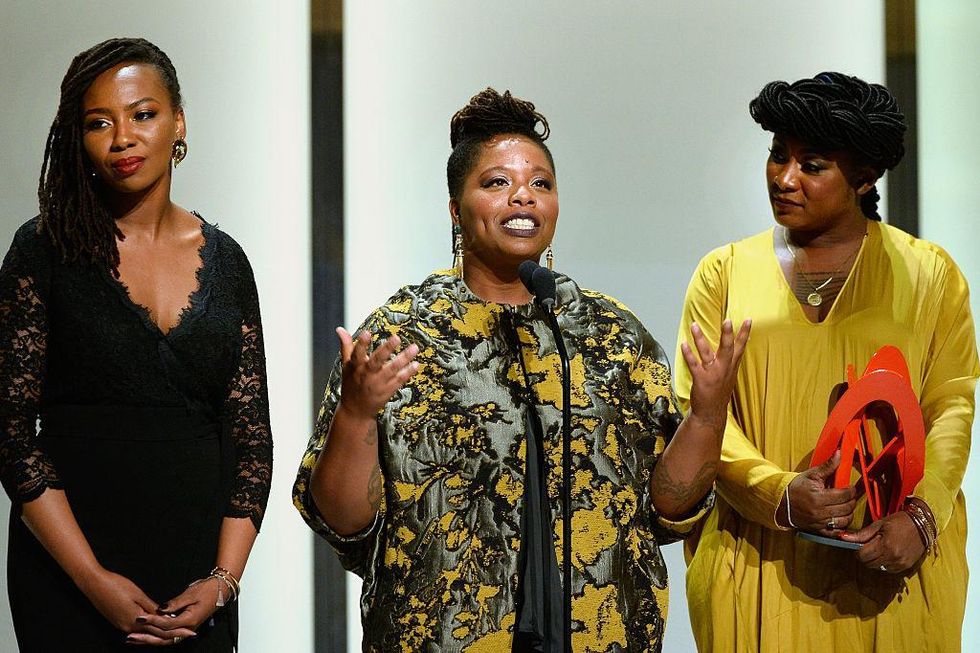 (L-R) Honorees Opal Tometi, Patrisse Cullors, and Alicia Garza accept an award onstage during Glamour Women Of The Year 2016
First and foremost, When They Call You A Terrorist is a memoir, a tale detailing the life of "a mother and a wife, a community organiser and Queer, an artist and a dreamer".
It is a story that began in Van Nuys, California – where Patrisse grew up in poverty – and carries us all the way state of global recognition and global scrutiny she is under today. But it is also a rallying cry for action. Cullors said:
This book isn't just a book to read, put up on the shelf and say 'that was a good read'. 

This is a book to read and say, 'Oh, I want to do something else. I want to take action.'
After all, getting people to actually do something is what Cullors is all about.
"Natural" is thrown too much around when it comes to talent, but is right at home describing the flair that Cullors possessed for community leadership, which has been part of her life since she was 16-years-old.
It's been the backbone for my own healing and my own longing for dignity and then power of agency. 

Activism has been really at the centre of who I am. I think that some of us are born to do this work and some people work to do this work.

I think I was one of those born to do this work. 
Cullors was not born in a community that encouraged its inhabitants to have a voice.
When you grow up in poverty, as 38.3 per cent of black children in the US do, fighting for a better life is fraught with obstacles – and activism is not only laborious, but such a foreign concept to many children it might not even seem like an option.
I think when you're raised poor and when you're raised neglected in a neighbourhood and a community, it challenges what you think your worth is. It challenged what I believe I was worthy of. And I think that impacts your every day life... 

We are so used to not standing up for our needs, getting what we need, and having to be in a position to fight for it can be pretty exhausting.
Yet something burnt within her.
I think there was something inside of me that longed for something different in my life, in my world. And I knew that it existed, and I knew that there was a way to get there. 

And so I pushed for that, I pushed to find it, and I did.
Growing older and more politicised, she realised that living in poverty wasn't her or her mother's fault. That's what it took for her to take action. For Cullors, who is also an artist and values art as a contribution to social movements, creativity has played a starring role in the sense of power and self-belief she developed since.
As a child, you just live your life, no matter the condition. Those conditions could be terrible, those conditions could be harmful and painful, and you just live that. 

It's so important, as you get older, to be able to have space to move, to heal from those experiences, to be able to get go and find relief... 

Art really played a role for me in that and reminding me of my resilience.
Her memoir is an extension of that art, a writing process that Cullors found "cathartic, powerful, revealing and also deeply frightening". Many of her heroes – including Assata Shakur and Elaine Brown – also wrote autobiographies she devoured as a child, an influence she cannot downplay.
Those books shaped the writing of a book like this. They were so important for my own political and personal development.
"It's a long-haul fight."
When They Call You A Terrorist became an instant New York Times bestseller and there's nothing to suggest it won't do just across the world; globally, Black Lives Matter had had been "incredibly impactful".
All types of people have picked up the book, people who weren't sure they wanted to read it, that they hadn't known that much about Black Lives Matter. Or people who thought that they knew a lot and learned so much about it. 

It's been a great response. 
Over a year into the presidency of Donald Trump, an administration that has been called an "affront to civil rights", the Black Lives Matter mission has never been more urgent.
"It's an intervention movement," said Cullors, adding:
Sometimes we have to realise that we're not going to stop everything at once. It's a long-haul fight. 

Part of what we're saying with the rise of a Trump America is that there's always a white backlash when it comes to black people uprising and calling for our basic human rights. 

This type of backlash is historical. It comes from a long legacy of white racism and white violence.
Cullors maintains book isn't just about trauma, but about survival and resilience. It reminds us what's possible, even when the odds are at their lowest, if "people come together and fight for their lives".
There is a new, enhanced taste for uprising right now – and Cullors is excited by it. She calls the high school students standing up to the President after the shooting last month in Parkland, Florida "huge". It gives her hope.
We have opened conversation, a public dialogue, a reckoning.

We've been having a reckoning moment.
When They Call You a Terroristby Patrisse Khan-Cullors and asha bandele is out now (Canongate). As part of a UK tour, Patrisse is appearing at WOW – Women of the World festival at Southbank Centre from 7-11 March, supported by Bloomberg.