It's not often the dress that steals the show at the Oscars isn't even new.
But that's what happened Sunday when comedian and actress Tiffany Haddish strode on stage in a dress she's worn publicly at least two other times, a $4,000 white Alexander McQueen -- widely considered a faux pas in Hollywood.
Haddish not only wore the dress at the premiere of "Girls Trip" in July and her stint as host of "Saturday Night Live" in November, she dedicated half her opening monologue to it.
"My whole team told me, 'Tiffany, you cannot wear that dress on 'SNL,' you already wore it. It's taboo to wear it twice," Haddish said on "Saturday Night Live."
I said, 'I don't give a dang about no taboo, I spent a lot of money on this dress. This dress cost way more than my mortgage."
She then went on to detail where else she would wear the dress: at a bat mitzvah, at her own wedding, and even at her own funeral one day.
"If I die and even if I become fat as hell -- if I'm the biggest, fattest -- I don't care," she said. "When I'm laying in that casket, guess what's going to be laying on top of my fat-ass body? This dress."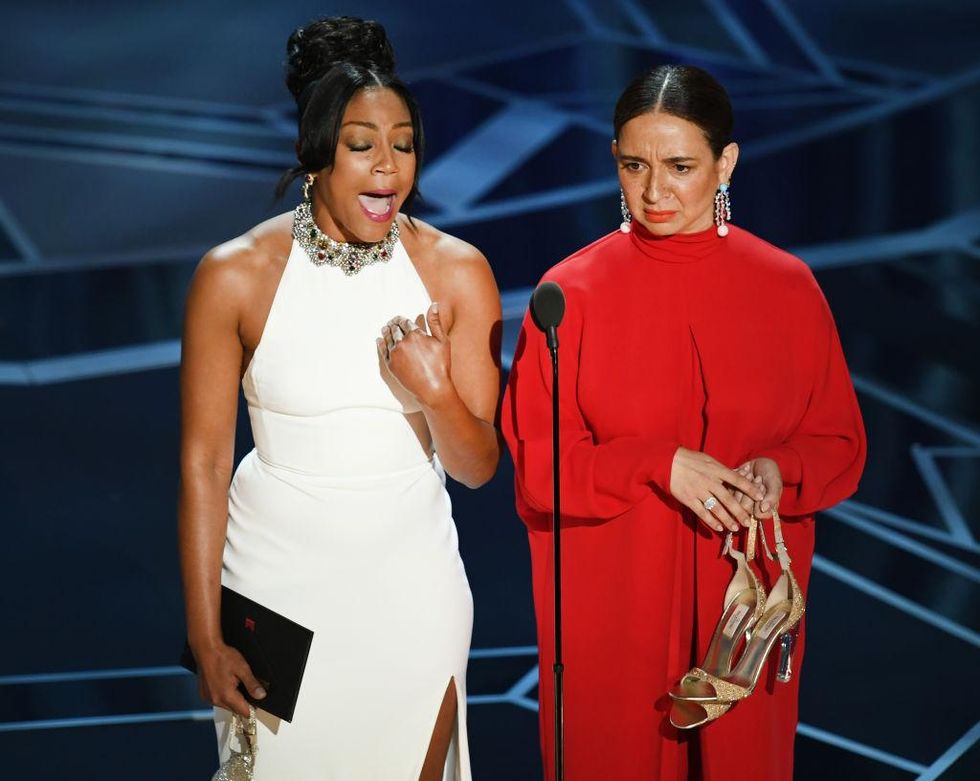 Tiffany Haddish (L) and Maya Rudolph speak onstage during the 90th Annual Academy Awards
She'd apparently wear it to the Oscars, too.
Not only that, she walked out on stage wearing slippers and carrying her gold high heels, as did her co-presenter, Maya Rudolph.
"We are so happy to be here but our feet hurt," Haddish said.
Earlier in the evening, Haddish walked the red carpet in a much different outfit, a traditional Eritrean dress, wrap and headpiece dedicated to her father, who died last year.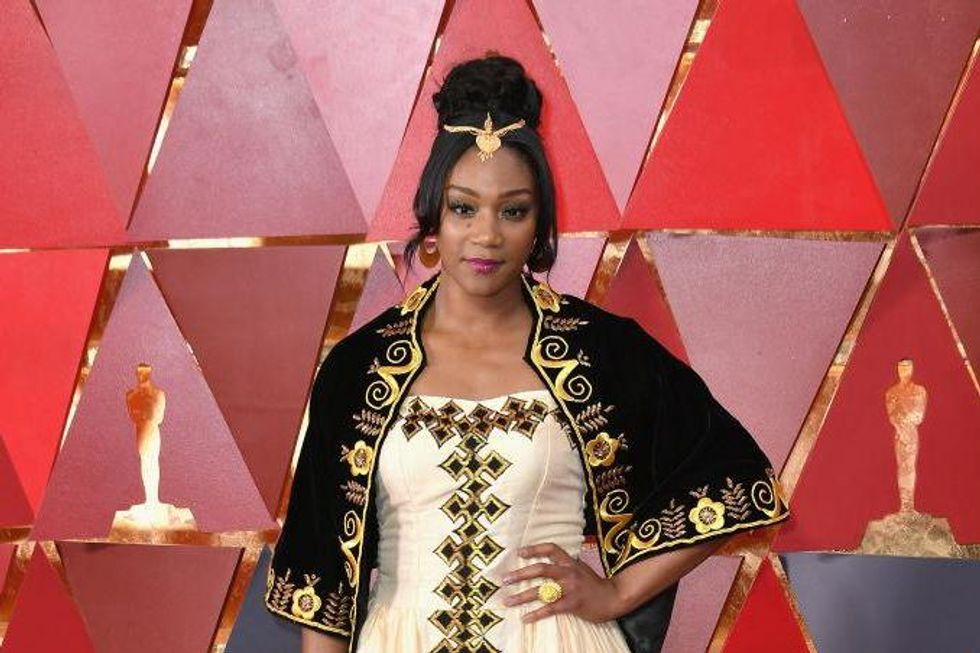 "He said one day I would end up here and if I ever end up at the Oscars to honor my people, so I'm honoring my fellow Eritreans," she told ABC, following her comment with a chant.
AP