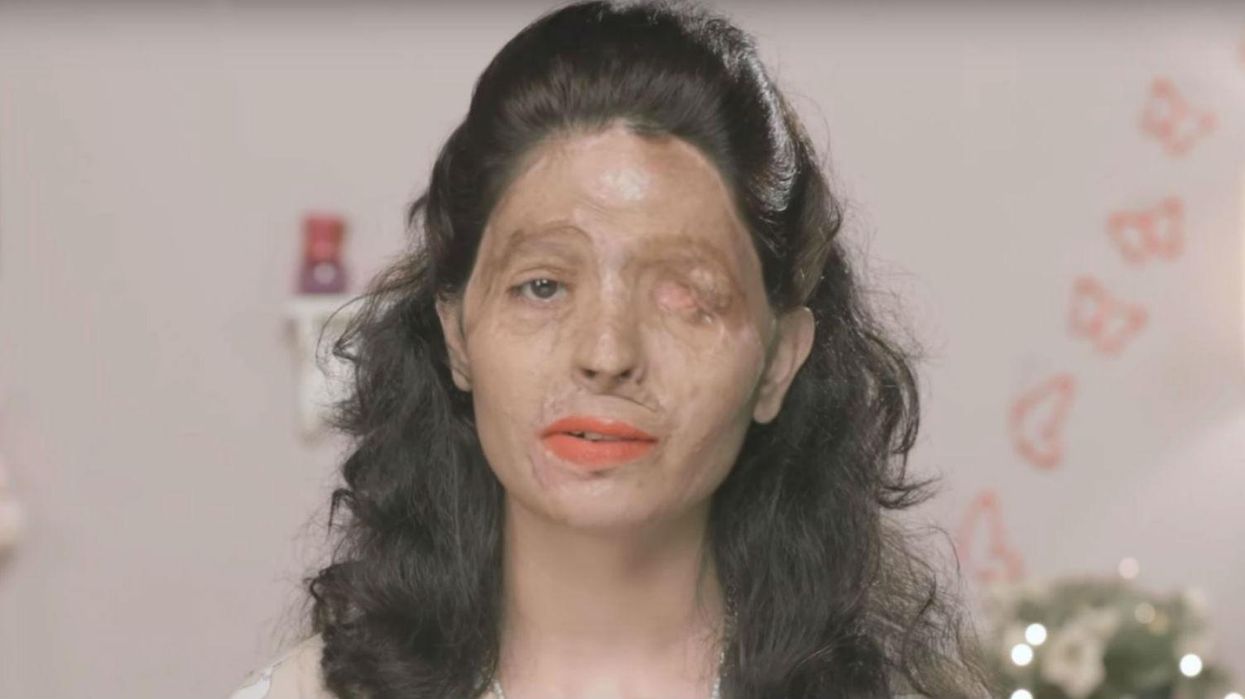 Reshma Bano, a beauty blogger who was attacked with acid in 2014, will walk on the runway at New York Fashion Week this September.
Reshma, aged 19, was chosen to 'walk the ramp' by FTL Moda and the charity [Make Love Not Scars]2. She was attacked on her way to an exam centre in 2014 by her estranged brother-in-law. He threw sulfuric acid at her and her sister, burning her sister's hand and Reshma's face was severely scolded as she tried to protect her sister. The attack left her blind in one eye, and Reshma has undergone nine months of skin graft surgery.
In August Make Love Not Scars released an emotional video of the moment Reshma was told by the NGO's founder Ria Sharma that she would be walking out at Fashion Week.
Since the attack, Reshma has been producing videos about makeup and fashion as a way to campaign for greater regulation of the sale and access to acid in India. The videos have been copied onto the Make Love Not Scars YouTube channel.
Reshma closes the video with this statement:
You'll find red lipstick easily in the market. Just like concentrated acid.
As well as the videos Reshma has been involved in the campaign to #EndAcidSale
Acid violence is often dismissed as something that only happens outside of the west, but attacks have historically coincided with times of industrialisation, when corrosive acid can be purchased without regulation or health and safety restrictions. They are not attacks restricted to certain cultures or religions. Acid attacks were common in western Europe during the industrial revolution. Scottish newspaper [The Reformers' Gazette]3 reported an acid attack, and remarked on the frequency of attacks.
The crime of throwing vitriol has, we grieve to say, become so common in this part of the country as to become almost a stain on the national character.
In 2016, continuing the campaign to stop the sale of acid, Reshma will appear in the FTL MODA NYFW show at Space 404 on September 8.
FTL Moda producer Ilaria Niccolini told indy100:
Reshma's journey is, unfortunately, shared by thousands of women every year, and we find it simply intolerable, unacceptable! And, most of all, stoppable! That's why we created #TakeBeautyBack, to promote also with our ally Fashion Week Online, and we are preparing amazing surprises for our shows in September...We will stop this abuse on women, all together we can make this change happen.
As to the question of which designer Reshma will be modelling, Niccolini said this:
Regarding which designer Reshma will walk for, stay tuned... It's coming up shortly ;)