Most expectant parents make sure they have a 'baby bag' on hand with things mum and baby will need in the first few days of the newborn's life.
But what people pack is very different around the world, as these photos from British charity WaterAid show.
While everyone is entitled to comforts during and after giving birth, the project shows how radically different women's expectations are if they rely on hospital services during labour in different countries.
The project is part of WaterAid's Deliver Life appeal to raise awareness of the difficulties that come with giving birth in places where clean water is in short supply.
Everyone might take baby clothes, but how about remembering your own plastic sheets, or massage oils, or a torch?
Joanna, UK
WaterAid/Anna Kari
I have nappies, little white clothes for the baby, some knitted trousers, lots of snacks, my clothes, my own towel, toiletries, a TENS machine, maternity pads, iPad, water bottle, medical notes, a blanket.

The most important thing in the bag is the blanket my mum gave me to bring the baby home in, the same one my mother brought me home in.
Zaituni, Tanzania
WaterAid/Anna Kari
From my house I got sick and then my husband rented a motorcycle and then I was brought here. After reaching this hospital I came with my relative, all straightforward, taken to labour and then they started examining me.

By the time I was brought here I was feeling so much pain. I carried a basin, a bucket and clothes.

The baby has no clothes we are just wrapping the baby with this piece of cloth. These cloths, when they are dirty my sister takes them to the place where she fetches water so that she can wash them.
Takako, Japan
WaterAid
In my maternity bag:

-Clothes for the newborn baby. He/she will wear them when we leave the hospital (The hospital will lend baby's clothes as mothers are hospitalised.)
-Insurance card, Seal impression, consent form for hospitalisation, consent form for blood transfusion, mother-and-child health record notebook, patient's registration ticket
-Maternity shorts (puerperant panties), Crop top bra (It's easy for breast feeding training and/or consultation)
-Daily sanitary goods such as shampoo or tooth brush
-Tissue paper
Chadla, Nicaragua
WaterAid/Jordi Ruiz Cirera
I have my sheets, my towel, a sweater, and some cotton to put in my ears after giving birth. And something to tie my hair with.

The nurse told me to bring dishes to eat, soap to bathe and wash my clothes, and sheets.
Katy, Australia
WaterAid/James Grant
I have toiletries, snacks ,nappies, hat, socks, mittens, clothes and swaddles for the baby, clothes for me, night dresses, maternity underwear, maternity pads and nursing pads, massage oils.

I feel it is unbelievable that women are in that position (heavily pregnant women collecting dirty water themselves in the countries where WaterAid works), dealing with the everyday stresses of pregnancy and the prospect of childbirth, as well as the additional burden of collecting water.

Even carrying the maternity bag is too heavy for me, I couldn't imagine how I would cope if I had to carry 25litres of water over a distance. Physically I don't know if I would be able to do it even before I was pregnant.
Marie, Madagascar
WaterAid/Ernest Randriarimalala
Our midwife told us to buy and bring everything we would need before, during and after the delivery. These were items like a receiving blanket, a compress, cotton wool, nappies, new clothes made of cotton for the baby and warm clothes, flip flops, a thermos, a sheet and pads for myself.

But as some of my family like my mother and my mother-in-law are also here to support me, they brought almost everything that we will need to be able to stay here for a few days. This includes our cooking pot, firewood, plates, spoons, food like rice and some vegetables. They also brought for me a chicken for soup.
Hazel, Zambia
WaterAid/Chileshe Chanda
Hazel has a baby blanket, cotton wool, sarong (chitenge), a baby suit, napkins, a dish for water to wash with, and a polythene roll to put on the delivery bed to maintain personal hygiene as there is not enough water and time to clean the delivery bed.

We have a borehole at the clinic but there is no running water in the maternity ward.
Tiff, USA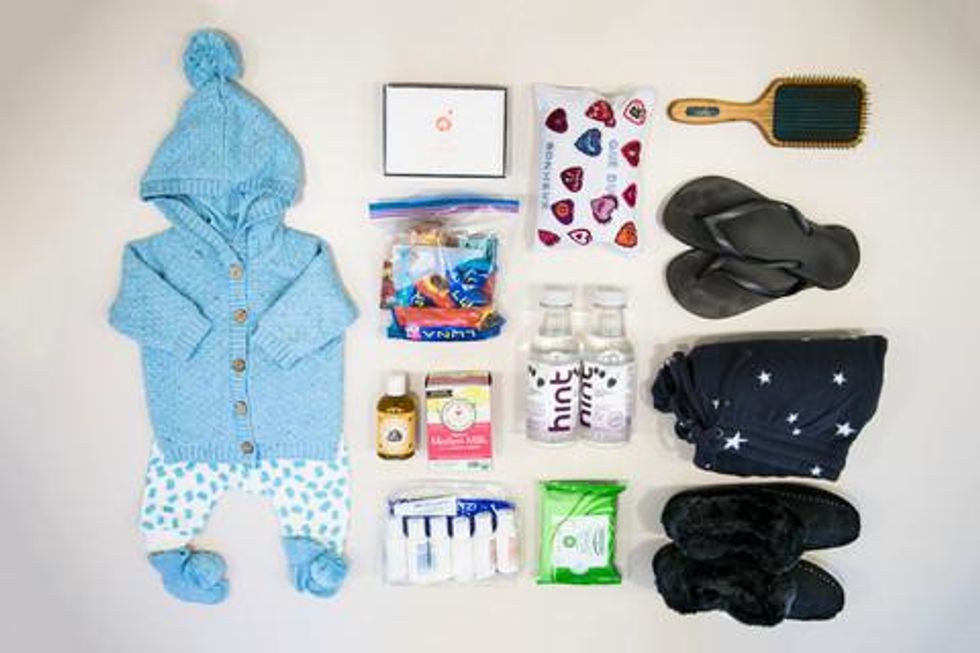 WaterAid/Sam Morgan
The only mandatory thing to bring to the hospital is a car seat to take the baby home. The rest are things to make my hospital stay more comfortable: my birth plan, pyjamas, flip flops and slippers, snacks, mother's milk tea (to help with breastmilk), and a cute outfit for the baby to wear home.
Mestawet, Ethiopia
WaterAid/Behailu Shiferaw
During my last few visits to the health centre, they also told us what to bring. So I brought with me a towel to hold and cover the baby with. That is all he needs for now.

For myself, I brought sanitary napkins, some underwear, sweatpants and a long loose dress, a pair of socks and a bottle of Mirinda [soft drink]. The Mirinda helps move your stomach as if to throw up, and it helps to turn the baby around so it goes out properly.
Click here to learn more and make a donation to WaterAid's Deliver Life campaign - and if you donate by the end of Wednesday, the government will match your contribution.