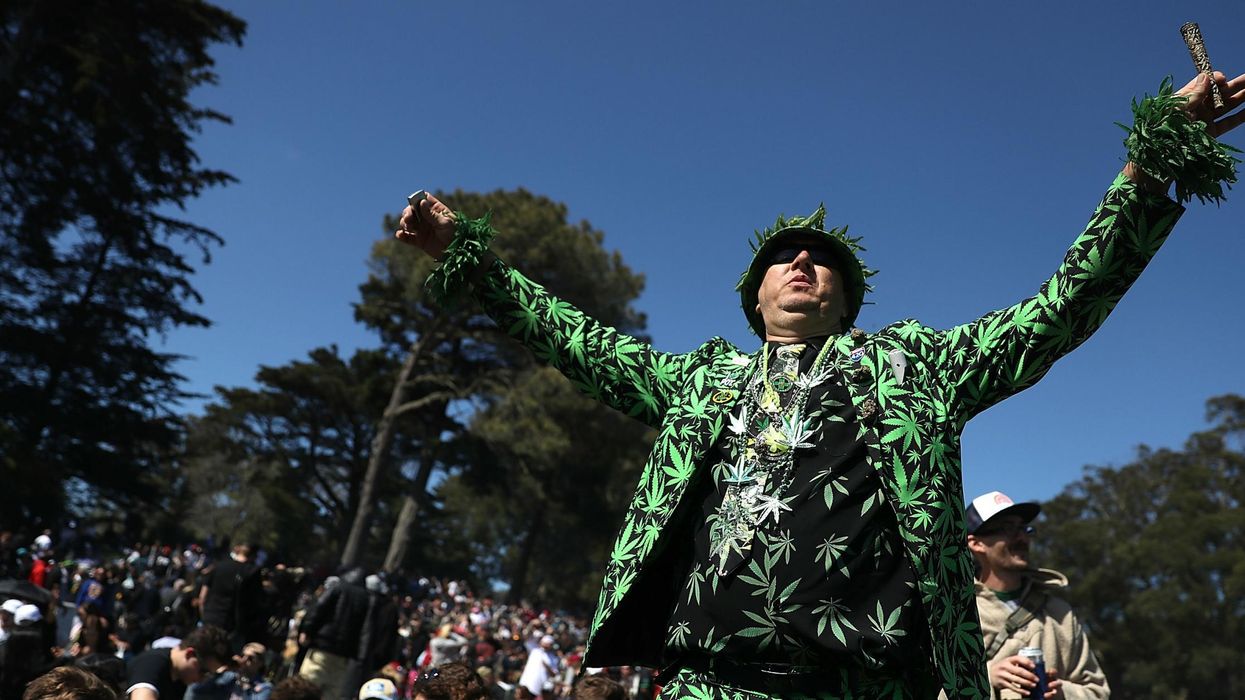 Most years, 20 March sees gatherings around the world to celebrate 4/20. This year, given most of the world is in coronavirus lockdown, many will miss out on the fun.
These events are especially commonplace in the US, a country whose cannabis laws are gradually relaxing.
Esquire reports that that the recreational use of marijuana is legal in 11 states and Washington D.C, whereas a further 33 (and two more U.S. territories) allow it to be used for medicinal purposes.
It remains illegal at the federal level, although US politicians –mainly Democrats ​– are fighting to change this.
One of the main reasons used to argue for legalisation is the potential financial gain. Already, states such as Alaska and Nevada have capitalised on this potential, respectively opening a slew of recreational weed shops and reporting almost $20m of additional tax revenue. In 2019 Colorado reported collecting $302m in taxes and fees on both medical and recreational marijuana.
Other companies have cashed in on the country's increasingly liberal attitudes, marketing cannabis-scented incense, weed butter machines and even pot-based lube. Seriously. The drug rakes in huge amounts of cash; now, legalisation means that companies and governments are increasingly able to profit from it.
But the country's attitude to weed hasn't always been so relaxed.
In response to 4/20's growing popularity, a number of Twitter users have seized the opportunity to remind followers of the drug's racist stigma, as well as the disproportionate number of PoC (people of colour) criminalised under old laws for possession.
Model, actor and activist Munroe Bergdorf shared a striking illustration, created by Mark Murphy (otherwise known as Murphy Cartoons).
The simple yet effective image depicts a black man sat in a prison cell. Etched onto the wall are tally charts counting down to his eventual release; the newspaper in his hands simply reads: 'Marijuana is OK now.'
The poignant illustration highlights that many states in which weed is now legal have neglected to release prisoners serving time for cannabis-related crimes.
As AlJazeerareported in 2018, some states, like California, quietly introduced legislation allowing existing prisoners to apply for re-sentencing, signalling a step in the right direction which could be crucial given the country's notorious prison overcrowding problem. Oregon has passed similar laws, allowing people to apply to have possession convictions erased from a criminal history database under certain conditions.
ACLU (The American Civil Liberties Union) provides extensive statistics which highlight the mass impact this move towards resentencing could have. Between the years of 2001 and 2010, more than seven million people were busted for cannabis possession.
Despite figures proving that the usage of marijuana isn't skewed towards any race – in fact, usage amongst young white Americans is slightly higher – black people have consistently been arrested at a rate almost four times higher than their white counterparts.
But even though black individuals are disproportionately targeted for weed possession, 80 to 90 per cent of the legal cannabis industry is run by white owners, reports Insider.
The problem extends further than statistics, as Twitter user @MrFilmkritik pointed out:
A cursory glance through any weed-related shop reveals a deluge of Marley-branded merchandise, alongside low-quality reprintings of the Jamaican flag and other references to Rastafari, a classified religious and social movement with its roots in Jamaica.
It is undeniably true that the musical icon fought weed-related stigma. In a televised interview, he explained:
Herb is a plant. I mean, herbs are good everything.

Why [is it that] these people who want to do much good for everyone, who call themselves governments and this and that... Why them say you must not use the herb?

Them just say, 'No, you mustn't use it because it will make you rebel.' Against what?
But government opposition to cannabis was just one of many issues he aimed to tackle.
An extensive tribute published on Black History Monthunderlines his various appearances at concerts designed to facilitate peace, some of which even saw him risk his own health. He deserves to be remembered as an activist with many causes, not the stereotypical figurehead of a drug which has historically been widely stigmatised.
Despite this Stateside shift in attitudes, the UK is still no closer to altering the illegal status of marijuana – despite being named the world's largest exporter of medicinal cannabis last year.
Only time will tell whether UK politicians will follow the same progressive ideology as a handful of their US counterparts, but the fact remains that the growing acceptance of 4/20 comes after a long, messy history which shouldn't be forgotten.