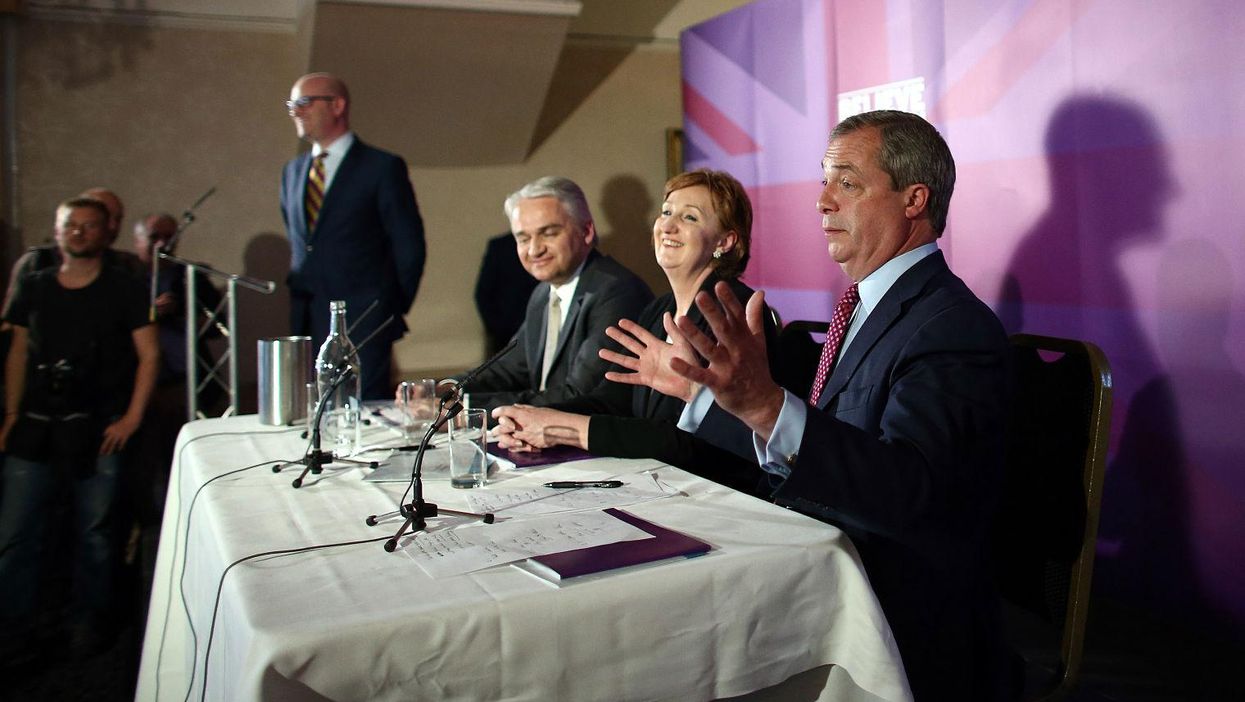 Nigel Farage's leadership of Ukip was in crisis on Thursday after the party was convulsed by demands for his resignation and recriminations over its general election campaign.
The civil war was triggered when Patrick O'Flynn, the party's election campaign manager, protested that Mr Farage had become a "snarling, thin-skinned, aggressive man" who was making Ukip look like a "personality cult".
Farage loyalists issued declarations of support, but critics have queued to call for his departure, arguing for a less confrontational leader.
Mr Farage resigned as leader last Friday following his failure to win a Commons seat, but three days later the party's ruling body said it had refused to accept his resignation because of overwhelming support among Ukip members.
There is now growing backing for Douglas Carswell, Ukip's only MP, to succeed him following the party's failure to achieve a breakthrough at Westminster.
On Thursday evening reports came out that two of Nigel Farage's most senior aides - Matthew Richardson and Raheem Kassam had left their posts. Similarly, reports on Friday morning suggested the party's head of communications, Paul 'Gobby' Lambert, had also left.
Asked if he had lost the confidence of his party, the leader said: "Big time." Mr Farage later texted the i paper to say he was still party leader and "by a bigger margin than ever before".
Loyalists
Paul Nuttall
The party's deputy leader (above). A confident television performer, the Liverpudlian is crucial to Ukip's drive to attract disaffected Labour supporters in the north of England.
Arron Banks
Businessman who runs a large insurance company, he gave £1m to the party last October. Yesterday he condemned the "little clique that is trying to destabilise" Farage.
Steve Crowther
Ukip's low-profile chairman. He announced on Monday that the party's national executive had unanimously rejected Farage's resignation.
Raheem Kassam
A former Conservative student who was at Farage's side for much of the election campaign, controlling access to the party leader. After being described as a "wrong 'un" by O'Flynn, it was reported that Kassam had left his position in the party on Thursday.
Richard Desmond
The owner of Express Newspapers who donated £1.3m to Ukip, said: "Nigel has my support 101 per cent."
Malcontents
Douglas Carswell
Ukip's only MP (above, left) has clashed with Farage over policy direction and over how much taxpayers' money the party should accept to run his Commons office.
Patrick O'Flynn
Former Daily Express journalist touted as a potential leader. Has argued that the party needs to trim its right-wing instincts to appeal more widely.
Suzanne Evans
Highly rated former BBC journalist who is deputy chairman. She was said to have "screamed and cried" at the decision to refuse Farage's resignation.
Roger Knapman
The former party chairman said: "He cannot take up and put down the leadership crown at will. It is time for the party members to have the opportunity to say whether or not they think there should be a leadership election."