A man in Alabama has taken down a Halloween decoration after critics online said it looked like a black man hanging from a tree.
Thousands of people took to social media to criticise Alabama native Marc Wolfe after he shared a photograph of the dummy hanging from a tree by a noose. His yard featured skeletons, tombstones and spider webs for Halloween.
The post had been uploaded to Facebook by Alexus Cumbie, who captioned it:
Trigger warning: fake display of a lynching. A friend of mine was driving through Homewood, Alabama, today and witnessed a sickening display in the front lawn of a home. The owner of this display has refused to take this down.

I'm encouraging everyone to share this post until Birmingham news outlets cover this. I'm not encouraging violence or harassment on this homeowner. Let's not meet bigotry at eye level but also let's publically condemn acts of racism on our beloved neighbourhoods.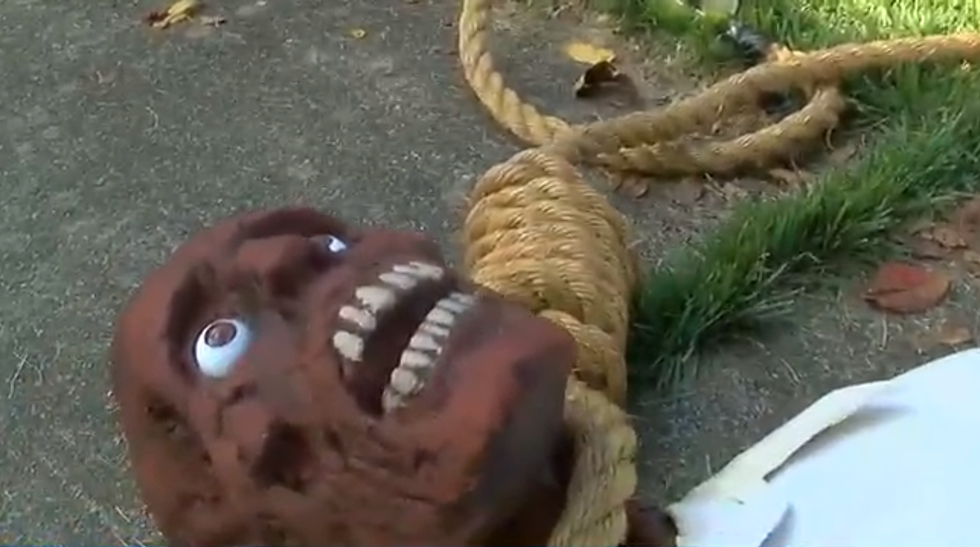 (Picture: WBRC Screegrab)
The post went viral and received more than 2,000 comments. It was shared more than 10,000 times as people expressed shock and anger over what they argued was racially-charged imagery.
One Facebook user wrote: "This is the most racist thing I have seen in years, anywhere but Alabama they would know it is. Lynching is terrible and this display is a very clear view of the worst of us."
Another added: "You gotta be a sick person to make a mockery out of such a heinous act that took so many innocent lives due to bigotry and ignorance."
WBRCreached out to Wolfe, who said he took down the decoration after the social media uproar, though he saw the dummy as a "burnt white man".
He said:
We put it out so people can walk up and say it's scary or get scared by a jumping spider. You know, if you're having fun, you're not hurting anybody.

Do I see it that way [racially offensive] now? Sure. If other people see it that way, then I'll see it that way. I don't see it that way, but I can respect that people see it that way. In hindsight, would I have hung it what I know now? No.
According to reports, Wolfe's 11-year-old son had been playing outside when someone pulled over with their car and complained about the decoration, prompting the child to remove it from the tree and lay it next to a coffin ornament.
More: Astronaut Scott Kelly apologises after quoting Winston Churchill on Twitter
More: Incredible photos show what can happen to your body if you're struck by lightning