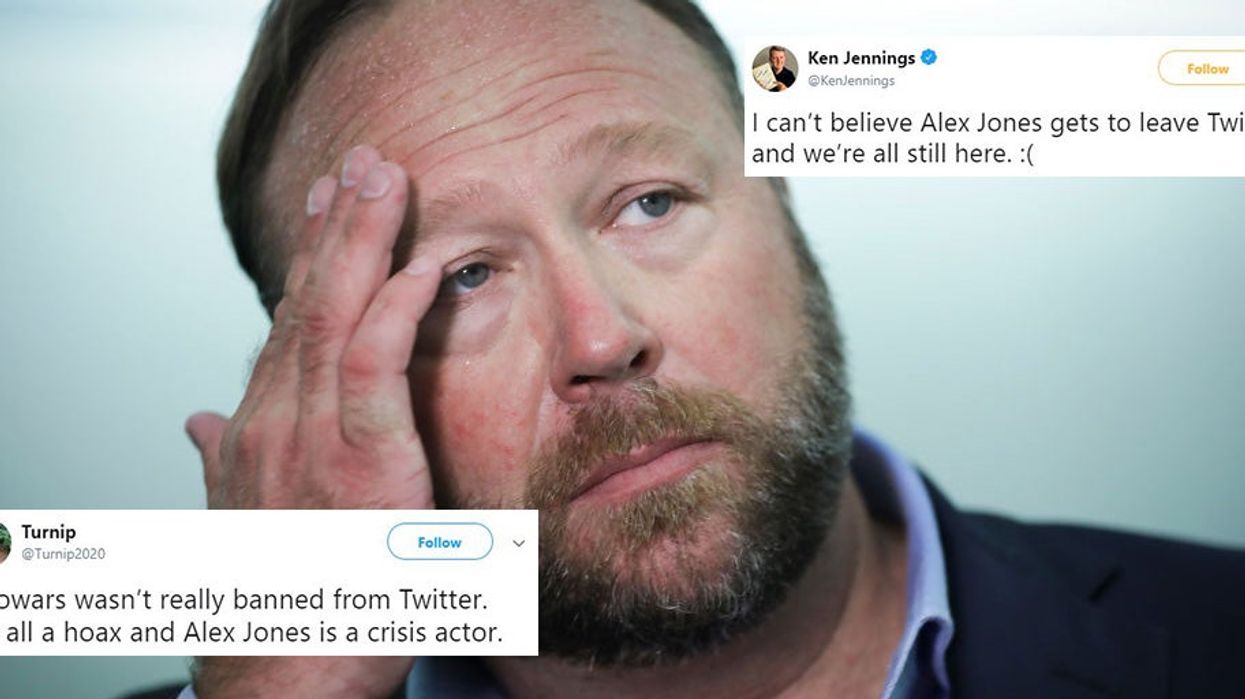 Drew Angerer/Getty Images/Twitter
Twitter has moved to permanently ban the right-wing conspiracy theorist Alex Jones and InfoWars for his abusive behaviour.
The social media website has confirmed that Jones will not be allowed to create new accounts and that they will be monitoring accounts associated with him and InfoWars.
Twitter decided to take this action after they were made aware of a series of videos and tweets that violated their abusive behaviour policy.
In a statement from Twitter obtained by The Daily Beast,the ban is due to a video posted by Jones on Twitter where he berates CNN reporter Oliver Darcy, where he said that he had the "eyes of a rat".
This comes after the likes of Facebook, YouTube, Google, Spotify and Apple all banned Jones' accounts and InfoWars from their platforms.
On InfoWars, Jones stated that "this is war" in regards to the ban and that:
The media spun it like I was bullying the press.

They're banning everyone, and they're using me as the cover story... The gloves are off.
As the news broke last night, Twitter began to react to one of its most divisive figures being permanently removed from the site.
As always, there were a number of jokes:
Although some people were happy to see Jones leave they can't help but wonder what precedent this sets:
Jones supporters were quick to voice their opinion on the issue and link it to conspiracy theories.
Some were just glad to see him gone.