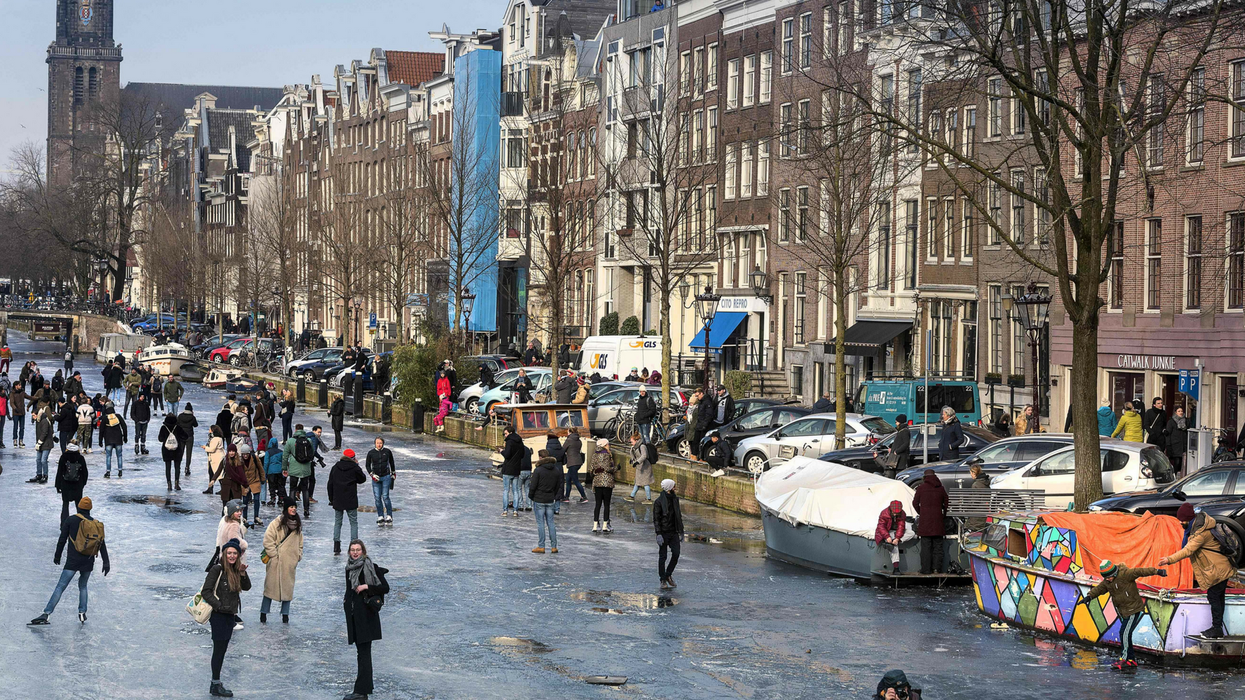 EVERT ELZINGA/AFP/Getty Images
It was so cold in Amsterdam that some of the city's historic canals froze solid on Friday, allowing the people of the Dutch capital to take to the waterways.
The ice at Prinsengracht canal was so thick, some were able to go ice skating amid the city's famous streets and under its iconic stone bridges.
today, for the first time in years, people were ice skating on the amsterdam canals https://t.co/pbUwR7hvBr

— juan (@juan) 1520016826
A rare sight today: people ice skating on the canals of Amsterdam. ❄️ https://t.co/ODfUdgjaBh

— Gosse Bouma 📷 (@Gosse Bouma 📷) 1520009821
Videographer Gosse Bouma, who filmed the above video on Friday, told indy100 that this is the first time ice skating was possible on the canals since he moved to the city five years ago. He said:
I remember seeing it in old pictures, so it kind of felt a bit like going back in time.

The day before people were still falling through the ice, so being on the ice with my camera gear also felt a bit exciting.
If you can't view the video, click here.
And according to NBC broadcaster Katie Couric, the Dutch are really good at speed skating because it's an "important mode" of getting around in Amsterdam. She was introducing the Dutch team at this year's Winter Olympics Opening Ceremony when she said:
As you all know, it has lots of canals that can freeze in the winters.

So, for as long as those canals have existed, the Dutch have skated on them to get from place to place, to race each other, and also to have fun.
Although she was mocked for her extraordinary comments at the time, it appears Couric has the last laugh.
The canals only freeze time and time again. This is the first time in about six years that parts froze hard enough to support the weight of skaters, locals and sightseers, according to reports.
Some, however, weren't so lucky. A pair fell through the ice on Thursday and had to be rescued by a passerby, according to local media.
The big chill came as much of Europe dealt with a cold front dubbed The Beast from the East, sending temperatures plummeting for most of the week.