For the last few months Radio 4's Today programme has been in contact with an activist based in Raqqa, the capital of Isis' so-called caliphate.
He has risked his life to tell the wider world how the city has changed under the brutal jihadi group's unflinching interpretation of Sharia law.
The activist works with a group called Al-Sharqiya 24. Today has changed his name and some details to protect his identity, and created a sober series of animations, voiced by an actor, of what life under Isis is really like.
The activist reports how he returned home one day in January 2014 to find his family home had been hit by shrapnel in the ongoing battle between Syrian regime forces and Isis, and his father had been killed.
When Isis rolled into town, he was almost immediately given 40 lashes for cursing.
His pregnant sister went into shock hearing the news, and began bleeding - but since Isis forbade male doctors to see female patients, they couldn't find a gynaecologist.
He saw heads put on park railing spikes as a warning to others and a woman accused of adultery stoned to death in a hole.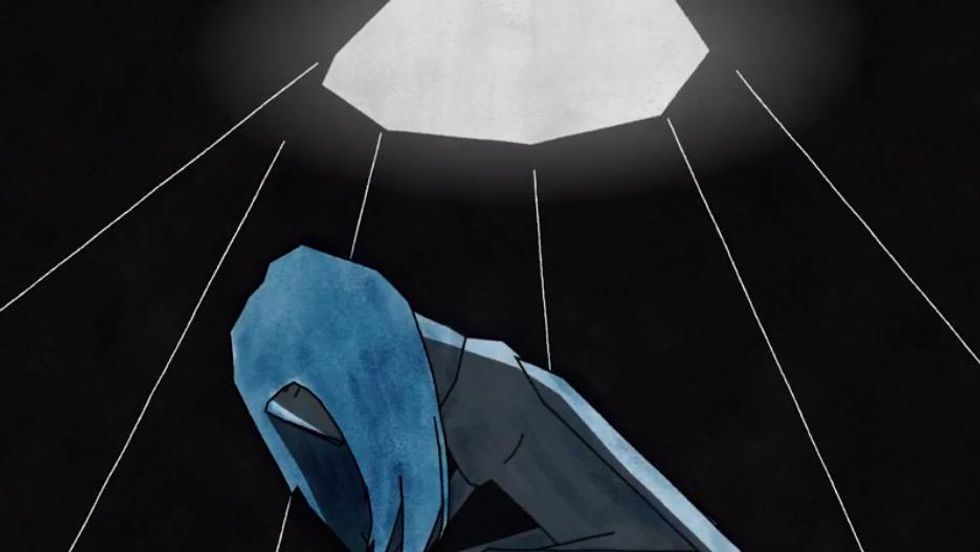 Extortion, spiralling food prices compulsory religion classes and a ban on media became facts of daily life.
A friend took him aside to tell him about pockets of resistance, like Al-Sharqiya 24. They wanted to show the world the murders happening in Raqqa.
Later, foreign air strikes added to the death on the ground.
Our activist used to have dreams that were sparked by the revolution in 2011.
But now, he says, waking up to warplanes and the sound of crying children, he knows his country needs him. And the days all seem the same.
He is worried, though, that Isis will come for him for a trivial misdemeanour like missing Sharia class - for which his friend was sentenced to death - or force him to fight on the front line.
He is worried about how his mother would feel if she had to witness that.
He asked an older friend for advice. The friend told him to imagine he is walking a rope between two mountains. The present is the ground below, and he can't look down.
From now on, I will take his advice and try to keep walking straight ahead until I reach the other mountain. When I get there, the present will be gone.
You can watch the first animation below, and the other episodes of the week-long series are on the Today website here.