AP/Burhan Ozbilici
While most guests at the photo exhibit in Ankara on Monday naturally fled for cover at the sound of gunfire one man was composed enough to stand still and take a series of astonishing photographs.
Andrey Karlov, Russia's ambassador to Turkey, was shot dead by a member of the Ankara riot police identified as Mevlut Mert Aydintas. While it is unknown if the attacker - later shot dead - had any ties to terror groups, he was heard shouting "Don't forget Aleppo, don't forget Syria" and "We are the ones who pledged allegiance to Mohammed, to wage jihad."
The immediate aftermath of the assassination was captured by Burhan Ozbilici, a photographer for the Associated Press, in a series of astonishing photographs.
Following the attack, he explained exactly what was going through his mind:
The event was routine enough — the opening of an exhibit of photographs of Russia — and when a man on stage pulled out a gun I thought it was a theatrical flourish.

It was anything but. Moments later the Russian ambassador was sprawled on the floor and the attacker was waving his gun at the rest of us, shouting slogans.

Guests ran for cover, hiding behind columns and under tables. I composed myself enough to shoot pictures.
Despite the obvious danger, Ozbilici explained that he was just doing his job:
The gunman was agitated. He walked around the ambassador's body, smashing some of the photos hanging on the wall.

I was, of course, fearful and knew of the danger if the gunman turned toward me. But I advanced a little and photographed the man as he hectored his desperate, captive audience.

This is what I was thinking: 'I'm here. Even if I get hit and injured, or killed, I'm a journalist. I have to do my work. I could run away without making any photos. ... But I wouldn't have a proper answer if people later ask me: 'Why didn't you take pictures?''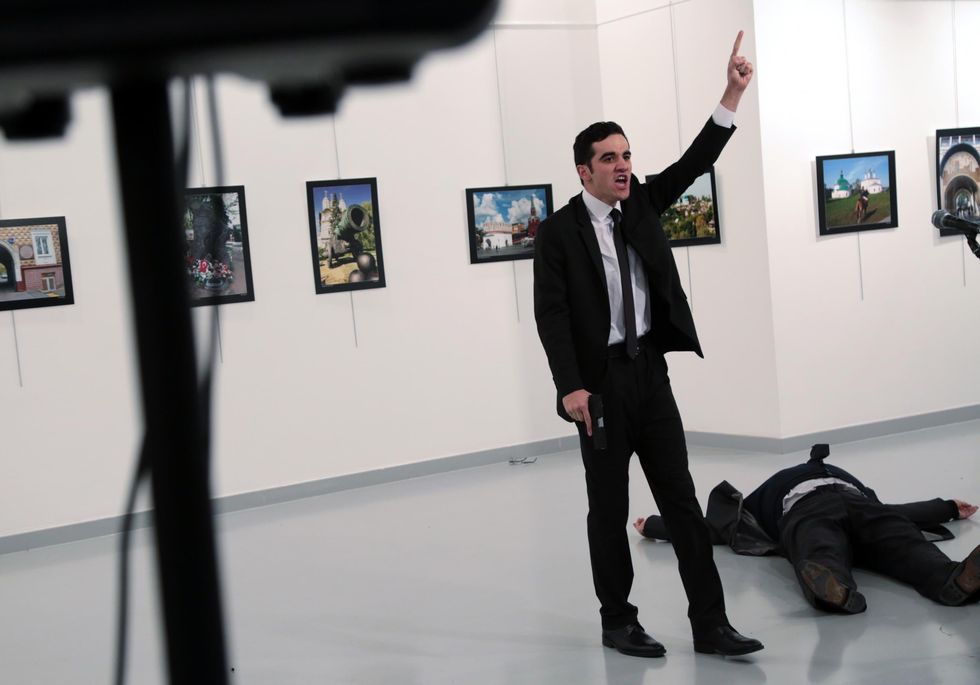 Picture: AP/Burhan Ozbilici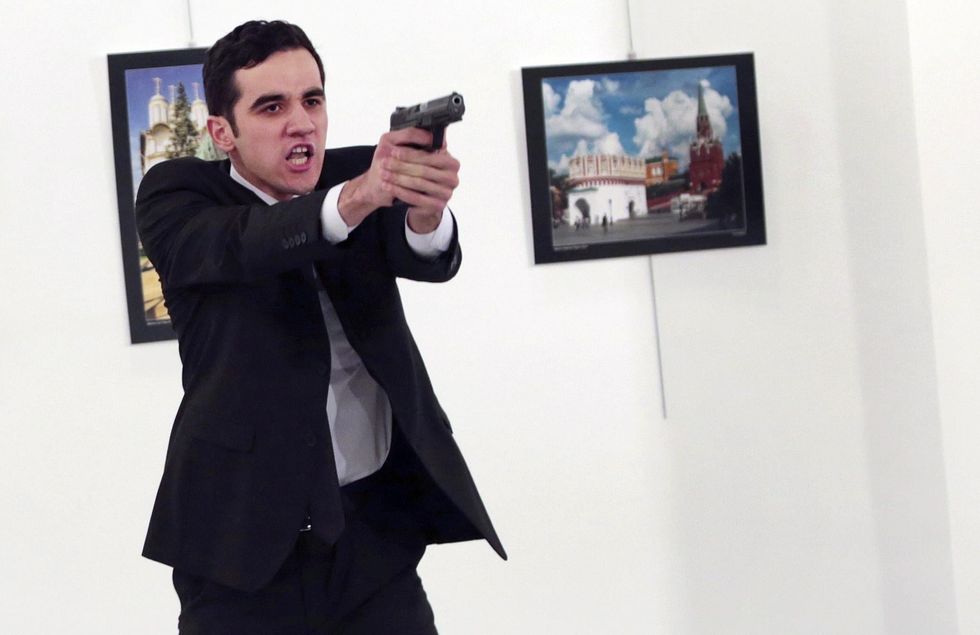 Picture: AP/Burhan Ozbilici
Picture: AP/Burhan Ozbilici
Picture: AP/Burhan Ozbilici