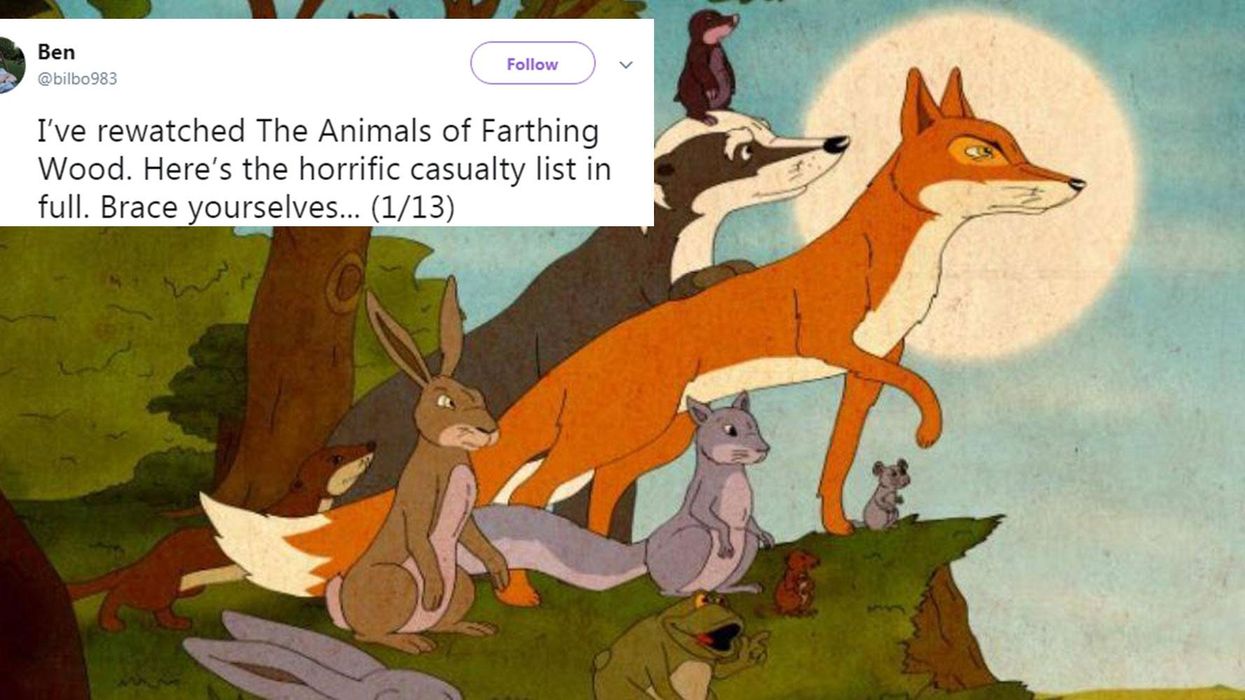 Telemagination La Fabrique/ European Broadcasting Union; Twitter / @bilbo983
If you are of a certain age, you will remember the children's animated TV show The Animals of Farthing Wood.
The series, which was based on the books by Colin Dann, ran for three seasons between 1992 and 1995 and was broadcast all over the world.
It followed the story of a group of animals who journey from a fictional forest called Farthing Wood to White Deer Park after their original home was destroyed to make way for homes.
Once they arrive at their new home, they are forced into feuds with hostile foxes and rats.
This resulted in harrowing, violent deaths and injuries. Every episode.
Thanks to a viral Twitter thread from user @bilbo983, who rewatched the entire series so we don't have to, we can now relive all of those happy memories.
Warning: This obviously contains spoilers so if you are planning on watching a show that is over 20 years old then read no further.
• 12 squirrels - die in a hurricane • Shadow - crushed and seriously injured by a falling tree in the hurricane •… https://t.co/GGxX3HYN1G

— Ben (@Ben) 1517150085
Once again, this was a show for children that was on after school and was really popular.
In a later tweet, the Twitter user also admitted that the show could be said to contain themes of racism, social divides, misogyny, ageism, crime, gang warfare and environmental destruction.
We feel that the final tweet in the thread probably says a lot about the generation of kids that watched the show.
Conclusion - this is one of the greatest children's shows ever made but it's no wonder so many of my generation are screwed up.

— Ben (@Ben) 1517150087