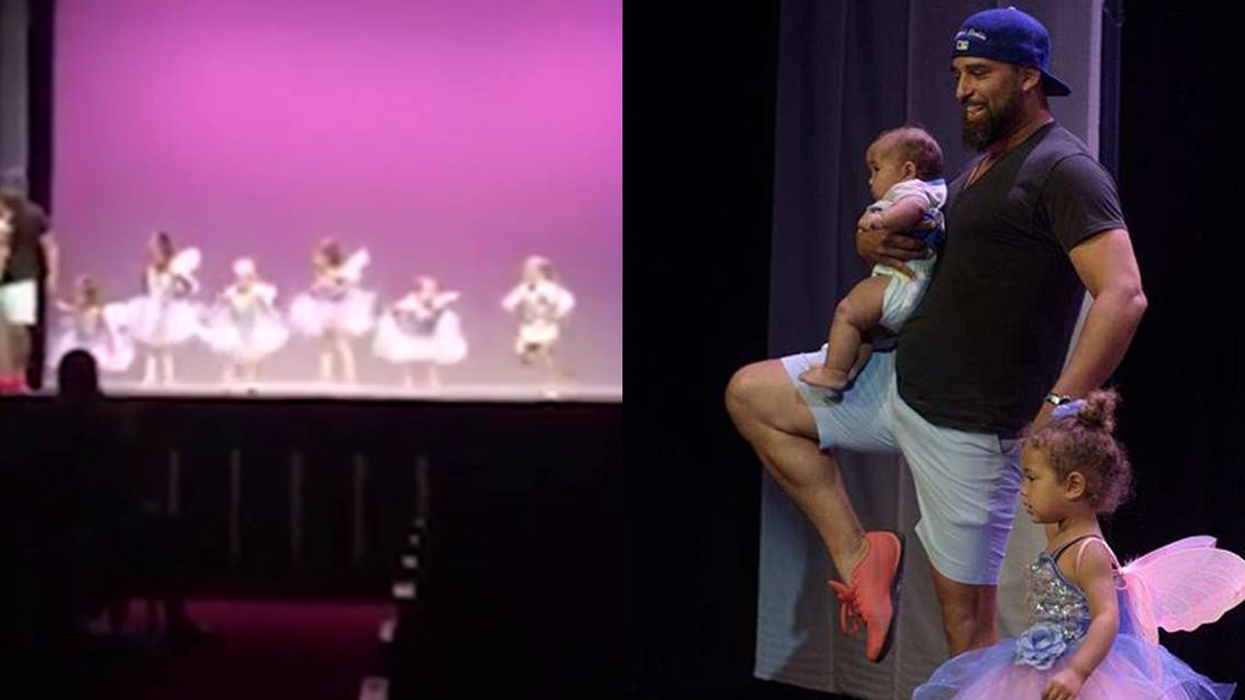 Caters
Is it a bird? Is it a plane? Nope, it's just super-dad Marc Daniels doing his thing to calm his daughter's anxiety.
When the father of three saw his two-year-old daughter Bella crying on stage during a ballet performance at her dancing school In Motion Dance, he knew exactly what to do.
In a sweet moment, which was caught on camera, the barrister decided to jump up on stage, hold his daughter's hand, and dance with her.
At the beginning of the video, little Bella can be seen crying her eyes out, and having a tantrum, during the dress rehearsal of her first ballet performance at Hamilton City Hall in Bermuda.
Clutching another baby to his chest, Daniels can be seen twirling his way through the dance, showing off his impressive leg muscles in the process.
The difference in little Bella is amazing. As soon as her daddy gets up to dance with her, she stops crying, and finishes the performance.
Speaking about the super-hero moment, Daniels said:
Bella was very emotional and needed hugs from her daddy.

I walked on holding Suri and stood next to her, trying to help build her confidence - I told her I loved her and that she's an amazing dancer.

I asked if she wanted to dance with daddy and she nodded, so I thought I'd join in.]
If this absolutely adorable video hasn't brightened your day, nothing will.
More: This woman helped her boyfriend understand anxiety with this amazing list
More: This comedian raps about anxiety to cope with his mental health issues