BBC News
Two fairly big news stories are happening today.
The first involves the dramatic rescue of eight boys from a cave in Chiang Rai, Thailand.
The second is the ongoing and messy Brexit saga as Brexit secretary David Davis has shockingly resigned leaving Dominic Rabb in charge of the debacle.
As you can, see these are two very different stories, yet the dwindling hopes of a people as they attempt to survive in trying circumstances and the rescue of individuals from a dark and dire situation are both sentences that could be applied to either narrative.
This confusion obviously passed over to the BBC newsroom as the poor soul in charge of their news ticker managed to display both stories at the same time, and they bizarrely synced up perfectly.
The BBC Breaking News ticker broke earlier https://t.co/WxavGY8pxg

— Scott Bryan (@Scott Bryan) 1531136154
The mistake didn't last long, but it was long enough for a lot of people to notice it.
Oh dear...
If we had to pick one particular frame we would go for this one.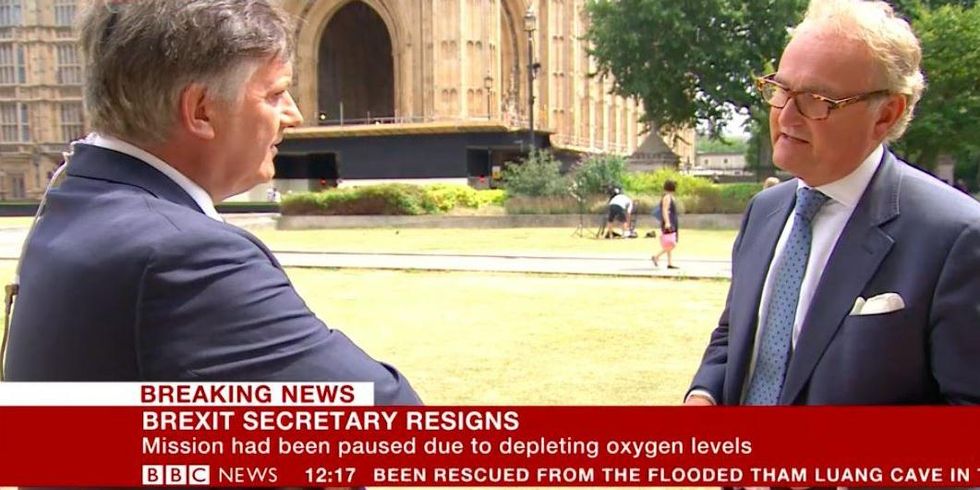 Picture: BBC News
In case you're wondering eight boys have been saved from the cave, leaving only four boys and their football coach remaining to be rescued.
Meanwhile, nobody is saving Brexit, as Boris Johnson has since resigned as foreign secretary and we can only imagine the negotiation room at the crunch Chequers summit looks a bit like this...