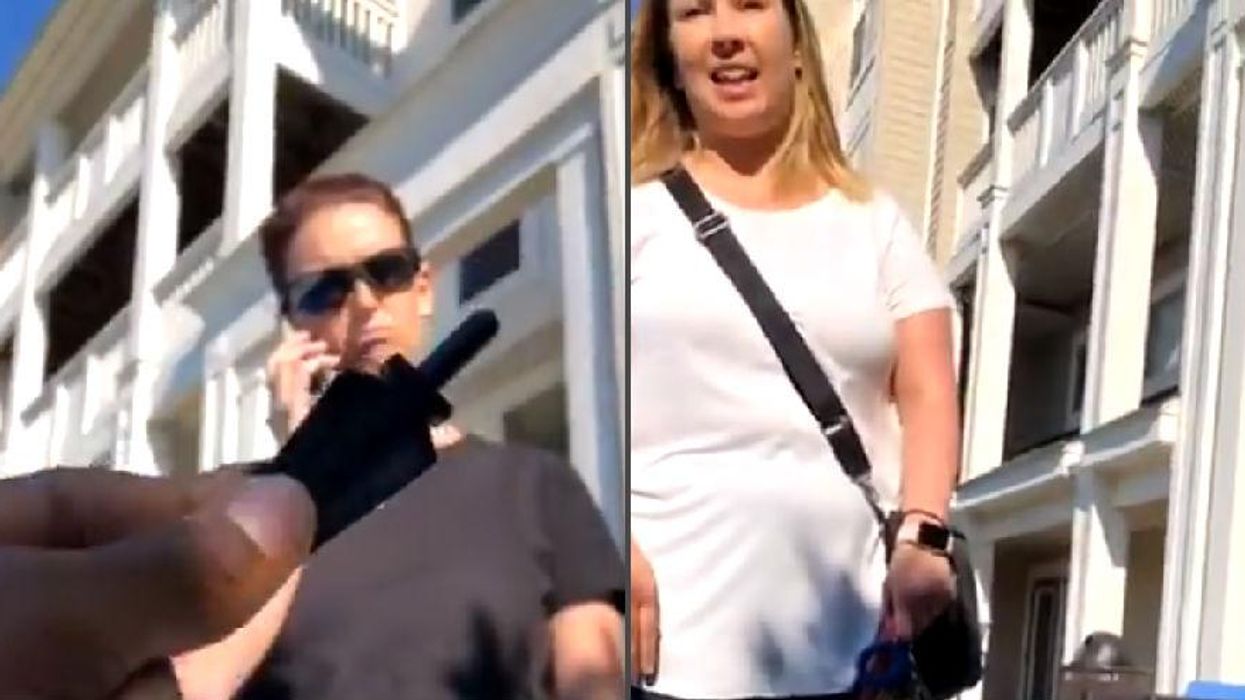 HollywoodShayne Twitter screengrab
A police officer and an apartment manager have been accused of 'racial profiling' after a video went viral of the duo engaging in a verbal altercation with a tenant at the pool.
Shayne Holland has been living at the River Crossing apartment complex at Keystone Indianapolis for 17 months, indystarreports.
Holland had finished working out at a fitness centre that belonged to the apartment complex, and he was sitting by the pool in his home, when an off-duty Indianapolis Metropolitan Police Department officer who had been working a security shift approached.
The unnamed police officer asked if he lived in the neighbourhood.
He recalls:
I had my headphones when she approached me so I didn't hear her the first time. When I asked her to repeat herself, she asked if I lived in the neighbourhood.

I said yes.

When she asked where I lived, I said I don't know you and you haven't identified yourself, so I'm not just going to give you my address.
@WildStyleCapone I actually live here, so I'm assuming they told the police that it's not too many black people tha… https://t.co/FTWg8f46np

— $kyman (@$kyman) 1530917621
@WildStyleCapone I asked everyone in the pool if the police officer asked their name address and confirmation. The… https://t.co/ZXweBuzX2O

— $kyman (@$kyman) 1530917854
Holland recorded the verbal altercation which ensued.
Holland says he pays $1,600 per month for the apartment, which includes pool use. He showed the officer his apartment key - which gives him access to the pool area - but refused to tell the police officer his address.
After back and forth, with the police officer repeatedly asking for his address, and Holland repeatedly demonstrating his key as proof that he lived there, the apartment manager was eventually called.
Holland alleges in the video that the police officer did not approach anyone else in the pool: the manager referred to him by name, the police officer would not stop.
In the video, he asks:
Why do I need to give this lady, who I don't know, my address? Why do I have to leave my pool?
The manager responds that he was being told to leave because he wouldn't answer the officer's questions.
After he once again shows the police officer his key as proof, she can be seen taking it out of his hand. He said:
As a man, I feel like when someone snatches something out of your hand, it natural to want to react.

But I felt like if I moved, anything she felt that was an aggressive or threatening ... she could have used force on me. And that would have been the worst-case scenario.
Alex Stokely, vice president of Barrett & Stokely (the company that manages the apartment complex) told Indystar that the apartment manager has been placed on leave.
That (investigation) includes talking to the employee and talking to the resident to get their point of view.

Once we've finished our internal investigation, we'll decide if she continues to be an employee or if she's terminated.
River Crossing has been contacted for comment.