What happened?
A black teenager was shot dead at a petrol station in Berkeley, St Louis - approximately two miles from where unarmed teenager Michael Brown was killed in August.
What do we know about the deceased?
He has been named locally as 18-year-old Antonio Martin. Reports say he was shot dead at around 1am in the forecourt of the local Mobil gas station (below).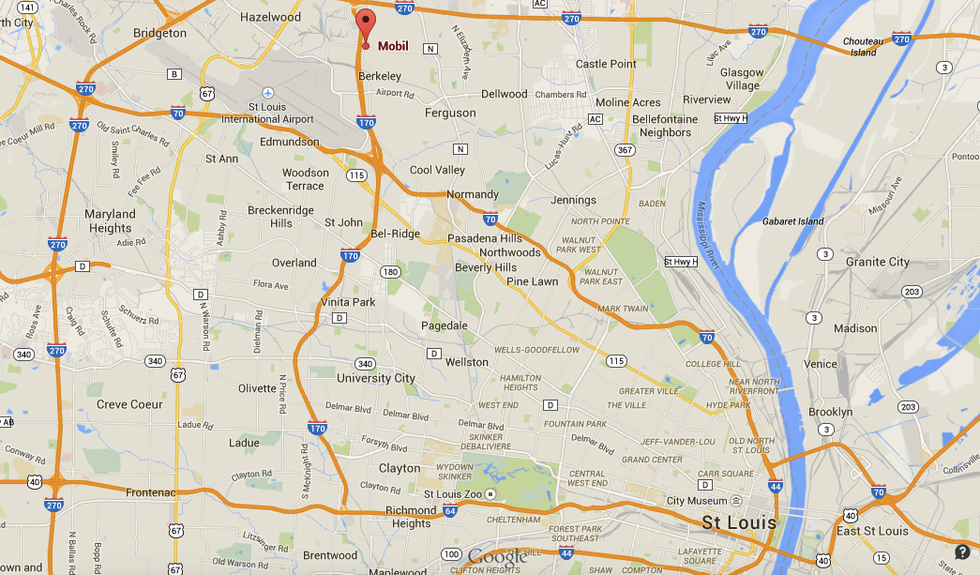 A woman said to be Martin's mother was reported to have identified her son. She has been interviewed by local media.
While police have confirmed a man was shot they have not yet confirmed his identity.
What police have said
Officers detain protesters at a gas station in St Louis following the shooting of a local man (Picture: AP)
Sergeant Brian Schellman, a St Louis County Police spokesperson, said two officers had been responding to reports of a theft on Tuesday evening when they saw two men and approached them.
One of the men pointed a pistol at one of the officers who then fired three shots. One of the men fled the scene and a handgun was recovered.
Sgt Schellman said further details would be released later today as their investigation continues.
CCTV footage from the petrol station moments before Martin was shot:
bad choices were made
What else has been reportedWhat has the response been?
Videos uploaded to YouTube show police and protesters clashing at the petrol station:
False claims
A man on Twitter, under the name Jesus Christo, claimed he was at the scene and saw events unfold. After being cited by some sections of the media he made clear that he had been lying.
What we do not know
If there is more CCTV footage of the incident.
Who the officers involved were.
The confirmed identities of the two men involved.
What has happened to the man who fled the scene.