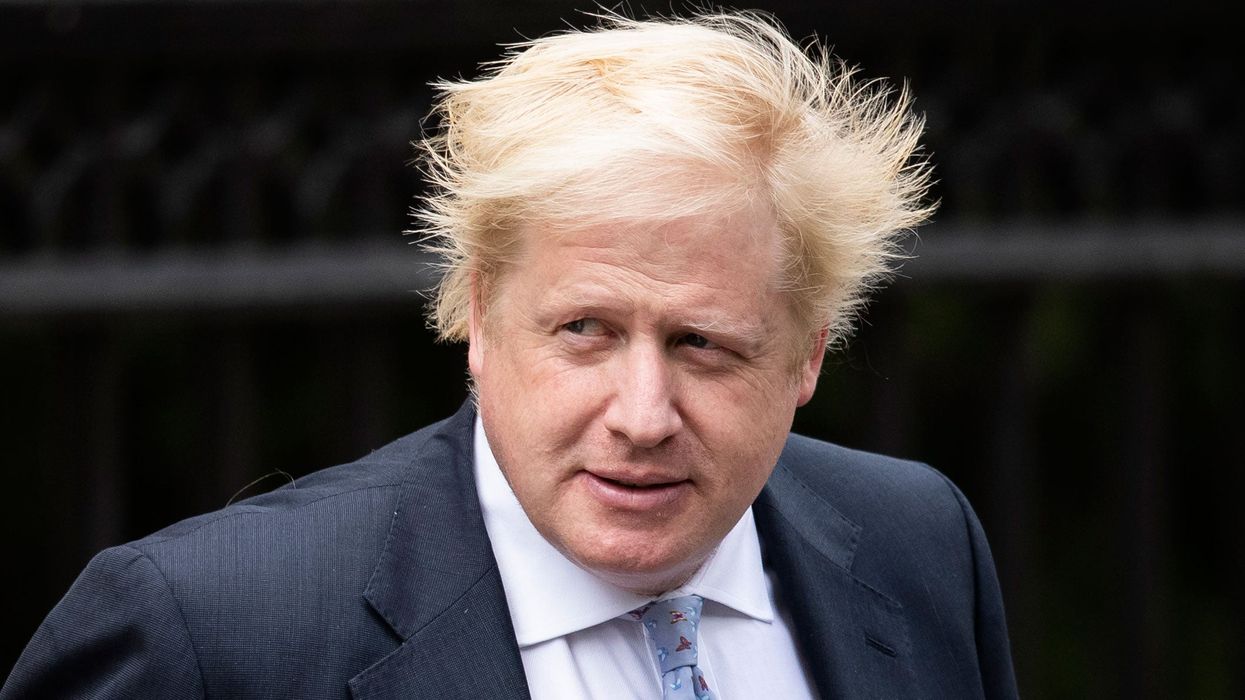 Getty Images / Dan Kitwood / Staff
Boris Johnson came under fire this week for comparing women in burkas and niqabs to "letter boxes" and "bank robbers", but has refused to apologise.
The former secretary argued it is wrong for Denmark to impose fines on those wearing a burka or niqab in the streets in an article for the Daily Telegraph.
But he said he still believed the burka was "oppressive", "weird" and "bullying", adding:
I would go further and say it is absolutely ridiculous that people should choose to go around looking like letter boxes.​
He also said that he would expect constituents to remove face coverings when talking to him at his MP's surgery, so they didn't look like a "bank robber":
If a female student turned up at school or at a university lecturer looking like a bank robber then ditto: those in authority should be allowed to converse openly with those that they are being asked to instruct.
As it that's not enough, here is just a selection of the gaffes, controversies and downright insensitive comments Johnson has been ordered to apologise for.
1. When he was criticised for "putting our citizens at risk". He (eventually) apologised.
Picture: Getty Images / Robert Perry / Stringer
Boris Johnson faced calls to resign as foreign secretary amid claims his thoughtless comments about Nazanin Zaghari-Ratcliffe, a British-Iranian woman jailed in Iran, were seized upon by Iranians to bolster their case that Ratcliffe was a spy.
Jeremy Corbyn told the Observer that Johnson was "putting our citizens at risk" after Johnson told a committee of MPs in November 2017 that she had been teaching journalists in Iran. In fact, the charity worker is not trained as a journalist and has never taught them.
Johnson eventually apologised 12 days after the incorrect comments, which risked lengthening Zaghari-Ratcliffe's prison sentence.
2. When he referred to Emily Thornberry as the "Lady Baroness whatever". He apologised.
Boris Johnson was branded "sexist" by House of Commons speaker John Bercow after he called Emily Thornberry​ "Lady Nugee" in 2017.
This is a reference to her marriage to High Court Judge Sir Christopher Nugee. Though she holds the title due to her husband being a Sir, she chooses to use her maiden name.
Johnson apologised "for any inadvertent sexism or discourtesy that you may have deemed me guilty of".
4. When the Spectator said Liverpool had made scapegoats of the police in the Hillsborough disaster. He apologised.
Johnson finally apologised in 2012 for a 2004 article in the Spectator that claimed drunken fans were partly responsible for the Hillsborough tragedy.
The article said more than 50 fans had died at Hillsborough, though the final figure was 56, and echoed the baseless view first put forward by The Sun that some had "fought their way into the ground".
Johnson did not write the article, but was editor at the time.
5. When accused Liverpool of wallowing in grief over the killing of Ken Bigley, a hostage. He apologised.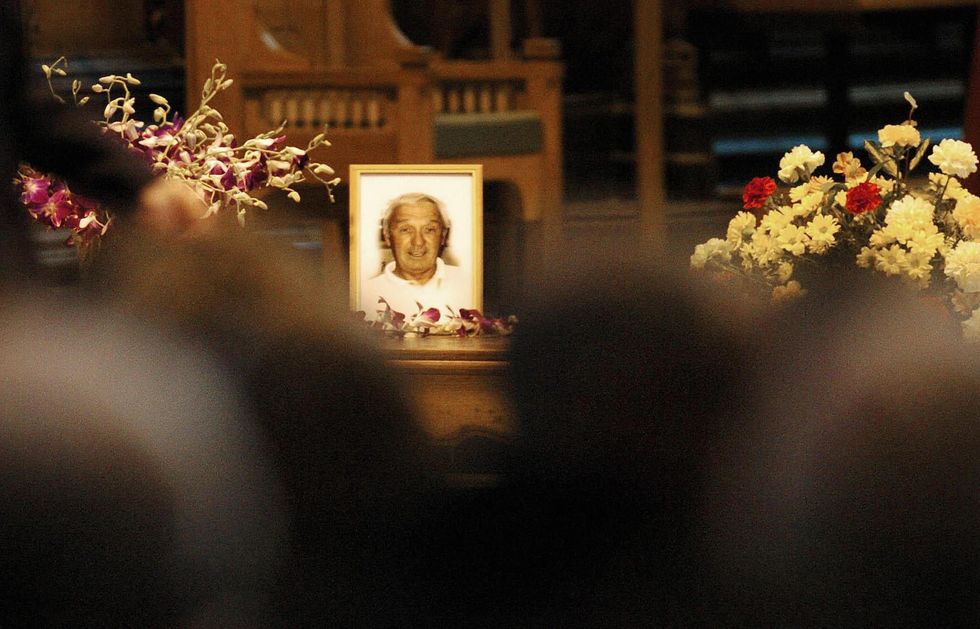 Picture: A photo of Ken Bigley is displayed at Liverpool's Anglican Cathedral during the memorial service. 13 November, 2004.
Another baseless accusation about Liverpool was squeezed into the Spectator article.
The anonymous wrier argued that the way the city reacted to the murder of Ken Bigley, the 62-year-old engineer who was kidnapped in Iraq, was an "extreme reaction" comparable to that of the Hillsborough tragedy.
Johnson was ordered by then Tory leader Michael Howard to go to Liverpool to apologise in person.
He issued the following statement after initially defending the publication:
The point of the leader was to criticise the slight culture of mawkishness and sentimentality in this country which one associates with the death of the Princess of Wales.

We certainly did not mean to offend anybody in Liverpool.

The Spectator loves Liverpool.
In 2012, after a report laid to rest the allegations that the Spector made, he apologised for the article:
I was very, very sorry in 2004 that the Spectator did carry an editorial that partially repeated those allegations, I apologised then and I apologise now.

I do hope the families of the 96 victims will take some comfort from this report and that they can reach some sort of closure.
6. When he referred to black people as "piccaninnies" and talked about "watermelon smiles". He apologised.
Johnson apologised for making racist comments while mocking Tony Blair's globetrotting in a debate for the 2008 London mayoral contest, which he went on to win, .
In an article for the Daily Telegraphin 2002, he had written:
What a relief it must be for Blair to get out of England. It is said that the Queen has come to love the Commonwealth, partly because it supplies her with regular cheering crowds of flag-waving piccaninnies.
The article also mentioned "watermelon smiles".
7. When he was called on to apologise for insulting world leaders. He refused to apologise.
Upon his appointment as foreign secretary, Johnson said it would take far too long to apologise for the "rich thesaurus" of insults and inappropriate comments he had called world leaders .
These include, but are limited to: saying Barack Obama had an "ancestral dislike of the British empire" due to his "part-Kenyan" heritage, an obscene poem about Turkey's President Tayyip Erdogan and comparing Hillary Clinton to a "sadistic nurse in a mental hospital".
In a painfully awkward press conference with then US Secretary of State John Kerry, Johnson implied he simply didn't have time to apologise for each of his misdemeanours:
We can spend an awfully long time going over lots of stuff that I've written over the last 30 years... all of which in my view has been taken out of context, but never mind, some serious issues call us today.
8. When he said the Libyan town of Sirte could be like Dubai once the dead bodies were cleared away. He refused to apologise.
Johnson faced fresh calls to resign as foreign secretary after he refused to apologise over his claim that a Libyan town could be turned into a resort once the dead bodies were removed.
Asked about a recent trip to Libya, Johnson said in 2017:
They have a got brilliant vision to turn Sirte, with the help of the municipality of Sirte, into the next Dubai.

The only thing they've got to do is clear the dead bodies.
9. When he told a cabbie to "f*** and die". He refused to apologise.
Johnson told a cab driver to "f*** off and die" in 2015, but refused to apologise for the comment, instead brushing them off as "a gentle attempt at return of service".
When asked about the incident, Johnson implied that he was getting his own back for something the cab driver had said:
I think it comes under the heading of getting the ball back over the net.

That's what it was.