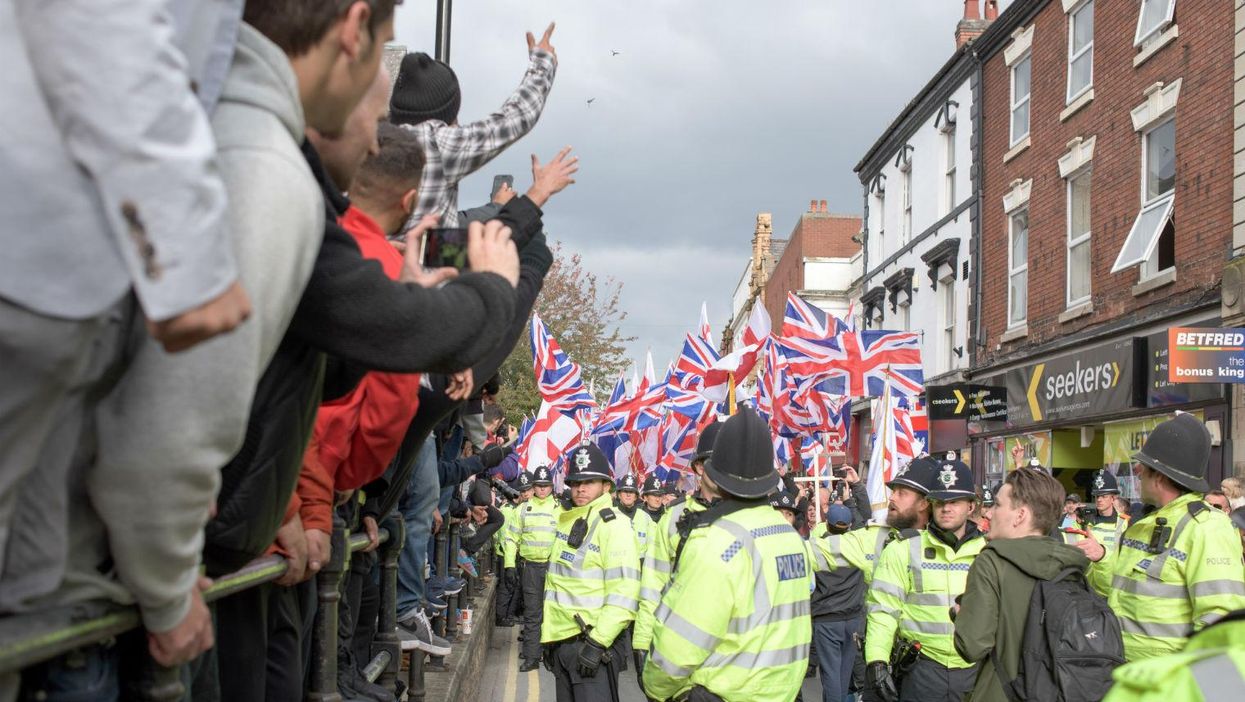 Far-right group Britain First held a rally in Burton on Saturday in which they protested against plans to build what they have called a "mega mosque".
Around 210 supporters of the group marched through the Staffordshire town bearing Union Jacks and wooden crosses while being monitored by police.
The far-right group, which has stated that it wants to remove all trace of Islam from Britain, was met by a counter-protest of around 250 people, according to the Burton Mail.
In an email to members on Sunday morning, Britain First leader Paul Golding claimed the only opposition the "patriots" saw in Burton was "around 50 local Muslims (many of whom were arrested) and around the same number of white middle class morons from the "Antifa" group". The Burton Mail reports that six people were arrested at the march.
Britain First leader Paul Golding and deputy Jayda Fransen were recently part of the BBC documentary "We Want Our Country Back" (Picture: BBC/screengrab)
Like other far-right marches in Britain, the response from local people was excellent.
As well as unconfirmed reports that members of a local mosque were offering tea and biscuits to protesters (i100.co.uk has contacted the mosque to corroborate these reports), much like an EDL march in York in 2013, the hate group were met with this brilliant sign:
As the Huffington Post reported: "Such understatement was perhaps, ironically, the most British thing in the town that day."
The campaign group Exposing Britain First has also managed to raise over £1,000 for refugees on a JustGiving page by "sponsoring" the march.
In a message on the fundraising page, organiser Andrew explained:
I thought that it would make much more sense if their efforts could be put to good use in raising money for desperate refugees here in the UK.

This way, the haters will be doing good for the targets of their hate.
More: The public's reaction to the BBC's Britain First documentary will restore your faith in Britain
More: Just Britain First threatening to hang their "pro-EU, Islamist-loving" opponents at the Tower of London