Patrick Smith/Maury Phillips/Getty Images
Both the rapper Soulja Boy and former NFL star Brett Favre have been duped into making antisemitic statements via an app.
Cameo is an app that puts ordinary members of the public in touch with celebrities but unlike other social media sites, users can pay famous folks to make "personalised video shoutouts."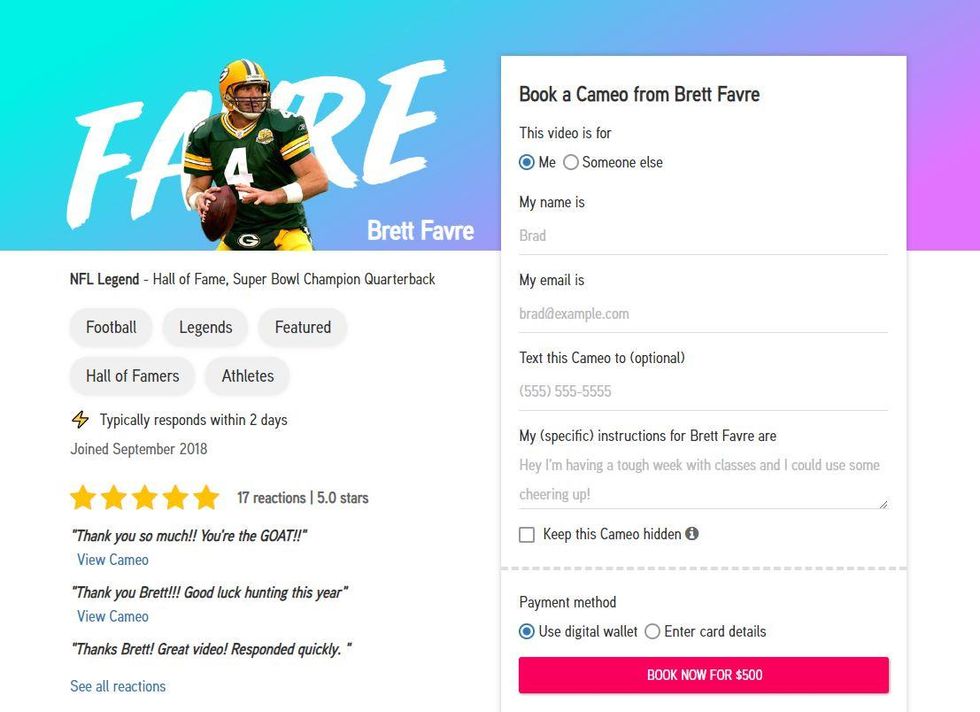 Picture: Cameo
It what should be a harmless bit of fun, Cameo, which also features other notable stars like Bella Thorne and Tom Felton, unfortunately, appears to have been hijacked by a minority of white supremacists.
In a message that Favre read out on November 22, which would have cost $500, the football legend was tricked into making messages that supported a far-right group and it's leader as well as promoting antisemitic conspiracy theories.
Brett Favre here with a shoutout to the Handsome Truth and the GDL boys. You guys are patriots in my eyes.

So keep waking them up and don't let the small get you down.

Keep fighting, too, and don't ever forget the USS Liberty and the men and women who died on that day.

God bless and take care.   
Favre's message references the USS Liberty, a US naval spy ship that was attacked by Israeli forces in 1967, mistaking it for an Egyptian vessel, resulting in the death of 34 people.
Both the governments of Israel and the US have since said the incident was an accident, with Israel paying $6.7 million in compensation to survivors and the families of the dead.
His message also used the word 'small,' meaning 'small hats,' which is a derogatory term for yarmulkes.
GDL stands for Goyim Defense League with a YouTuber going by the name of 'Handsome Truth' claiming to be their leader, alongside another YouTube user called 'Sway Guevara.'
28-year-old rapper Soulja Boy was also victim of a similar trick. In a shorter message he said:
Shoutout to Handsome Truth and Sway at GDL. GDL for life, bitch.
Both Favre and Soulja Boy's video have since been removed by Cameo but unfortunately, that had already gone viral on right-wing Internet spaces.
Comedian Andy Dick, also began a video addressed to 'Sway' but he didn't finish his message. According to BuzzFeedhe said:
Hey, Sway, shoutout to the GDL, hope you guys keep up the great work.

Remember what happened that day on the USS Liberty. And keep our military troops -
It is unclear why Dick's video ended so abruptly.
Favre has since issued a statement via Facebook admitting that they were unaware of what he was promoting and denounced the group.
A representative of Soulja Boy told BuzzFeed that the musician apologised for any offence that he may have caused and in no way supported these beliefs.
Soulja Boy was unaware that the video on Cameo was tied to a group that promotes hate. 

The promo video was what the Cameo had directed and in no way supports his personal beliefs.

He greatly apologies to anyone who may have been offended.
Also in a statement to BuzzFeed, Dick's representative said:
Andy has zero sympathy for their cause, and feels used and manipulated by people who presented themselves as his fans but obviously wildly missed his intent.
Both Handsome Truth and Sway Guevara have admitted responsibility for duping the three men, with the intention of the videos going viral.
They have also reportedly encouraged their followers to continue to use Cameo to spread similar messages.
While Cameo has removed the videos from their own apps, versions are still reportedly available on YouTube, which Cameo has asked them to remove.
They have also installed new filters that will aim to prevent similar instances from happening again. Cameo CEO, Steven Galanis told BuzzFeed:
It's a shame that this group is taking away from a platform that is bringing so many people joy.
HT Mashable