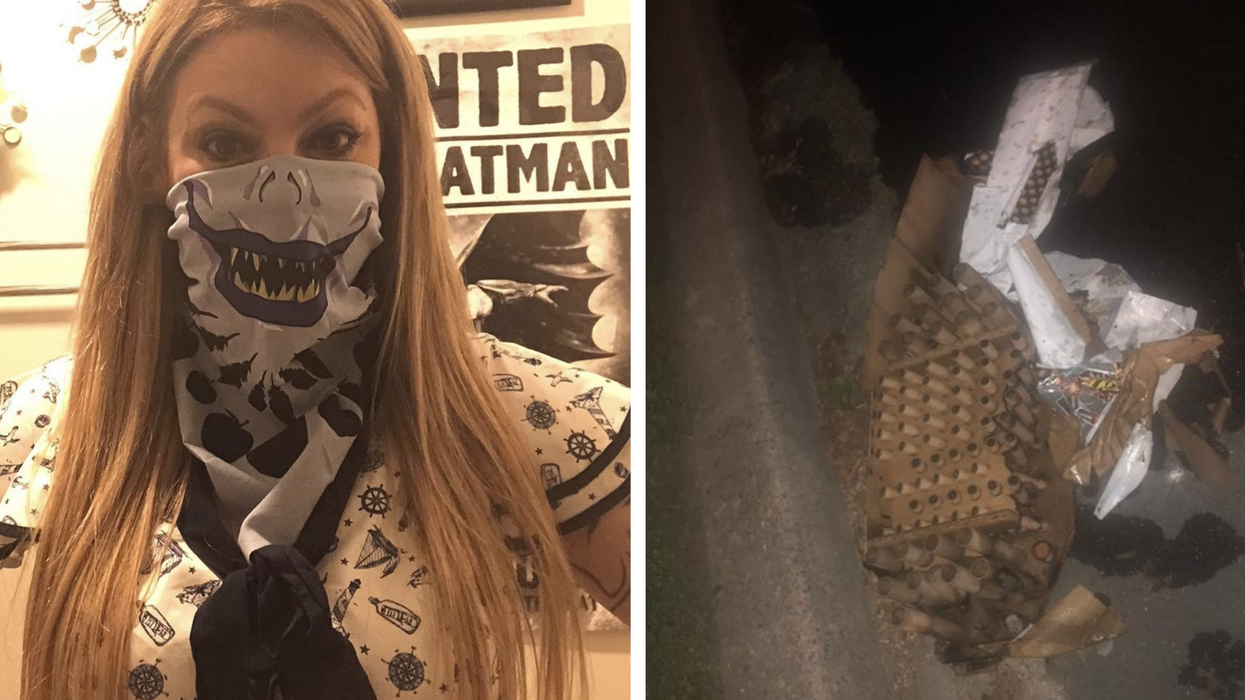 Twitter
Earlier this month, right-wing media personality Cassandra Fairbanks revealed she'd contacted police after apparently being attacked by anti-fascists who shot "fireworks and guns" outside of her Washington D.C address.
Following the incident, Fairbanks collected nearly $25,000 from a crowdfunder enabling her to move her family to a "safe place".
She later announced she had moved.
But now an investigation by Right Wing Watch alleges that Fairbanks' key claims do not stand up – and that she wasn't targeted at all.
In a detailed post on their website, RWW outlines the events that took place, beginning with Fairbanks' tearful 911 call, made on the 1 June.
The right-wing pundit later posted it to Twitter as evidence of the attack.
In the call, Fairbanks is clearly frightened, sounding tearful and telling officers that the day before, she'd received threats via Twitter, with someone posting her address. She says there are people outside with "guns and fireworks".
Fairbanks claimed she called an "armed friend" to come to her house, although she admitted she couldn't see any perpetrators when she looked out of the window, despite the claim they were "banging on her window".
When police arrived, she said they found used fireworks and that she spoke to neighbours who "saw it all".
A fundraiser was quickly established for her by far-right Canadian outlet Rebel Media, with Fairbanks' permission.
The page description read:
Cassandra Fairbanks is a mom and a journalist in Washington, D.C.
After she criticized the riots, she was deluged by death threats and her home address was published by Antifa. Rioters showed up at her house, pounding on the windows and firing guns and fireworks at her home.

She fled her house with her daughter and pets, and is now looking for a new, safe place to live.
The fundraiser raised $24,325 at the time of writing.
Fairbanks later tweeted she'd got a place in a "red, red state" and that she was building an "arsenal of guns".
But upon talking to eight different neighbours RWW, established that none could support key details provided by Fairbanks' account of the incident.
Washington Police Department also provided RWW with a copy of the police incident report, which says police found no evidence of gunshots and, although they located used firework casing, this was found more than 100ft from Faribanks' home.
RWW write:
Despite Fairbanks' claims that the fireworks had been targeted at her home, six nearby neighbors told RWW that the fireworks had been launched from a bend in the street that is more than 100 feet away from the house Fairbanks was in. ​

One neighbor, who asked not to be named, walked this reporter to a spot near the sidewalk where a piece of fireworks packaging was still present. From that spot, Fairbanks' former home is barely visible. 

Fairbanks has posted photos of identical fireworks packaging, suggesting she had walked down the street and was therefore aware where they were fired from.
Neighbours told RWW the fireworks had been let of by Black Lives Matter protesters, challenging the city curfew and called Fairbanks' claim "f**king ridiculous, completely.
"This person is stealing money from people, basically, to get the f**k out of their house," one neighbour said
Anti-fascist organisations in the area also said they had no involvement with any fireworks detonation in the area.
RWW conclude that although Fairbanks was likely genuinely terrified, her actions once the true cause of the disturbance had been revealed could amount to "deceptive fundraising".
Fairbanks strongly denies all the allegations.