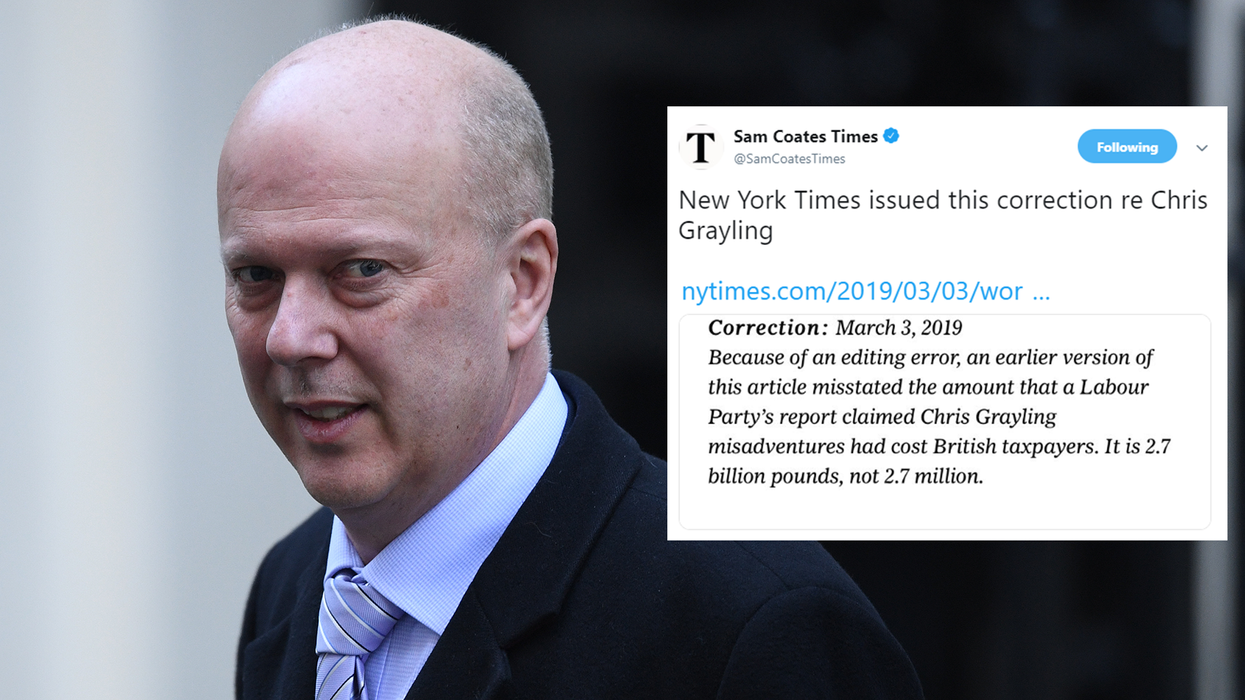 Getty Images / Twitter
By now, the trope 'failing Grayling' has gained international notoriety, and even the New York Times has caught on to it.
The list of the transport secretary Chris Grayling's misgivings is so incredibly long, that if we were to spell them all out, we'd be here all day. But, to give an overview, here are some of his top moments of incompetence.
In 2010 when he was shadow home secretary, he said he thought B&B owners had the right to ban gay couples from staying with them; in 2013 he banned sending books to prisoners in England and Wales which was since deemed unlawful; and earlier this year he awarded a no-deal Brexit ferry contract to a company that didn't own ships and had never run ferries.
Now, the New York Times has highlighted yet another of his failings, but corrected itself, because it hadn't listed the amount as high enough. In an article titled 'How Does He Survive. The Curious Case of "Failing Grayling"', it referenced a Labour Party report issued Friday that claimed Grayling had cost the taxpayer £2.7bn. However, it misreported it as £2.7m.
In a correction, it stated:
Because of an editing error, an earlier version of this article misstated the amount that a Labour Party's report claimed Chris Grayling misadventures had cost the British taxpayer. 

It is 2.7 billion pounds, not 2.7 million. 
People on Twitter were quick to catch on to the statement's catty undertones.
Some thought it was on a par with this classic correction issued in The Mirror.
Others thought the whole thing was pretty hilarious.
So, Mr Grayling, will you be needing some ice for that burn?