A neighbour with over-the-top Christmas decorations may be an eyesore for everyone else, but from space these garish lights transform into something quite beautiful.
Nasa has released footage shot by the VIIRS instrument on the Suomi NPP satellite that shows an increase in brightness over cities in the US and the Middle East during different holidays and festivals.
Areas marked green on the map are 50 per cent brighter during the Christmas period
When we started looking at the data at night over the US we were expecting to see a lot of stability in the night time lights. We were really surprised to see a vibrant increase in activity during the holidays particularly in areas around the suburbs.
Miguel Roman, from the Goddard Space Flight Center at Nasa, said researchers first noticed this phenomena during Ramadan in the Middle East and North Africa.
It has also allowed the team to observe cultural differences across geographic locations - for instance by comparing the Nile valley during Ramadan with Israel.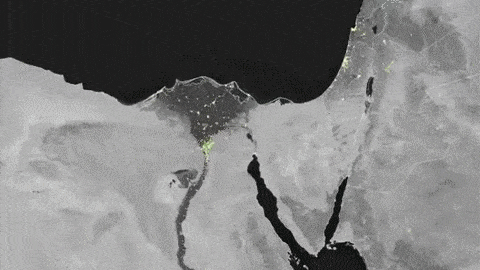 Roman says this type of data increases our understanding of how humans behave in urban environments and therefore could help with tackling energy consumption and inefficiencies in future.
Watch the full video below: