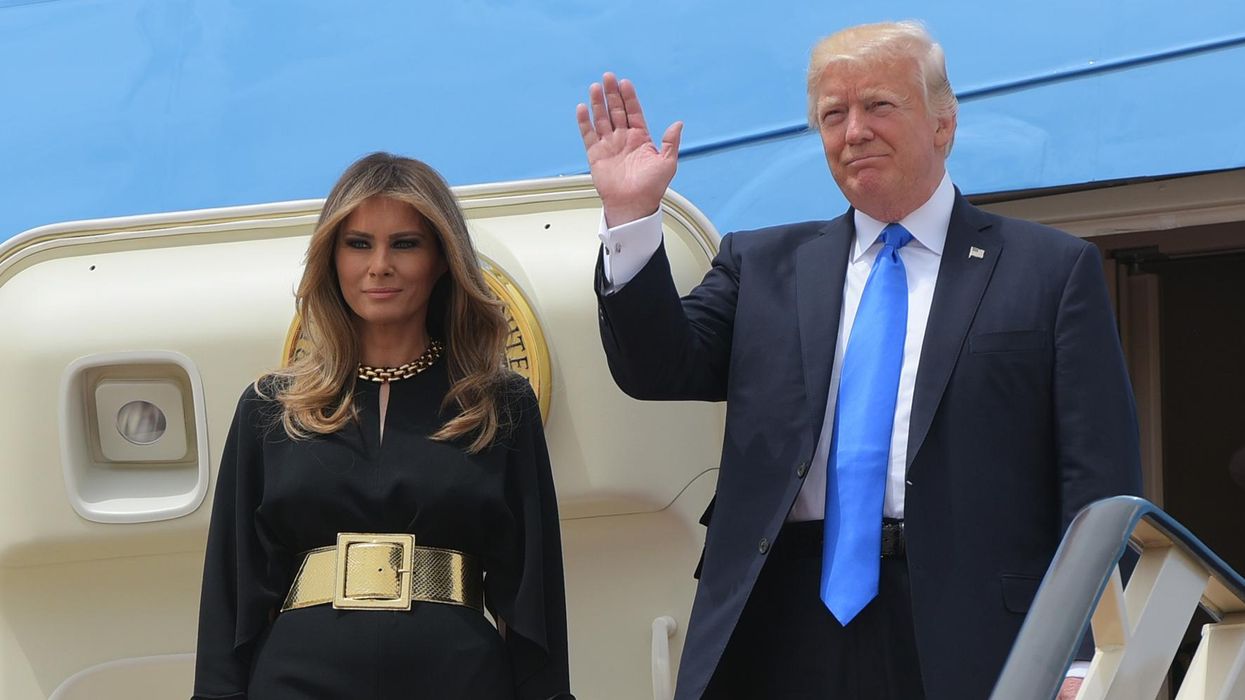 MANDEL NGAN/AFP/Getty Images
Donald Trump touched down in Saudi Arabia this morning, the first leg of his maiden foreign trip as President.
Mr Trump has only been in the country a few hours, but already the internet is going mad at some of the pictures emerging in his wake.
1. He used a golden escalator (which he gave a big thumbs up for!)
Trump flashed me a thumbs up as he rode the gold escalator up to his first overseas adventure. https://t.co/3H9QZben7n

— Jennifer Jacobs (@Jennifer Jacobs) 1495264745
Jennifer Jacobs, Bloomberg's White House reporter, tweeted that Trump flashed a thumbs up as he boarded a 'gold escalator'.
Both Mr Trump and Salman bin Abdulaziz Al Saud are fans of extravagancies. In March the Saudi King brought two golden escalators for a four day trip in Japan and Trump famously has a golden elevator in Trump Tower.
2. He didn't wear a head scarves, and neither did Melania

, despite him previously criticising Michelle Obama for the same thing.
.@POTUS boards Air Force One and begins his 1st international trip as President. Follow along at… https://t.co/3RID9whkaC

— Department of State (@Department of State) 1495218348
Saudi Arabia has strict rules on women in public spaces - law states they're required to wear full length dress and cover their hair in public spaces, the rule doesn't apply to foreign visitors.
On recent trips to the country, both Angela Merkel and Theresa May didn't wear head scarves.
However, in 2015 Trump criticised Michelle Obama for exactly that.
3. The Saudi and US flags were projected on Trump's hotel...
Incredible welcome for @POTUS in Riyadh when he arrives - billboards/red white blue lights everywhere. #potusabroad https://t.co/0kmdlhNzOp

— Sarah H. Sanders 45 Archived (@Sarah H. Sanders 45 Archived) 1495227376
4. As was his face
5. In fact, his face was EVERYWHERE
These signs are omnipresent along the highways in Riyadh https://t.co/cDuFY6xKr0

— Jonathan Lemire (@Jonathan Lemire) 1495223494
These images from Saudi are absolutely blowing my mind https://t.co/QElQjx1X3f

— Nesrine Malik (@Nesrine Malik) 1495202475
6. Tonight, there's going to a be concert...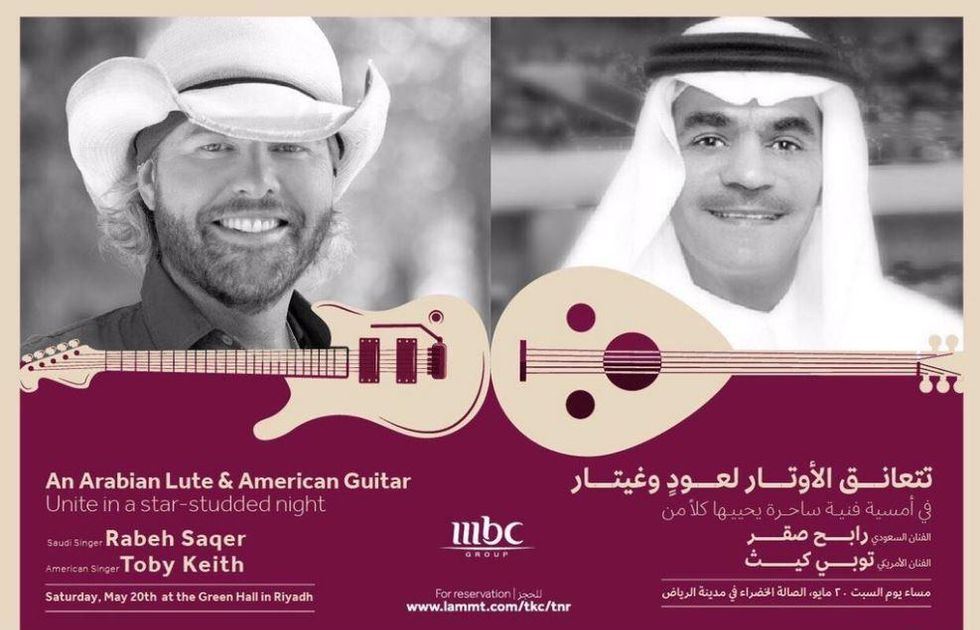 Featuring "American Guitar" and "Arabian Lute".
Oh, and it's reportedly a 'male only audience', no girls allowed.
7. He won't be indulging in the local food
Instead, he'll be eating his favourite meal, steak with ketchup in the side.
Tomorrow he's giving a speech to Muslim leaders
The man who asked for a "a total and complete shutdown of Muslims entering the United States" is going to give a speech about Islam. To Muslim leaders. In Saudi Arabia.
He told CNN's Anderson Cooper in March 2016: "I think Islam hates us"
Oh, and the speech is written by Stephen Miller, one of the chief architects of the failed travel ban policy.
Don't forget, this is only the first leg of his trip!
We've still got things like Trump meeting Pope Francis (who he once accused of being "disgraceful") to look forward to!