A fake image of Donald Trump assisting people stricken by Hurricane Florence has gone viral on Facebook.
The image shows Trump in a suit on board a dingy handing a red 'Make America Great Again' cap to a man who has been left stranded in flood waters.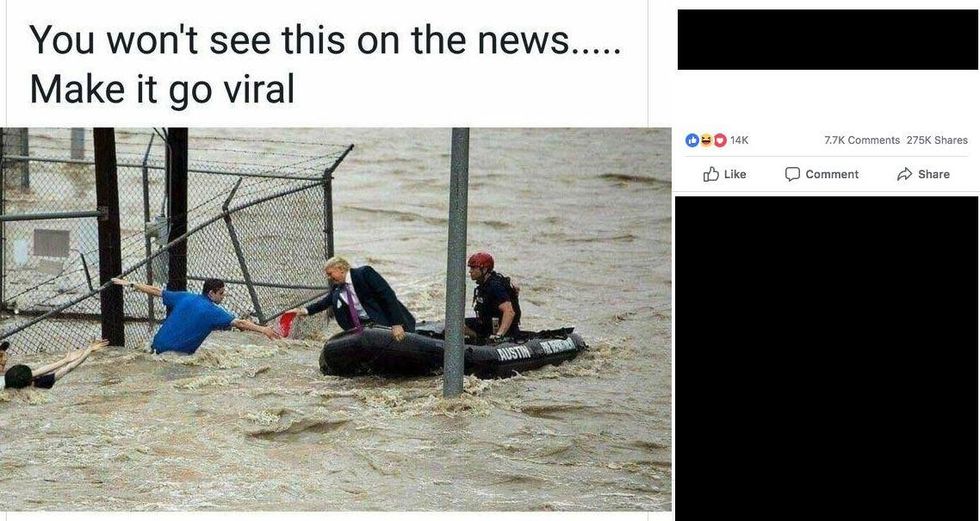 Picture: Kevin Roose/ Twitter
According to Huffington Post, the image has been shared over 275,000 times on Facebook but as New York Times reporter Kevin Roose pointed out on Twitter the un-doctored picture is actually from 2015.
Raw Story adds that the image was first uploaded to Facebook in September 2017 with the original image of three Austin Fire Department workers helping a man hanging to a chain link fence, still exists on CNN's website.
A video of the rescue that is used in the photo is also still available to view on the Austin Fire Department's Facebook page.
Despite its viral status it really doesn't take a genius to realise that this image is completely fake.
Not only does the president not get involved in rescue operations, but Trump also isn't wearing a life jacket, making the situation perilous for him.
In addition, a MAGA hat would probably be the least helpful thing for someone in such a situation.
Twitter users who responded to Roose's original tweet lamented anyone who would share such a picture while also making a few jokes.
This isn't the first time that Trump supporters have photoshopped the president into hurricane rescue pictures.
Around 12 months ago, a fake image of Trump rescuing cats during Hurricane Harvey also went viral.
Update:
The original image was created as a protest against Trump by Twitter users @USMCLiberal and @jessicaartspace in August 2017 to highlight how the president had treated Hurricane Harvey as a campaign rally.
More: Trump accused social media of 'discrimination' of conservative voices. The internet reacted accordingly