NeverTrump.Dating/MANDEL NGAN/AFP/Getty Images
A few weeks ago we reported on a new dating site that was solely for supporters of Donald Trump.
Trump.Dating was attempting to hook up people with like-minded political views who didn't want to mix with liberals or anti-Trump protestors.
The site, which was already bizarre in its premise, grew further criticism as it emerged that only straight men and women could join the site, thus excluding gay and bisexual men and women.
In addition, it emerged that a man wearing a red Trump baseball cap, who appeared as the lead image on the site, was a convicted child sex offender, as reported by SF Gate.
The image of the man, identified as William Barrett Riddleberger, has since been removed as replaced with a stock image of a happy, generic white couple who appear to have no affiliation with the President.
Picture: Trump.Dating
However, more recent activity surrounding the site would appear to indicate that a rival dating site has emerged from the other end of the political spectrum.
The Hill reports that a political startup called the American Liberal Council has launched a site named NeverTrump.Dating, which is hoping to help people "Escape Trumpism with an enlightened lover".
At first glance, the website appears to bear a striking similarity to Trump.Dating, which may or may not be intentional.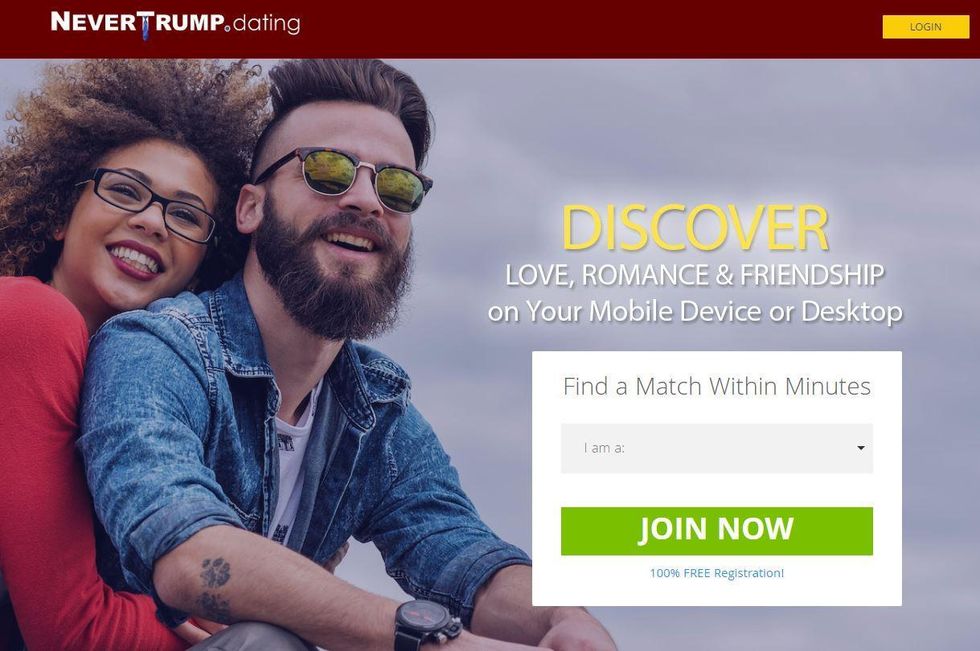 Picture: NeverTrump.Dating
We are happy to report that the new site does allow for gay and bisexual people to join the site, which is a welcome addition.
According to the founder of ALC, Ted Brown, the purpose of the site is to allow people of the same political persuasion to meet each other and stand against Trump and his supporters.
A statement on the site reads as follows:
Our Democracy can still be saved. But first, we must find those with like-minded beliefs, and join those who stand for tolerance and justice for all.

We need allies who will never back down to the corrupt, morally-bankrupt administration in power, and we can do that right here.

Skip the awkward political conversations, and know where your future love stands from the get-go, liberty and equality are making a comeback on NeverTrump.Dating!
HT The Hill
More: Are you smarter than Donald Trump? Take the quiz
More: Donald Trump tried to run an approval 'poll' with no negative options