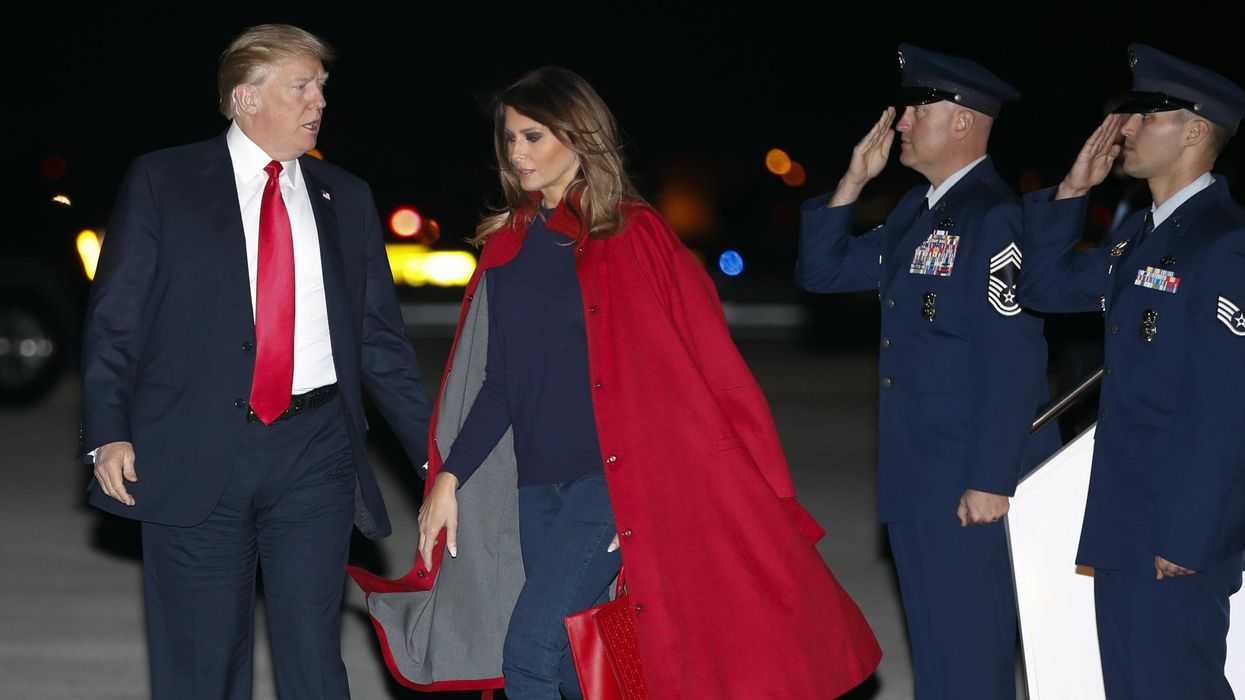 AP Photo/Carolyn Kaster
It really does seem that Donald Trump has a very strange relationship with his wife Melania.
The two have been married since 2005 - but people have started to notice some odd things since he became President.
For instance, the First Lady didn't look too happy at his inauguration last year and then there was the time he shook her hand and told her to leave the stage at a rally.
Other examples include her incredibly lonely Twitter feed and when she slapped her husband's hand away in public.
And there has been another development.
Over the weekend, Trump, Melania and their son Barron visited the Mar-a-Lago resort in Florida, which is the first time they have visited the complex since 15 January.
The married couple seemed a little hostile towards each other, as Melania glided straight past Trump while he greeted photographers at the bottom of Air Force One.
Melania opted to not acknowledge the press and headed straight into the motorcade without making eye contact with the President.
A video of the incident was captured by Palm Beach Post reporter George Bennett and shared on Twitter.
.@realDonaldTrump @FLOTUS & Barron get in limo for ride to Mar-a-Lago. #TrumpInPalmBeach https://t.co/piUi4Sp6nr

— George Bennett (@George Bennett) 1517616596
This could just be a quarrel between the pair, but it is the latest in a series of clues that people think could indicate that Melania is not completely happy with her husband.
Last month, it was alleged that Trump had an affair with the porn star Stormy Daniels in 2006, a story that Trump's lawyer told the Independent was a "complete and utter lie".
People have also raised their eyebrows at Melania staying at home during Trump's recent trip to Davos, Switzerland and riding separately to his State of the Union address last week.
And when it came to marking the first anniversary of her husband's inauguration, she shared a Twitter post of her arm in arm with another man.
This has been a year filled with many wonderful moments. I've enjoyed the people I've been lucky enough to meet thr… https://t.co/GP3Md2LfVM

— Melania Trump 45 Archived (@Melania Trump 45 Archived) 1516464845
HT Daily Mail