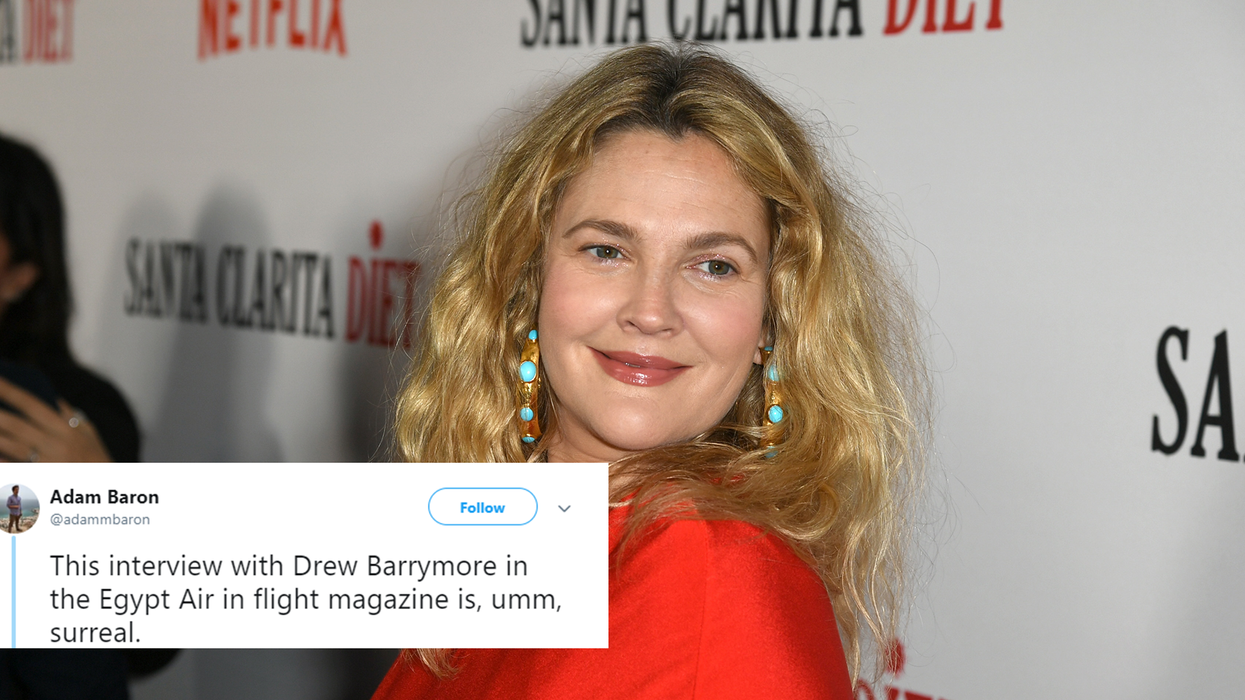 Kevin Winter / Staff / Getty Images
A totally strange and seemingly completely fake interview with film star Drew Barrymore has gone viral, and it's extremely bizarre.
The intriguing interview was spotted in an Egypt Air in-flight magazine by Twitter user Adam Baron, and after he shared pictures of it onto his account, it quickly took the internet by storm.
Taking to the social media network, he accompanied the photographs of the interview with the caption:
This interview with Drew Barrymore in the Egypt Air in flight magazine is, umm, surreal.
A spokesperson for Barrymore told the Huffington Post that she "did not participate" in the interview.
The interview, by journalist Aida Tekla, opens with the error-laden paragraph:
Despite being unstable in her relationships most of her life, despite the several unsuccessful marriages and despite the busy life of stardom that dominated her life for several years; the beautiful American Hollywood actress Drew Barrymore has recently decided to temporary [sic] take an unlimited vacation to play her most crucial role as a mother.
Right, well, that's not offensive at all...
It then continues:
It is known that Barrymore has had almost 17 relationships, engagements and marriages; psychologists believe that her behaviour is only natural since she lacked the male role model in her life after her parents' divorce when she was only 9 years.

Ever since that time, she has been subconsciously seeking attention and care from a male figure; but unfortunately things do not always go as planned and she has not yet succeeded in any relationship for various reasons.
Her answers to the interviewer's questions were just as strange.
When asked about the 'secret' to her weight loss after giving birth, she said:
I feel overwhelmed when someone tells me that I have regained my image and managed to lose that extra weight, especially that I felt depressed due to the significant increase in my weight after delivering Frankie.

However, I find this a great opportunity to encourage every woman who is overweight to work on regaining her beauty and body, especially that it is not as hard as one may think; it is all about determination and following the appropriate diet under the supervision of a physician.
Ok, so that's clear as mud.
At another point in the interview, she's asked about the status of women in the world today. Her answer is unintelligible:
I cannot deny that women made a great achievement over [the] past century, there is significant progress recorded by people who study women status throughout history.
Again, tumbleweed...
Many other Twitter users were quick to notice how strange the interview was.
Egypt Air issued a statement to their Twitter account regards the interview, defending it and calling it a "professional magazine interview".
Taking to the social networking site, they wrote:
Dear sir, this a professional magazine interview conducted by Dr. Aida Tekla Former president of the HFPA (Hollywood Foreign Press Association) and one of the voting members of the Golden Globes.
They also re-tweeted an account under the writer's name, although unverified and with a different spelling for the surname. The tweet from the journalist defends the article, and calls it "genuine".
In light of the debacle, Chris Miller, the president of Flower Films and Barrymore Brands, also issued a statement to Buzzfeed. Speaking to the news site, he said:
The writer did write the Q&A portion of the interview based on what she says she heard Drew say at one of these [HFPA] press conferences but she says she did not write the intro.

The writer is saying someone at the magazine write [sic] that intro which comes after the journalists name so it obviously seems it was written by her but in fact wasn't.

So technically Drew did not sit down with EgyptAir for an interview but a journalist who is a member of the HPFA sometimes supplies articles to EgyptAir and that's what happened.
indy100 has contacted Egypt Air for comment.