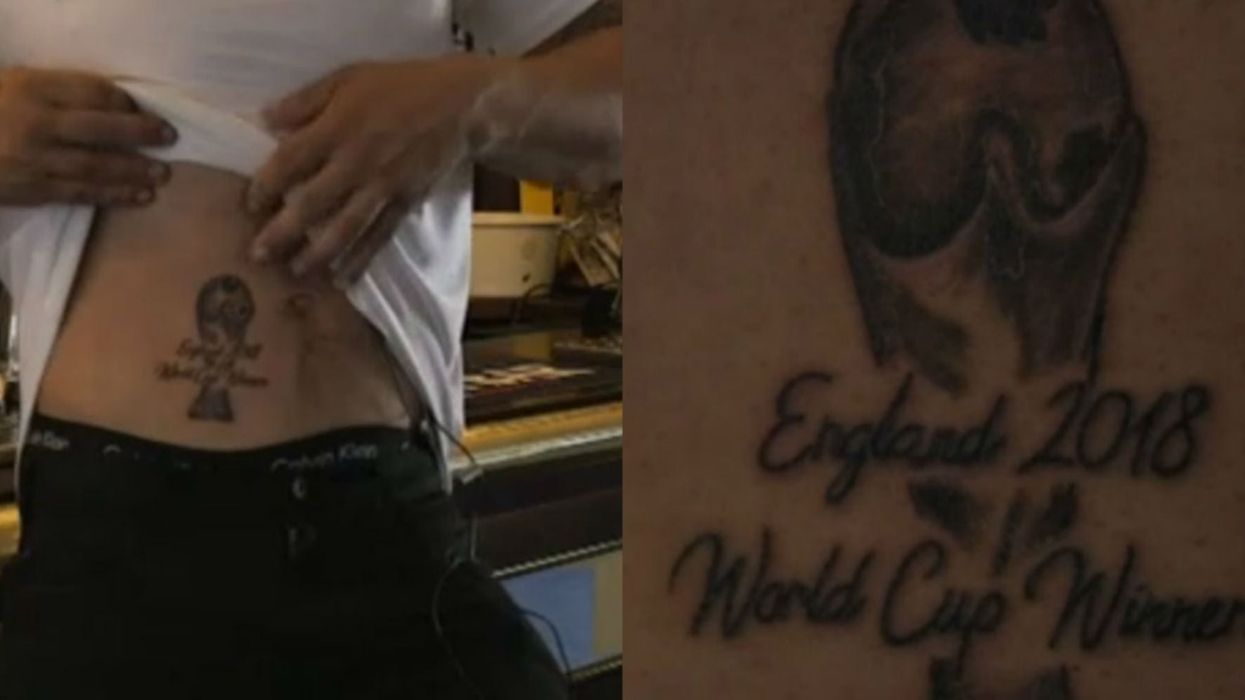 BBC
In a move that might be hailed as extremely premature, this man is so confident about England's World Cup chances he's gone and got a tattoo saying: "England 2018 World Cup Winners".
While there may be just a few games left to play in the World Cup in Russia, if you spend any amount of time on the Internet you'll know that 'England have the whole tournament in the bag' after their 6-1 win over Panama, and that 'football's coming home' this year.
While a few people may remain somewhat apprehensive about England's performance, it seems some are more enthusiastic.
None, it would seem, believe this more than Jamie Richardson, who decided that after only 2 games, that he wanted to get a permanent tattoo celebrating England's impending World Cup win.
In an interview with LADbible, Jamie said:
We were 5-0 at half-time, and I just knew. It just felt like not since Euro 96 when we were 1 nil up against the Germans, or in 1998 when Michael Owen scored against Argentina and before Beckham got sent off, we - in a major tournament - really had a chance of winning.
'I know it was only Panama', Jamie reflected, 'but you look at the last five nations that have won - France, Italy, Germany, Spain, and Brazil, all of these major teams. It's our turn.'
He continued:
Spain drew with Morocco, Germany lost to Mexico. You've got all these other teams that are struggling at the minute, and with teams sitting so deep, to go 5-0 up against any team at international level is pretty good going.
You might think that Jamie hasn't given this a lot of thought, that a tattoo is pretty permanent and, well, England might well lose their next game especially after losing 0-1 to Belgium in the last match. To these nay-sayers, Jamie responds:
I haven't even thought about it (England losing). I truthfully believe we're going to win. It's not a gimmick, I honestly think we're going to do it.
Well, there you have it, let's hope this man's blazing confidence in England's footballers can lift them up to the greatness deserving of his tremendous support.