Theo Wargo/Getty Images
Hamilton is one of the biggest musicals to ever hit Broadway.
Lin-Manuel Miranda's Tony-winning show about American Founding Father Alexander Hamilton has already broken numerous box-office records.
As Varietyreports it took an astonishing $3.8 million the week before Christmas alone.
Needless to say, it is really hard to grab a ticket, and if you do want to go you're going to be waiting a long time.
Information from Ticketmasterindicates that the next best available tickets aren't until July next year.
So, what do you do if you want to see the hottest musical in town but can't get a ticket? Go to PornHub of course. No, really.
The full 75-minute first act was uploaded to the free pornography streaming website under the name "Revolutionary twinks have historical fun."
It was discovered by game designer Elizabeth Sampat and shared on Twitter. Predictably it went viral.
That clip has apparently been taken down but Quartznotes it has been replaced with another video named "Revolutionary boys get dirty on American politics part 1."
Considering that it looks like it has been filmed from someone's iPhone from a balcony, it's probably not the best way to get the full Hamilton experience.
That being said the new clip is said to have been watched over 3,500 times and the previous video had been seen over 5,500 times so it's clearly doing it for some people out there.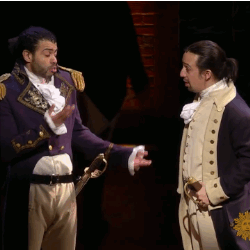 Via: Giphy
This isn't the first time that non-porn related material has ended up on PornHub.
Numerous movies ranging from Star Wars, The Avengers, Back to the Future and Zootopia have been found on the site over the years.
Most recently, the acclaimed 2017 comedy The Big Sick was discovered on the website by none other than its star Kumail Nanjiani. A hilarious Twitter exchange then followed.
More: Pornhub proved itself to be a better source for mental health advice than Twitter