Tuesday's ruling of unlawful killing was a long awaited moment for the families of the 96 people killed in the 1989 Hillsborough stadium disaster.
The front pages of Wednesday's newspapers hailed the jury's ruling as justice served for campaigners who had fought to get to the truth of the police's role on that fateful day - but there were two notable exceptions.
The Sun - which claimed in the aftermath of the disaster that the behaviour of Liverpool fans contributed to the deadly chaos - didn't mention the historic ruling whatsoever on its front page.
The Times, also of the Murdoch stable, didn't feature the verdict on its cover either.
By Wednesday morning, the second edition of the Times had been updated to feature a picture of the Hillsborough campaigners and a puff reading: "Hillsborough: an end at last to smears and lies".
The Sun covered the story on pages 8 and 9:
And an editorial on page 10 reads:
The horror that befell Liverpool fans was... the fault of catastrophic police blunders... which were then shamefully covered up.

The supporters were not to blame. But the police smeared them with a pack of lies which in 1989 The Sun and others in the media swallowed whole.

We apologised prominently 12 years ago, again four years ago on the front page, and do so unreservedly again now.
That last bit in bold? The only renewed admission of guilt in the whole paper.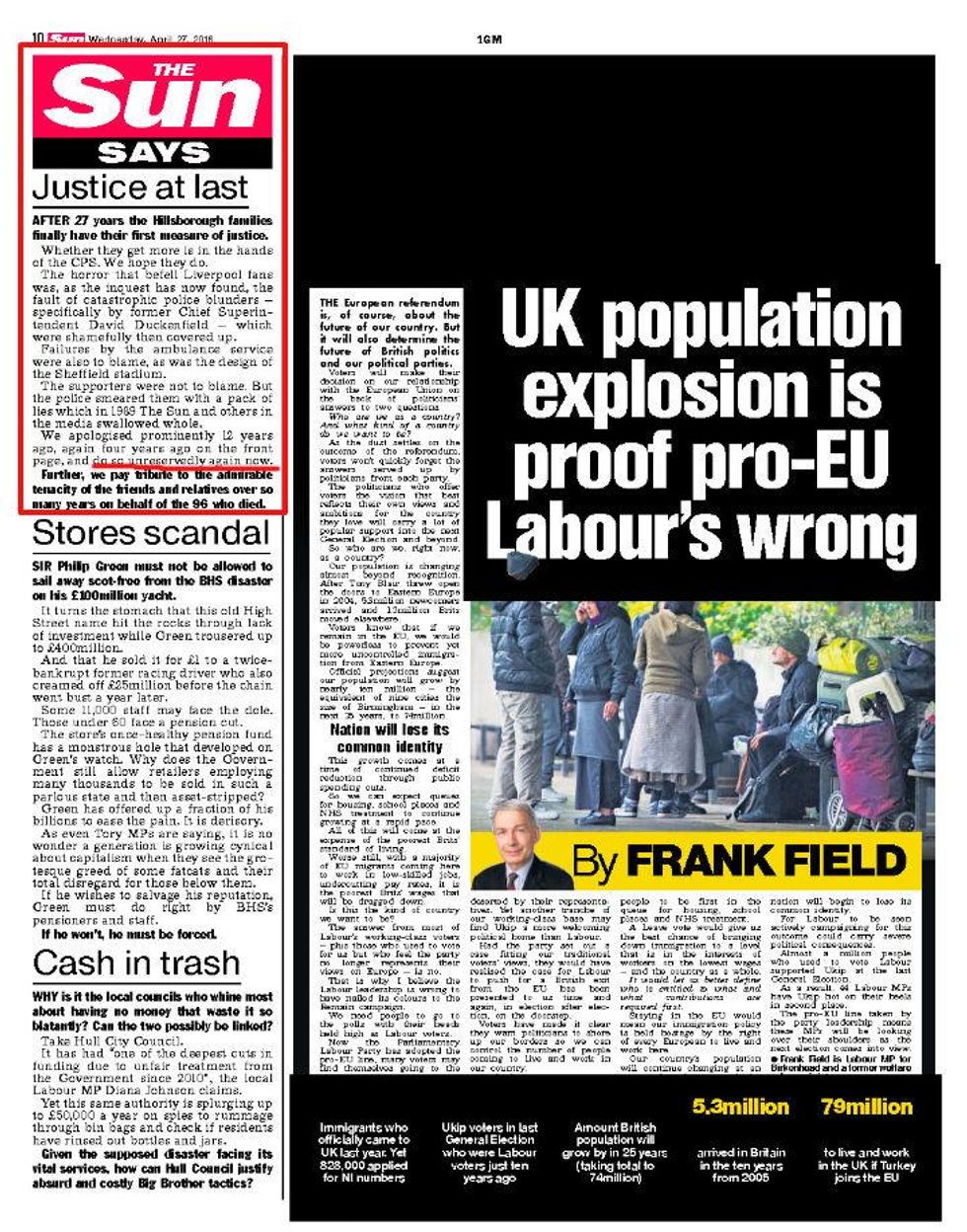 Appearing on Sky News' paper review on Tuesday night, the Sun's political editor Tom Newton Dunn called the Hillsborough 'Truth' front page:
... the worst thing we ever did as a newspaper, our deepest shame... Every time Hillsborough comes up, every single person who works for the Sun shudders with horror and embarrassment.