Unsplash
Almost half of all Brits have gambled in the last for weeks, according to the Gambling Commission.
This is a three per cent rise since the survey was last done in 2015.
However that 48 per cent of gamblers does include people who have only bought tickets for the National Lottery. If we exclude those living-by-the-seat-of-their-pants people, 33 per cent of respondents had gambled in the previous four weeks.
Men were more likely to gamble, with 53 per cent saying they'd gambled in this time period, compared to 44 per cent of women.
A whopping 97 per cent of gamblers did so at home, and only 23 per cent had read the terms and conditions first.
Here' the data broken down by age: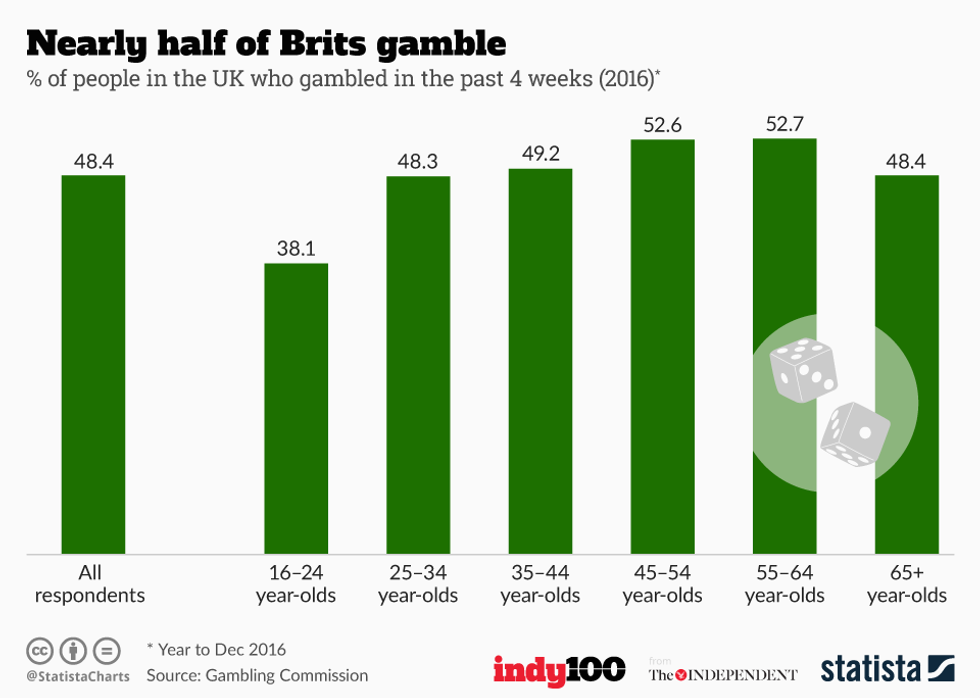 Image:
Worryingly, 78 per cent of respondents said they feel there are too many opportunities to gamble, and 69 per cent think gambling is dangerous for family life.
James Green, programme director at the Gambling Commission, said:
This report paints an important picture of how consumers in Britain choose to gamble – identifying emerging trends and potential risks to the public. 

Effective protections come from strong evidence. Our research puts us in a powerful position to better understand the needs of gambling consumers.
If you or someone close to you if find that their gambling is becoming a problem, you can contact GambleAware for help and advice.