Hurricane Florence is ravaging parts of the Carolinas, has taken the lives of at least 11 people and destroyed electricity of more than a million people, as well as infrastructure, forcing people to remain in their home.
Despite the storm's trajectory of devastation, acts of bravery and selflessness dominate. People have conducted rescues in torrential rain, saved animals trapped in shelters and more over the course of the storm's path.
Here are a few much-needed acts of humanity:
1. Search teams helping to evacuate and rescue people.
New York City's Urban Search and Rescue are one of many teams in the thick of it, helping to rescue people and evacuate them from their homes during the hurricane's destruction.
2. Retired marine Jason Weinmann using his truck to rescue people.
Forty-seven-year-old retired marine Jason Weinmann used the military transport vehicle he bought at a government auction to launch rescue missions in the riverfront city of New Bern near the North Caroline Coast.
He has since rescued ten people out of flooded neighbourhoods and taken them to safe shelter.
Weinmann told CNN:
That's why I got this thing. To use in times like this.
3. These people turning trampolines into beds.
Quantum Leap Trampoline Sports Arena owner Leah Van Buren Bolton plans to open the area for almost 100 people and pets in need.
"We're human and people need help," she said. "When people need help, you help them."
4. The woman who decided to ride out the storm at home with her seven dogs because she couldn't leave them.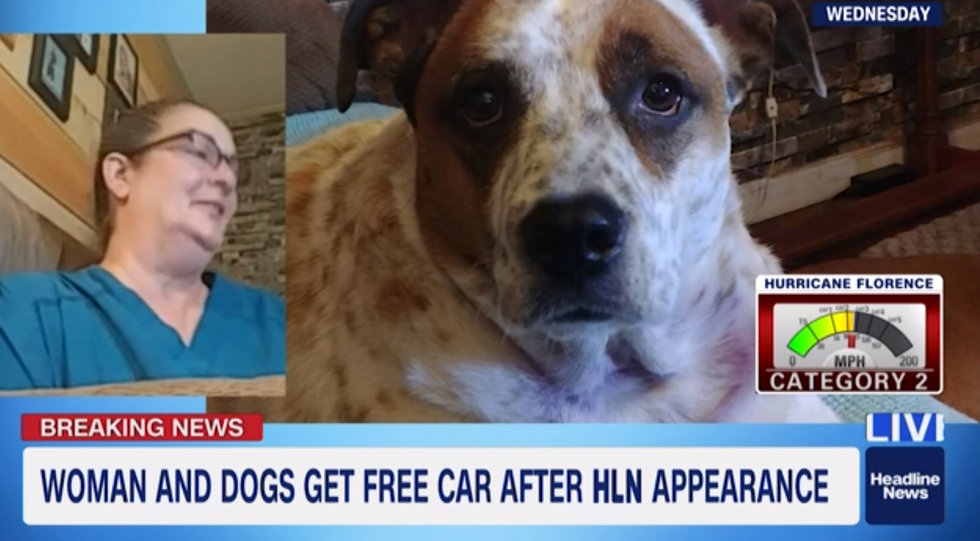 In a heart-warming story of love, Christine Meinhold revealed that she decided to risk danger and stay in her house with her seven rescue dogs.
She said:
I don't have the resources to evacuate with seven dogs.

I can't abandon them. My car has over 205,000 miles on it and I won't make it far. I can't imagine breaking down somewhere and putting them in danger.
In response, people raised money for a truck to help evacuate her dogs.
We have raised funds and an army of people. Christine is now in a Uhaul on her way to TN! @GianlucaMezzo @CNN… https://t.co/18vlDx1XRH

— Kate Zenna (@Kate Zenna) 1536876051
5. A pet rescue team that saved more than 30 cats and dogs from shelters in the storm's path.
A pet rescue from Nashville, Texas, travelled to South Carolina and saved 30 cats and dogs from shelters that were in the storm's path.
The team, from Big Fluffy Dog Rescue, consisting largely of volunteers, made the 20 hour driving trip to the area.
Tiffany Carol Fintel, a Nashville vet technician, told CNN:
Luckily, we had some awesome volunteers meet us at our kennel facility to help unload, walk, feed and settle all the fur kids in.
6. The NBA is helping raise money for hurricane victims.
Basketball plater Michael Jordan announced that he and the Hornets is raising money to help with recovery efforts.
In a released statement, he wrote:
It's truly devastating for me to see the damage that Hurricane Florence is doing to my beloved home state of North Carolina and to the surrounding areas. The recovery effort will be massive, and it will take a long time to repair the damage and for families to get back on their feet. Together with the NBA, we have launched a platform to aid those most impacted. Please join me, the Hornets organization and the NBA and donate to one of the local organizations assisting in the relief and recovery efforts. To all those affected, stay safe and know that we're here to help.