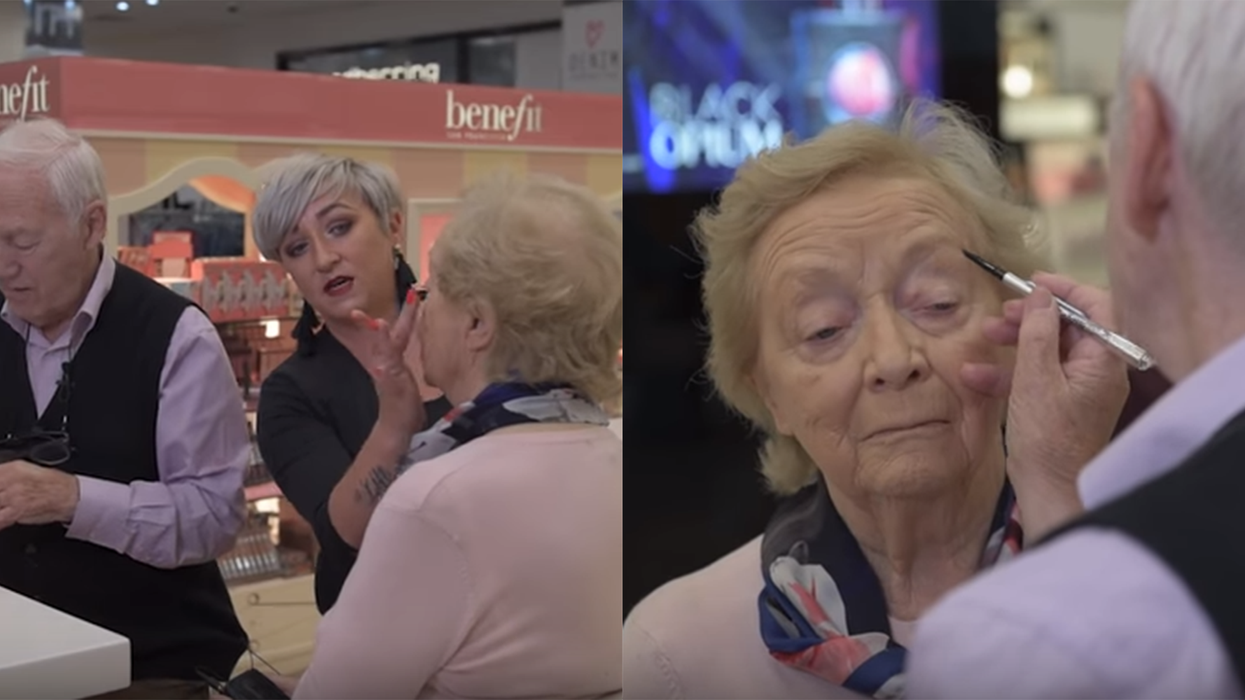 Caters Clips / YouTube
Feeling a bit down in the dumps post Trump Kim Jong-un love-in? Feeling disorientated by Robbie Williams belting out his one hit wonders from the 90s at the World Cup opening ceremony?
Well, in that case, sit back, relax, and enjoy this warm-your-cockles story that truly will cheer you up and give you back your faith in human kind - yes, even you at the back.
A devoted 84-year-old husband has learned to do his 83-year-old wife's makeup before she goes blind.
Mona Monahan, an 83-year-old woman from Waterford, Ireland, suffers from a debilitating deterioration to her sight, and one day she will be completely blind.
Her husband, Des, wants to make sure that she still looks and feels her best, even when she can no longer see, so he's learnt to apply her makeup for her.
Speaking to the Daily Mail, he said:
Mona's eye sight is deteriorating and she won't be able to do her make-up in the future so I thought the quicker I learnt the better.
Des and Mona have been going for lessons at their local Debenhams since October last year, and Des has vastly improved his skills.
Speaking about the makeup her husband has been applying, Mona told The Mail:
Des uses eyeliners and lipsticks I wouldn't be able to use myself.

I struggle to see the colours of different shades now but thanks to Des I now know my make-up will always look great.
Des Monahan has been tutored in the fine arts of applying mascara, lip gloss and foundation by 43-year-old Rosie O'Driscoll, who works for the brand Benefit.
Ms O'Driscoll is thrilled to work with the couple, and thinks it's lovely that Des has been learning to help his wife.
They are such a lovely couple and Des loved learning how to help Mona from the very beginning.

It was obvious Mona was losing her sight and he wanted to help her in any way he could.

I know from being in the make-up industry that applying make-up each morning helps people with their confidence as well as it being something they enjoy.
She also said that she's thrilled with Des' progress, and how the loved-up couple should be an inspiration to us all.
I'm thrilled that Des now has the confidence to start trialling new looks.

When we first started he had no idea what brushes to use for each part of the face but now he's an expert.

We have such a laugh when they come onto the counter at Benefit but we are friends outside of Debenhams too.  

Des and Mona's story shows that no matter your age or gender there is always new skills that can be learnt.
Too right! There, a daily dose of optimism! We hope it's cheered you up as much as it has us.
More: This disabled dad saved up money for a heartwarming reason
More: This restaurant owner just honoured Anthony Bourdain in the most heartwarming way