East London's new Jack the Ripper museum caused an outcry when it opened in July because the planning permission application originally said it was going to celebrate the suffragettes and female social activists of the area.
Accused of glamourising sexual violence instead, former Google diversity chief Mark Palmer-Edgecumbe, who is behind the museum, said at the time:
We did plan to do a museum about social history of women but as the project developed we decided a more interesting angle was from the perspective of the victims of Jack the Ripper.

It is absolutely not celebrating the crime of Jack the Ripper but looking at why and how the women got in that situation in the first place.
All publicity is good publicity, as the museum is clearly aware. And now the museum has hired a public relations manager who subscribes to the same philosophy.
PR man Josh Walker started doing damage control for the museum back in August.
While he's tamely tweeted angling for articles and reviews in the last month, on Wednesday Walker got into an ill-advised firefight with the museum's online detractors.
He decided to go the whole hog and not just defend the museum - but defend Jack the Ripper's reputation too.
"Jack the Ripper victims were never sexually abused. So the claim of sexual violence is wrong", he tweeted to a journalist.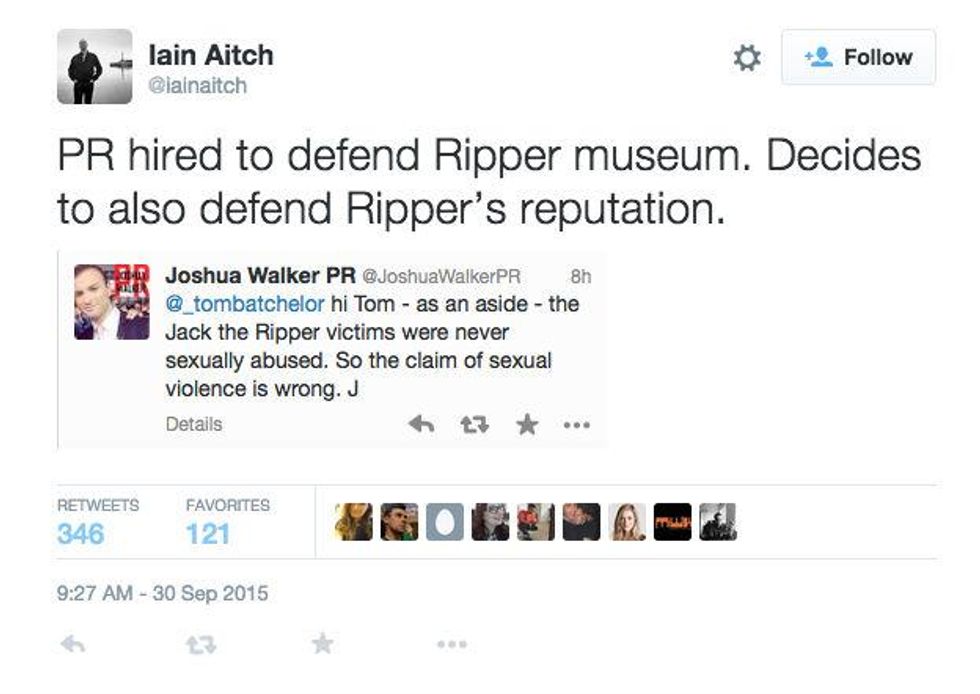 ...and then he said that maybe Jack the Ripper wasn't a misogynist. Maybe he was racist instead. Or maybe he was racist and a misogynist.
You had one job, Walker. Admittedly a difficult one. But still.
It doesn't look like Jack's work is going to get any easier, either.
The F--k Parade protesters who targeted Shoreditch's cereal cafe last week as a "class war" action have set their sights on the Jack the Ripper Museum this weekend.